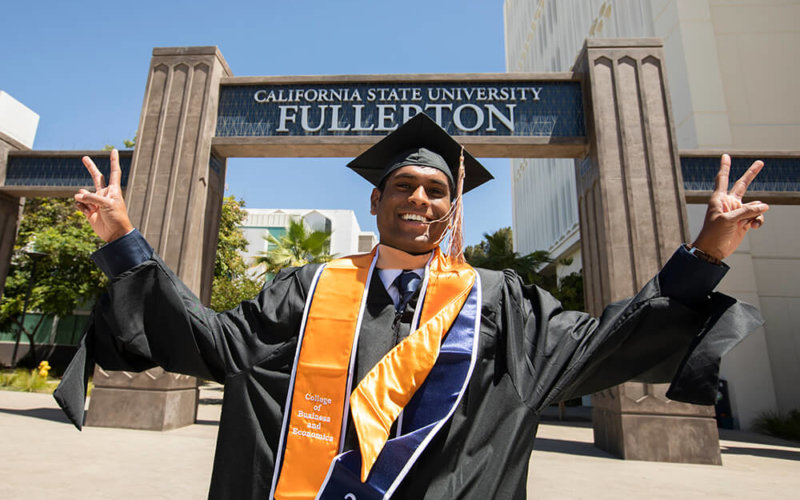 U.S. News Names CSUF Online Graduate Programs Among the Nation's 'Best'
Three Cal State Fullerton online graduate programs —business, engineering, and engineering for veterans — are in the top 30 schools ranked nationwide by U.S. News & World Report's 2021 Best Online Programs list.
The university's online master's in business, offered through the College of Business and Economics is No. 21 (tied) of 193 in the nation and No. 2 in California behind USC. The category does not include the MBA. Online business programs at 193 schools were reviewed in five categories: engagement, expert opinion, faculty credentials and training, student excellence and student services and technologies.
The College of Engineering and Computer Science's fully online graduate programs ranked No. 30 (tied) of 104, in the nation. CSUF's engineering programs ranked third in California, behind only UCLA and USC.
When ranking the best online master's in engineering degree programs that help veterans reduce the cost of school, Cal State Fullerton ranked No. 20 (tied) of 31 in the nation. This program also ranked third in California behind UCLA and USC.
U.S. News evaluated more than 1,200 online degree programs in academic quality, across multiple disciplines to craft the 2022 Best Online Programs list.
Earlier this year, the U.S. News & World Report ranked CSUF third among U.S. public universities for faculty research impact. CSUF ranked third in the nation and No. 2 in the state of California among all universities. Cal State Fullerton also ranked 5th in Regional Universities — West, up from 16th from the year previous, by Washington Monthly on Social Mobility, a ranking computed by considering graduation rates, strong social mobility, low-cost tuition, and low debt for students.
Read more about CSUF's 2022 Best Online Programs rankings here.