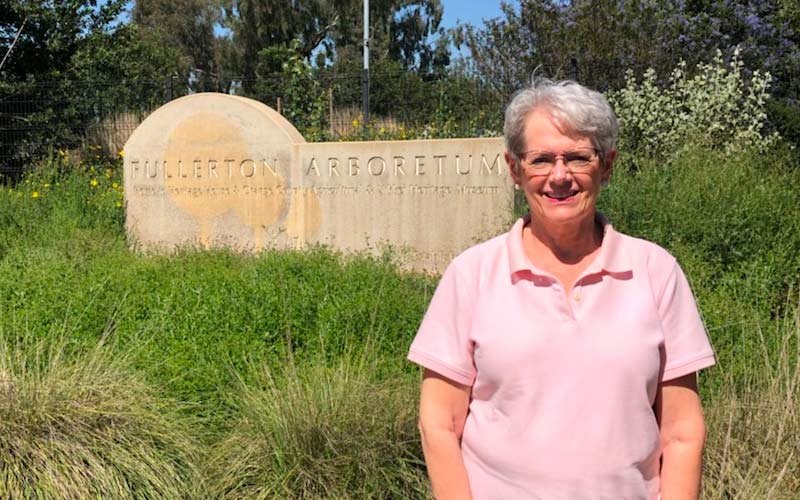 Fullerton Arboretum recently received a generous gift commitment of $35,000 from Jill Kurti Norman. Jill is the wife of the late Harry Norman, who served for 23 years as Dean of Extension and Associate Vice President of International Programs at Cal State Fullerton.
The $35,000 will be used to establish the Harry L. Norman Endowment at the Fullerton Arboretum, with a focus on the care and maintenance of the Coastal Chaparral Collection.
In an interview with Jill, she shared the story behind why she wanted to make this donation. "Harry was always an outdoors person," said Kurti Norman. "He grew up in California, and spent a lot of time outdoors as a kid and growing up because his father was for a time an agricultural worker. He also had a Bachelor's in Zoology, so he was always involved with living things.
"He loved the Arboretum; he would schedule his meetings early in the morning and then go hide out in the Arboretum for a half hour! I felt like I should honor his love for the Arboretum and how hard he worked for the school for 23 years."
Harry had also grown up in Coastal Chaparral, so Jill wanted the endowment to go towards maintaining the Coastal Chaparral Collection. "That was his favorite place to hide out," she remarked. "And I have a good friend in Seattle who's volunteered at a couple of different arboretums. She said, 'You should make that endowment for upkeep and maintenance! Nobody ever thinks of maintenance, and there's never enough money for maintenance.'"
Greg Dyment, Director of the Fullerton Arboretum, said, "This commitment from Jill is meaningful on so many levels. Not only does it create a fitting legacy for Harry, but the care and maintenance of our collections is critical to plant science, sustainability, and our visitor experience. We are very grateful to Jill for this commitment that will impact many future generations of Arboretum guests."
Kurti Norman is glad that this endowment will create a lasting memory of Harry at the Arboretum. "It makes me feel good to know that I make it possible for his spirit to stay there," she concluded.
To learn more about the Fullerton Arboretum and to plan your next visit, go to https://fullertonarboretum.org/