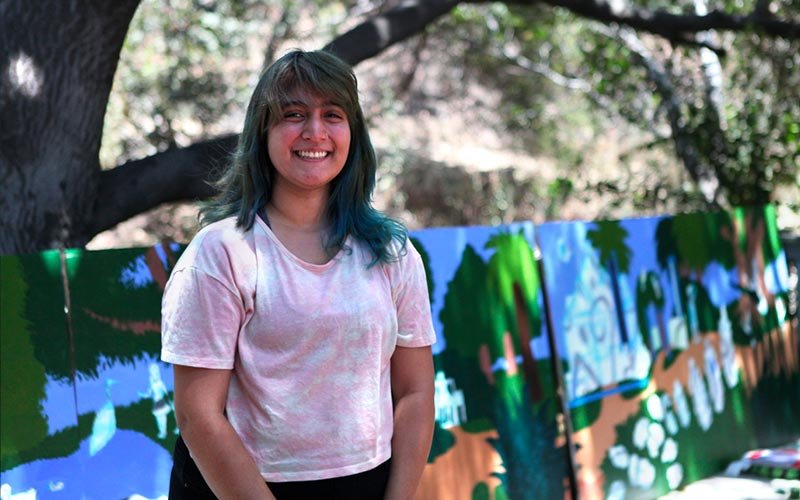 From earning an Illustration degree to designing art for a world-class arboretum, there's no stopping Arshya Bakhtiani.
While finishing up her last semester at CSUF in Spring 2022, Arshya was thrilled to be offered an internship at Fullerton Arboretum, the 26-acre, Level IV accredited botanical garden located on the campus of CSUF.
With her love of nature, this internship was a match made in heaven for Arshya. "Nature has always been a big part of my life," said Arshya. "My artwork consists of nature, experiences, and growth. The garden opened the opportunity of creating work that involved the themes I enjoy the most."
Arshya worked with Fullerton Arboretum staff to create banners that would distinguish various sections of the garden. In total, she created digital art for 13 different banners.
Harriet Bouldin, who oversees Fullerton Arboretum volunteers, offers, "Arshya has great ability to capture the beauty and diversity of the Arboretum within her artwork. Always enthusiastic and passionate about her projects, she has made a tremendous impact with her art. Our visitors are often taking photos of the banners she created because they capture our collections so beautifully!"
But she didn't stop there!
After graduating with her bachelor's degree in Illustration later that spring, Arshya had the opportunity to create a new mural for Fullerton Arboretum. She worked on this all throughout the summer, and the end product is a spectacular sight.
So where is Arshya headed now?
"The next step in my journey is to find a job in the field, whether it be freelance or a designer job," she said. "From there I plan on accumulating experience so that I can move on to create my own work. I aspire to have my own business, selling merchandise and apparel to those who enjoy the small moments in life. I plan to grow through networking and selling at conventions, gardens and even online!"
Want to check out Arshya's banners and mural? You'll have to stop by Fullerton Arboretum and see them for yourself! Start planning your visit today: https://fullertonarboretum.org/