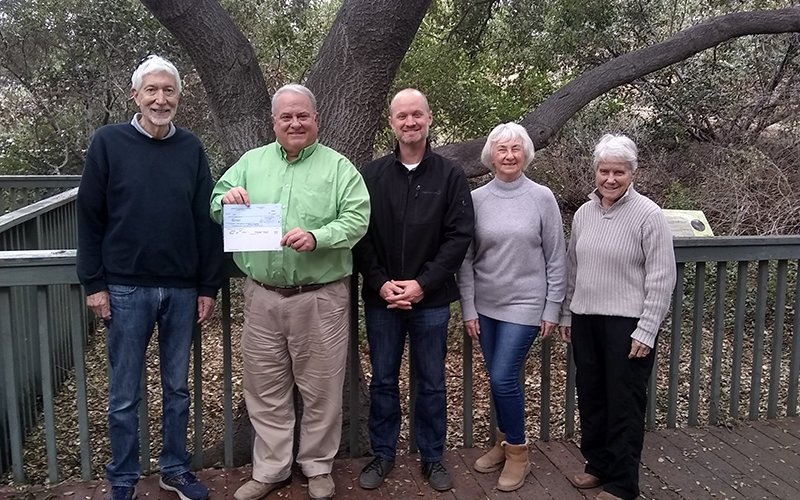 For more than 40 years Friends of the Fullerton Arboretum, a non-profit organization, has assisted in the mission of the Arboretum, contributing millions of dollars in funding, volunteer services, scholarships and event support.
In addition to their work as a collective group, each member also supports the Arboretum in their own way. Most recently, current Friends president Fran Colwell generously donated a five-year $25,000 gift to the Arboretum in support of the garden's new Engaging Environmental Experiences (E3) program.
"We hope this gift is framed not only as an investment in Cal State Fullerton student success but also as an encouragement to others who might be interested in helping to achieve that goal," he says.
The E3 internship program provides students with a path to develop their leadership skills and engagement with real-world environmental projects.
"My wife Sandy and I believe it's critically important to develop the next generation of conservation leaders," Colwell says. "Challenging issues like climate change, biodiversity and habitat loss, and environmental justice are in the headlines every day."
The E3 program uses a "learn by doing" method, ensuring a robust academic experience, completing service-learning projects and working together to solve pressing environmental issues in the Arboretum, on the CSUF campus and beyond.
"Students will now have the opportunity to … lead us into a brighter future through their work with knowledgeable CSUF faculty and staff at the Arboretum," Colwell says.
Colwell has dedicated his life to protecting the environment, having spent 40 years with the US Forest Service. He passionately supports environmental work, education and activism. "I can think of no better way to do that than by paying it forward to support the next generation."
Colwell's leadership as the Friends president has helped the Arboretum continue to thrive over the years but he knows it is an ongoing team effort.
"I recognize we could not have accomplished [our support efforts] without the passionate assistance of our board, campus and community supporters, donors, volunteers and friends from around the world," he says. "To sustain and grow the Arboretum, its programs, and commitment to student success so that it remains a conservation leader, will require we all redouble those efforts."
In addition to Colwell's generous gift, the Friends of the Arboretum secured a $75,000 endowment from the estate of the late Dwight Odle. Odle, who passed away in 2018, taught classes at Cal State University Fullerton and played a large role in many art programs throughout Southern California, and contributed his own design talents to projects around the world.
The Friends of the Fullerton Arboretum have been stewards of Odle's estate gift for many years, and are now transferring it to the Arboretum directly supporting student internships, fellowships and overall engagement with the Fullerton Arboretum.
To learn more about ways to support Fullerton Arboretum visit fullertonarboretum.org