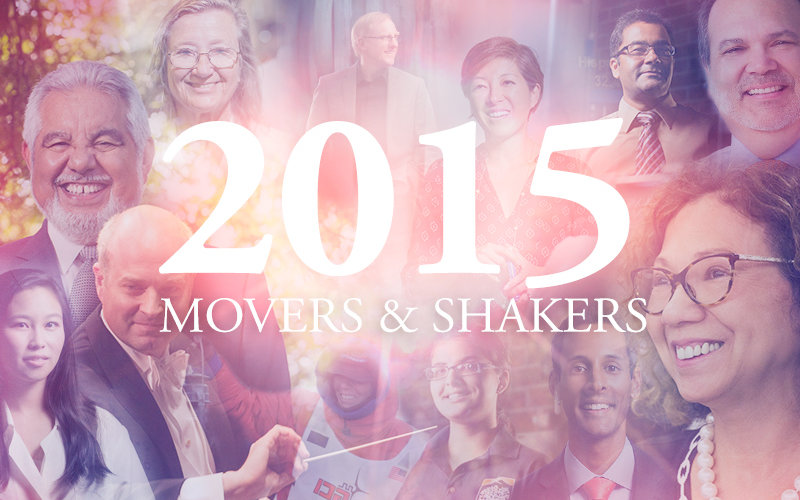 Cal State Fullerton President Mildred García was once again out and about this year, stressing the importance of helping students succeed in college and the value of diversity in faculty, staff and student ranks. She kicked off the year discussing "transformational leadership" at the Association of American Colleges & Universities Centennial Meeting and was a panelist at the organization's April forum, "Diversity, Equity and Excellence: College Learning and America's Unmet Promise."
In May, the University's chief executive welcomed educators for a dialogue on "Just Societies and Healthy Communities: Campus and Community Partnerships," sponsored by the Coalition of Urban and Metropolitan Universities. In October, President García gave the keynote presentation on "Why Diversifying Faculty Matters" at the Dean's Forum following the 29th annual Hispanic Association of Colleges and Universities Conference and was a panelist at the Oct. 30 Anchor Institutions Task Force conference.  A month later, she was a panelist discussing "Dimensions of Diversity" at the Association of Public and Land-Grant Universities' annual meeting.
For her efforts, President García received the Dr. Frank W. Hale Jr. Distinguished Service Award from the National Association of Diversity Officers in Higher Education for dedicating "a substantial period of her career to promoting diversity initiatives in higher education;" joined five other trailblazing CSU presidents honored with the Leadership California Trailblazer Award and was recognized with the Distinguished Higher Education Advocate for Hispanics Award from Para Todos magazine. She also was honored as a distinguished alumna at Columbia University, Teachers College.  
Silas H. Abrego, emeritus vice president for student affairs, who served more than 26 years in administrative positions on campus, was named to the California State University Board of Trustees in March.
Dale Merrill was appointed dean of the College of the Arts and joined the campus July 1. Named in December: Laurie A. Roades as incoming dean of the College of Health and Human Development effective Jan. 4; Scott Paynton as the new dean of the University's College of Communications beginning in February; and beginning July 1, Marie Johnson will be CSUF's dean of the College of Natural Sciences and Mathematics.
Owen Holmes, associate vice president for government relations, is the 2015 recipient of the CASE Marvin D. "Swede" Johnson achievement award, in recognition of extraordinary contributions to the advancement, quality and effectiveness of state relations on behalf of a higher education institution or state system.
Vijay Pendakur, associate vice president for student affairs, shared the dais in May with CSU Chancellor Timothy P. White during a briefing organized by the U.S. Commission on Civil Rights and held in Washington, D.C.
Accolades and Achievement
James Parham, assistant professor of geological sciences, was part of a team that traced geological history of sea turtles back more than 120 million years ago. The research was published in the Sept. 7 issue of PaleoBios. He also co-led a collaborative, global effort to create an online database of fossils.
Maria Linder, professor of chemistry and biochemistry, was named an American Association for the Advancement of Science Fellow for her distinguished research discoveries. An international expert on how the minerals iron and copper are used, stored and excreted in the body, she has secured more than $12 million in research funding and published more than 130 journal articles, many that have been co-authored by students.
Stephan Walk, associate dean of the College of Health and Human Development, was among 47 emerging U.S. college and university leaders selected for the 2015-16 class of the American Council on Education Fellows Program.
Andrea Fejeran Sims received the 2015 Outstanding Mid-Level Professional Award from the NASPA Asian Pacific Islander Knowledge Community.
Sora Park Tanjasiri, chair and professor of health science, became the 10th Cal State Fullerton recipient of the Wang Family Excellence Award. Tanjasiri was honored for contributions in her academic discipline and impact on students.
The University celebrated excellent teaching, research and collaborative leadership in recognizing mathematics professor Scott Annin as this year's Outstanding Professor Award recipient; Zvi Drezner, renowned scholar in location analysis, with the L. Donald Shields Excellence in Scholarship and Creative Activity Award; William Hoese won the Carol Barnes Excellence in Teaching Award; and Emily Miller Bonney, the 2015-16 Academic Senate chair, was the year's recipient of the Faculty Leadership in Collegial Governance Award.
Angel Pineda, associate professor of mathematics, was appointed to the Committee for Developing Countries of the International Mathematical Union.
Robert Istad, professor of music and director of choral studies, was appointed artistic director designate for Pacific Chorale, where he is now associate conductor. He will take over the choral organization beginning with the 2017-18 season. Fellow music professor Bongshin Ko joined senior Kevin Mills and graduate student Jeremy Russo performing in a cello quartet in the Lincoln Center's Alice Tully Hall.
Dana Lamb, CSUF alumnus and professor emeritus of art, was honored with Variety's "Animation Educator of the Year" award for his impact on animation as a course of study in higher education.
The American Accounting Association honored accounting faculty members Betty Chavis, Glen Hatton and Randy Hoffman with the Jim Bulloch Award for Innovations in Management Accounting Education, in recognition of their efforts to improve student achievement in financial and managerial accounting classes. The hybrid course they created — emphasizing in-class discussions and small group work, while lectures and homework is done online — was selected to be part of the California State University's Proven Course Redesign Program, an effort that identifies courses proven successful in breaking bottlenecks to student success.
Paul Martin Lester, professor of communications, won the Kenneth P. McLaughlin Award of Merit from the National Press Photographers Association. The award recognizes continuing outstanding service in the interests of news photography.
Following the April 25 7.8-magnitude that struck Nepal, Binod Tiwari, associate professor of civil and environmental engineering, returned to his home country as part of the national Geotechnical Extreme Event Reconnaissance Team to evaluate the earthquake's effects.
After three attempts, health science lecturer and alumna Cindy Abbott completed the 1,000-mile Iditarod in March. Abbott, who suffers from Wegener's Granulomatosis, previously climbed Mount Everest in 2010.
Student Achievements
Titans took up a challenge by President Barack Obama and joined the nationwide "It's on Us" campaign to end sexual assault on university and college campuses. Associated Students Inc. created a video sent to every enrolled student.
Biochemistry major Ashley Chui received the top undergraduate research award at the 27th annual CSU Biotechnology Symposium in January. Chui, who graduated cum laude in May, won the 2015 Glenn Nagel Undergraduate Research Award for her investigation into a type of protein responsible for degenerative neurological diseases.
In January, civil engineering major Sneha Upadhyaya was one of nine graduate students in the nation to present research at the Transportation Research Board meeting. The scholar, who completed her degree last spring, investigated the modification of foundation soil with cement for roads and highways. Also presenting in the nation's capital was Haroon Khan, who discussed his gravitational-wave research on colliding black holes at the 2015 "Posters on the Hill" event.
In September, the National Student Speech-Language-Hearing Association awarded gold accreditation to the College of Communications' chapter for the fifth consecutive year. The University's Epsilon Eta chapter of Pi Sigma Alpha, the national political science honor society, won Best Chapter Award for the third year in a row.
Members of the University Singers and University Symphony Orchestra traveled to New York in November to perform in Carnegie Hall. Nine students gave solo performances and the orchestra played its own set of the work of composer Tarik O'Regan.
Class of 2015 kinesiology graduate and former soccer player Adriana Gjonovich was named the Big West Conference's honoree for this year's NCAA Women of the Year award.
Todd Callahan was Cal State Fullerton's 2015-16 CSU Trustees' Award for Outstanding Achievement recipient. The public administration senior works for the Long Beach Fire Department.
Business majors Amerika Bernal and Cristian Sanchez were named Epicenter University Innovation Fellows, part of a national program funded by a National Science Foundation. They launched a Student Collaboration Movement with students from multiple disciplines to produce industry-level projects at a collegiate level.
Business alumni Fernando Arevalo, Daniel Equina, Anita Kao, Ryan Laiola and Sumer Sharma took second place in the national Small Business Institute Student Consulting Project of the Year Competition for a case study they had conducted as students. Current business students Andrew Gonzalez and Nolan Maguire were first-place winners in a case study competition at the American Marketing Association's West Coast Collegiate Chapter conference.
Engineering majors showed their chops in a series of contests this year. For the second year in a row, Titans John Thurlo, Eric Kim, Shelley Rodriguez and John Stapleton captured first place in the national "Geo-wall" competition run by the American Society of Civil Engineers' Geo-Institute; and Cengyao Qian, Christopher Suh and Benjamin Gonzalez took top prizes in the Grand PrIEEE undergraduate robot design competition at UC San Diego.
The Daily Titan newspaper won Best of Show at the 31st annual National College Journalism Convention in March.