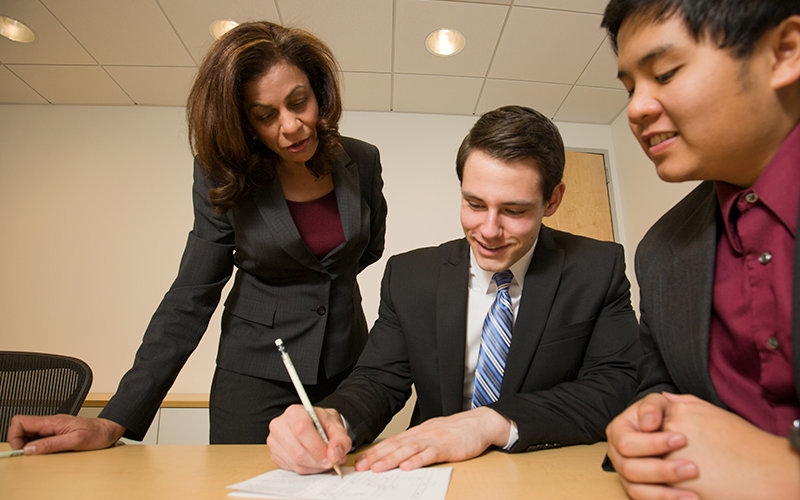 Cal State Fullerton's Center for Economic Education has operated for 50 years, serving to expand the financial literacy of students of all ages.
Begun in 1965, the center was established to furnish economic education services to improve the level of economic understanding in K-12th grade, as well as institutions of higher learning and in the community.
The center's focus and efforts have never wavered, says Radha Bhattacharya, professor of economics and director of the program. "We have always believed that economics is fundamental to a student's education.
"It all starts with helping K-12 teachers feel more comfortable and competent to teach personal finance," says Bhattacharya. "In addition to annual workshops and curriculum support, we provide lessons and materials, such as videos, that help make the financial education experience fun and engaging for students."
Such assistance has proven beneficial to teachers like Wendy Salaya of Wilson Classical High School in Long Beach. "The Center for Economic Education has provided a lot of useful, practical, hands-on activities to me and to my students."
Salaya's students have learned investment strategies while taking part in the "Stock Market Game" and competed in the center's Business Olympiads. "We plan to participate again this year," Salaya says.
The center offers 10-week stock market simulations, summer learning programs and fast pitch contests. And through the U.S. Bank Economic Empowerment Program, eighth graders learn the importance of financial skills and making monthly deposits — matched by the program — for five years.
"In addition to what they learn in the classroom, the Center for Economic Education offers students programs that continue that engagement, increases their skills and broadens their perspectives into entrepreneurship and the global marketplace," Bhattacharya says.
Cal State Fullerton students also get practical, hands-on experience. The center trains graduate students in conducting surveys and compiling data. "Learning such research skills is an integral part of the master's in economics program, says Andrew Gill, professor of economics who contributes to the research focus of the center.
In addition, CSUF students help high school students prepare for the Business Olympiads and fast pitch contests.
"Radha has developed an amazing team, in which each member covers certain segments," explains Cristian Sanchez, a senior business-entrepreneur major. "She drives us to be independent, to know the curriculum and to share it in the best way to engage the students we mentor. I've received thank yous from the students for helping them become better presenters and savers."
Nick Fromm, a junior business-finance major who works with high school students competing in the stock market game, agrees. "The great part is getting them excited about their economic future … to see their interest grow, not only about the game but about college and becoming a business major. And I'm learning things from them while giving back as others did for me."
"Our students use their college experiences and classroom learning and see the practical application of educating others," says Bhattacharya. "Both high school and college students are gaining experience that will serve them well."
Last summer, the center worked with Girls Inc. of Orange County, who offer summer programs to help girls grow into educated and independent adults.
"Financial freedom is a big part of that. Our partnership with the Center for Economic Education helps us fulfill our need to teach financial literacy," says Krystal Miranda, externship coordinator of Girls Inc. "One of the best outcomes we had this past summer for our externship program was the financial literacy component."
"Thousands of low-income and at-risk youth in Southern California are directly benefiting from the programs that Radha and Mary (Sok, center administrative assistant) facilitate," says William Taormina, National Startup League founder and another of the center's community partners.