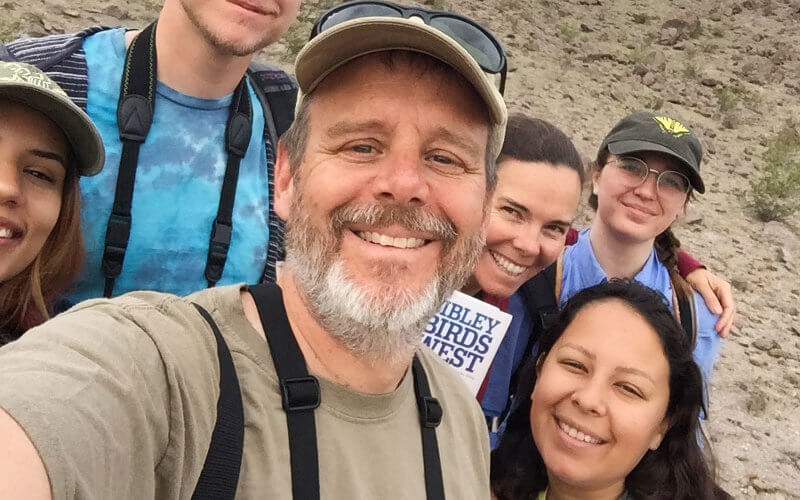 During his twenty years at Cal State Fullerton, William "Bill" Hoese, professor of biological science, has demonstrated incredible commitment to innovative teaching both in his ornithology classes where his students study birds and in the research field. But beyond his commitment to hands-on summer research, Hoese champions student-led learning — a teaching model that earned him recognition as CSUF's 2021 Outstanding Professor.
After receiving the honor a year ago, Hoese stood before faculty, staff and students on Feb. 24 to deliver his 2021 Outstanding Professor lecture. Hoese brought the importance of undergraduate research in ecology and environmental biology to the forefront of the lecture, highlighting his work with the Southern California Ecosystems Research Program, which is an intensive summer course that allows six undergraduate students the opportunity to research as a group. They explore three different ecosystems throughout May and June.
When Hoese joined the campus community in 2000, he was invited to write grants for the National Science Foundation, and through this work, he found a gap in resources for ecological research. His dedication to ecology and environmental biology as well as his passion for hands-on learning helped SCERP grow and succeed, providing biology students with the opportunity to explore the environmental world through a scientific lens. Today, he leads the program with Jennifer Burnaford, professor of biological science.
Aside from positioning students directly in the field, SCERP gives them the confidence to ask complex questions and work together to find solutions. The program succeeds in giving student researchers the freedom to mold their own path and better their communication skills. By the end of the summer, Hoese said that his students identify themselves as scientists.
"It's not like a traditional lab where students work to get results that are already known," said Hoese. "Students learn how to deal with uncertainty, how to test different hypotheses and they go on to pursue careers in science with the knowledge they've acquired."
With the help of peer mentors and faculty, students lead their teams through a variety of different research questions with topics ranging from plant composition to oyster restoration and preferential parasitism.
Of course, the work that students do during the summer doesn't end when school starts.
"The program features an academic year seminar course focused on professional development and research skills," said Hoese. "Students go on to present their research findings in the fall, and they win awards for the work they do. They conduct independent research with a faculty mentor for up to two years."
The program was initially funded by multiple NSF grants, but under Hoese's leadership, it has been independently funded since 2017. Today, the program is supported by philanthropic donations.
He ended the lecture with a look into the future of SCERP. The program will require some restructuring to make it functional for a larger class of students, which Hoese said will be difficult because smaller groups allow students more flexibility to communicate and ask harder questions.
However, despite the challenges ahead, Hoese said that he's confident there's a way to overcome those barriers because he's already started instituting course-based undergraduate research in his ornithology classes and seen positive results.
To find out more about SCERP, visit the program's website. You can also watch the full lecture via the Faculty Development Center website.