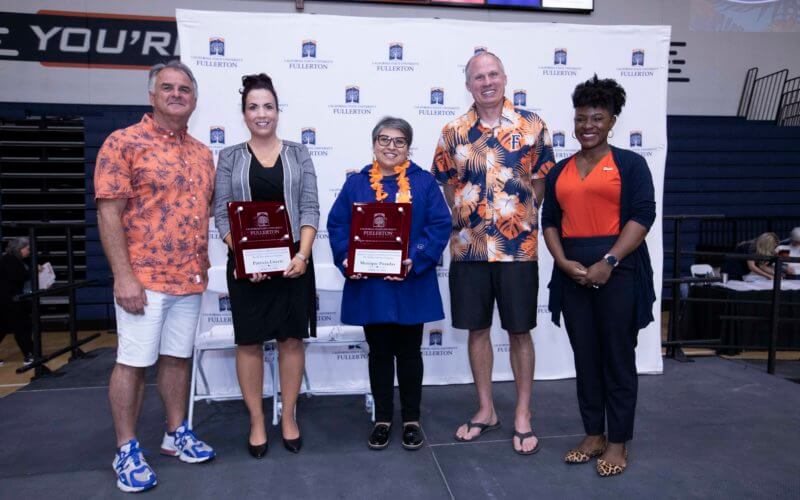 At Cal State Fullerton's University Awards Program on April 21, the following individuals were honored with the Diversity, Equity and Inclusion Award. The award recognizes staff, faculty or teams who have taken action to make CSUF a more diverse, equitable and inclusive campus community.
Patricia Literte, associate professor of sociology (Academic Affairs) and program director, Center for Educational Partnerships (Student Affairs)
Monique Posadas, Auxiliary Services Corp., Center for Educational Partnerships
Rosie Guillen, Auxiliary Services Corp., Center for Educational Partnerships
The McNair Scholars Program provides graduate school preparation, and in particular, Ph.D. program preparation services, to students from low-income, first-generation and underrepresented backgrounds. The program was created to honor Ronald E. McNair, Challenger astronaut and physicist with a Ph.D. from M.I.T. The program is federally funded by the U.S. Department of Education.
Since 2010, 15% of CSUF McNair Scholars, all of whom are first-generation, low-income and/or underrepresented, have obtained their doctorate degrees. This rate is significantly higher than the doctoral degree attainment for the general population, which is approximately 4.5% (U.S. Census, 2018). The rate of Americans from first-generation, low-income and/or underrepresented backgrounds who obtain doctorates is even lower.
Preparing for Ph.D. programs is a rigorous and stressful experience, even for the most privileged of students. It is even more difficult for McNair Scholars, who frequently face "imposter syndrome," economic instability, familial demands and stressors, and mental health challenges, as they attempt to develop research skills and knowledge of the politics of academia needed to succeed in doctoral programs. McNair scholars are encouraged to "lean into learning" and continually build on their existing knowledge and skill sets.
The CSUF McNair Scholars staff has raised consciousness about diversity and inclusion by creating a transformational Titan experience, which promotes student success at both CSUF and the post-baccalaureate level.
All CSUF McNair Scholars receive bi-weekly mentoring, writing tutoring and seminars, which focus on academic skill development, professional development and graduate school preparation.