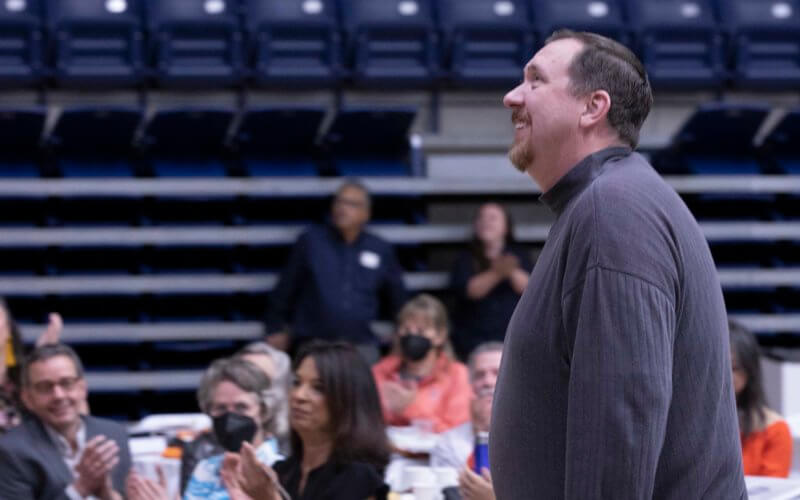 Three Titan Excellence winners were honored during Cal State Fullerton's University Awards Program, held April 21, and one was recognized as the Titan of the Year — Michael August, performing arts technician III/production coordinator in the School of Music.
Michael August, performing arts technician III/production coordinator, School of Music
As the production coordinator for the College of the Arts, Mike August oversees all the performing arts productions: theater, dance and music. He also took over a great deal of technology management following a staff retirement a few years ago.
He works with over 100 students who staff all the shows every semester: stage managers, ushers and crew members for lighting, sound and more. He teaches, coaches and mentors them with a smile and words of encouragement.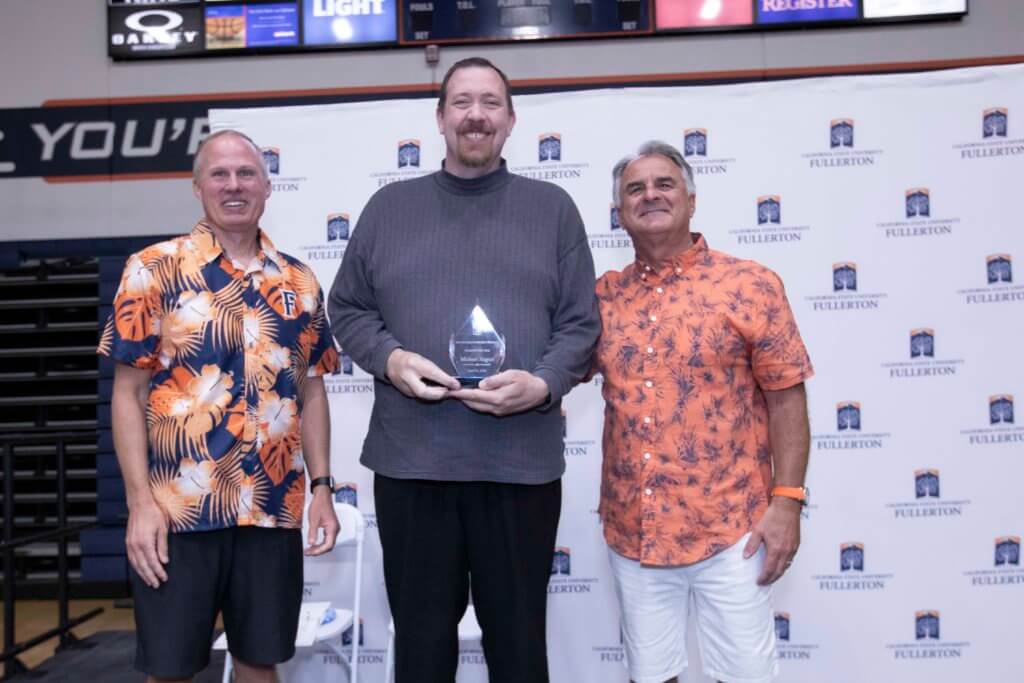 The College of the Arts boasts a very diverse student population. In music and in theater/dance, August works with, and mentors, these students every day, including them equally in all learning opportunities regarding performance production and management. He makes every effort to match students with their interests, whether that be crewing back stage or working equipment in the control room. He builds community with students gathering in his office and outside his door. They know they can come to him for assistance with their performances or to receive a kind word of advice.
August also demonstrates exemplary service to the campus and community by being the "go-to guy" for all things related to facilities, technology and performance in the Clayes Performing Arts Center. He sees that every stage production and individual recital and ensemble — large, medium or small — gets up and running on schedule, and he often works the control booth himself alongside his students.
As if that weren't enough, August also manages the database for the School of Music and has been known to fix computer problems from time to time.
Last, but certainly not least, August plays Santa Claus at the annual "Deck the Hall Concert." (Shhh…don't tell anyone!)
Katherine Powers, professor of music, School of Music
Katherine Powers has worked tirelessly to support underrepresented graduate students at CSUF. Most significantly, since 2010 she has been the principal investigator on three Title V Department of Education grants totaling $8.3 million in funding.
These grants support the academic achievement of Latinx and other underrepresented graduate students. Through her diligence, Powers has helped underrepresented students enroll in CSUF's graduate programs, as well as persist and complete graduate degrees in a timely manner. A significant part of her work has been to help shift the culture at CSUF so that it is more welcoming to and inclusive of all of students.
These programs have included creating the Graduate Student Success Center, adding writing and academic support services specifically for graduate students, helping students navigate the graduate school application process, providing workshops to develop students' skill sets, developing a faculty/graduate student mentoring program, training faculty on inclusive teaching practices, and creating a summer bridge program for incoming graduate students.
Thanks to her efforts, the number of Latinx graduate students at CSUF increased by 37% from 2014 to 2020, and a higher percentage of these students are graduating. Her work has truly transformed Cal State Fullerton's graduate programs.
Powers is also helping to build the diverse pipeline of faculty needed at CSUF. These graduates go on to Ph.D. programs and become tenure-track faculty, many of whom return to the CSU. In addition, as the grant programs have improved the cultural competence of staff and faculty, they have made CSUF a more inclusive environment for everyone on campus. In her work on the grants, Powers includes alumni who encourage the next generation of Titans.
Powers served as the director of graduate studies for nine years, as well as the chair of the School of Music. She has long been an active part of the campus community, serving on multiple campus committees and in the Academic Senate.
Catherine Ward, director of learning and engagement, Diversity, Inclusion and Equity Programs (Human Resources, Diversity and Inclusion); former executive director of retention initiatives (Student Affairs)
As executive director of retention initiatives and the department of assistant deans for student affairs, Catherine Ward exemplifies outstanding leadership, grace, empathy, compassion, dedication and commitment. Her work focuses on intentionality, mindfulness, empathy and equity.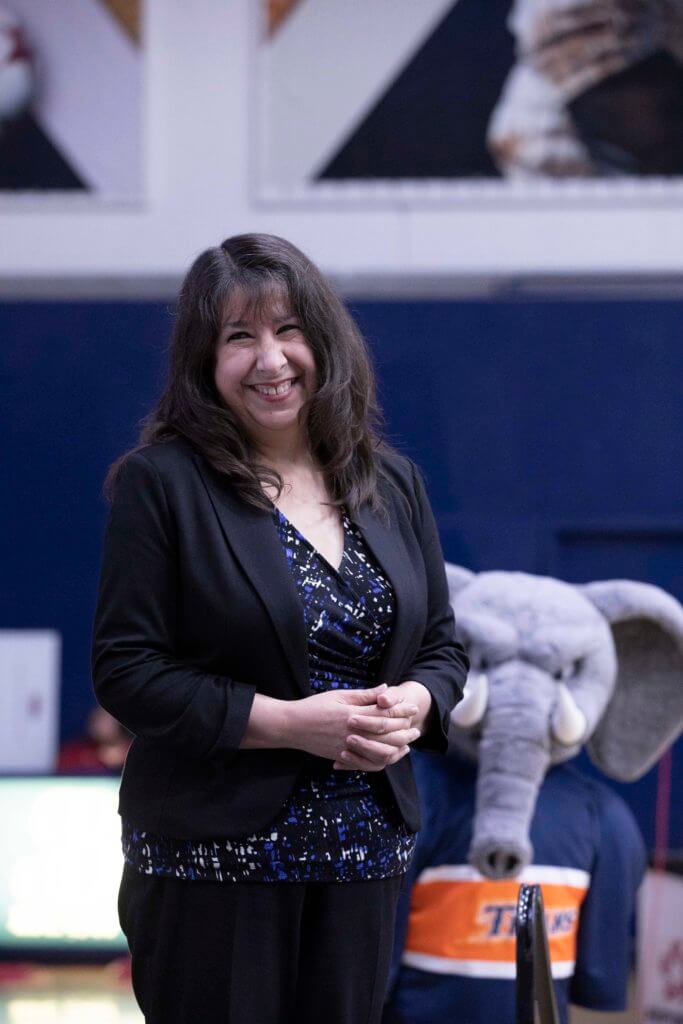 Ward led and mentored eight assistant deans for student affairs and was responsible for their training and professional development. Her responsibilities centered on weaving and integrating various academic and student affairs support services. She contributed to a wide variety of initiatives that supported the local, divisionwide and university strategic plans. Ongoing collaborations with partners on campus to design and implement student service assessment plans and college climate assessment efforts have informed the decisions and the work of the team.
In response to CSU Graduation Initiative 2025, CSUF established Tuffy's Graduation Scholars in 2019 under Ward's leadership. The primary goal was to understand the intersections of underrepresented, first-generation and Pell grant students to enhance their educational experiences and their persistence, retention and graduation rates. The initial group of 759 first-time, first-year students joined CSUF in 2019. In fall 2020, 706 scholars continued in the program. CSUF's goal for the fall 2019 cohort is to graduate 39.1% of all students in four years and 75.0% in six years.
Ward recently led the inaugural First-Generation College Student Celebration at CSUF in 2021 and coordinated with various on-campus partners for a weeklong event. The successful event was attended by 1,400 first-generation college students.
For the professional staff in her team, she lives up to the saying "lift as you climb." She provides many doors of opportunities for her team where they can shine and flourish professionally.