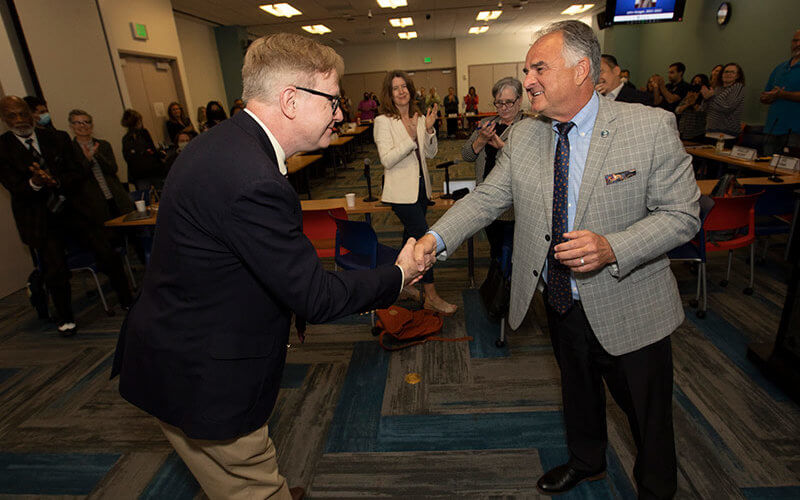 John Koegel first discovered an interest in Mexican music as a child. His parents took him to hear Mexico's famous mariachi ensemble, Mariachi Vargas de Tecalitlán, as well as the internationally recognized Ballet Folklórico de México.
Following that interest throughout the years, Koegel traveled throughout Mexico, attended university in Spain, became fluent in Spanish, earned a doctorate in musicology, has inspired scores of students and continues to advance research in the field. The Cal State Fullerton professor of music is the recipient of the university's 2022 L. Donald Shields Excellence in Scholarship and Creativity Award, announced at the April 14 Academic Senate meeting.
"Music is like a thread that links life together. It's a way of connecting us — our memories, our roots, our heritage," said CSUF President Fram Virjee. "Dr. Koegel's aim and his mission is to share his findings so we all can discover our own musical roots."
Koegel's research — featured in numerous books, articles, presentations and through public scholarship — centers on the music of California, the United States and Mexico, particularly musical and theatrical lives and repertories in the context of immigration and ethnicity in the United States.
"My research is especially relevant today because of the increased xenophobia, racism and anti-immigrant feelings in some segments of U.S. society, and it delves deeply into the many significant artistic contributions made to our society by these diverse communities over the centuries," explained Koegel.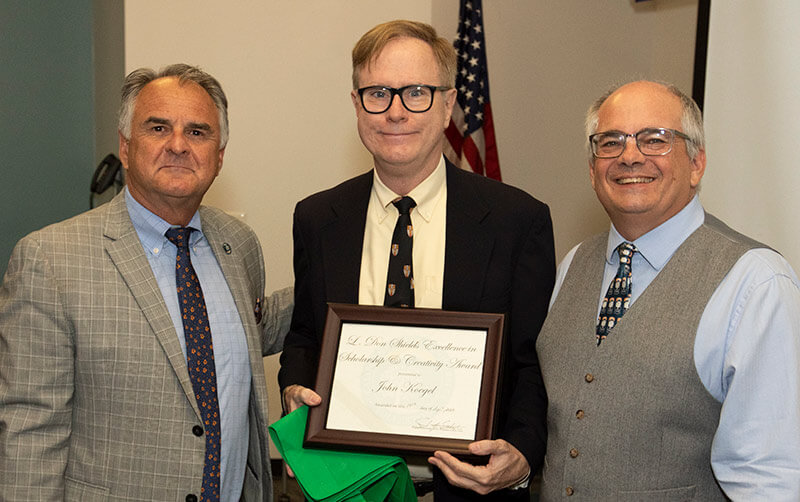 His upcoming book will include musical transcriptions and analysis of more than 300 Mexican and Mexican American folk and popular songs, recorded on wax cylinders in Los Angeles circa 1904 by 35 local singers and guitarists for folk song collector Charles Fletcher Lummis. Koegel's first sole-authored book, "Music in German Immigrant Theater: New York City, 1840-1940," was awarded the Society for American Music's 2009 Irving Lowens Book Award.
"Dr. Koegel's ideas and discoveries set themselves apart as profoundly important pieces of scholarship," said Robert Istad, professor of music. "His inclusive embrace of the essential musical contributions immigrants have made to American music is laudable."
Koegel has served as a board member of the College Music Society and the Society for American Music, and as a national council member of the American Musicological Society. He has contributed to different forms of public scholarship, such as: curator for the CSUF Pollak Library exhibit "Celebrating 60 Years of the CSUF School of Music, 1960-2020," consultant for the Selena postage stamp issued by the United States Postal Service in 2011, appearance on the KCET television series "California's Gold" and consultant for Ken Burns' PBS documentary "The West," among other projects.
To support his research work, he has garnered numerous fellowships, grants and awards from such organizations as the National Endowment for the Humanities, American Council of Learned Societies, American Philosophical Society, American Musicological Society, Society for American Music, CENIDIM (Centro Nacional de Investigación, Documentación e Información Musical Carlos Chávez, Mexico City), Huntington Library, New York Public Library and the Library of Congress.
Alongside his own work, Koegel is committed to training the next generation of music scholars. He provides step-by-step guidance in research and writing methods, while supporting students' interests in such topics as the famous East Los Angeles rock band Los Lobos, local LGBTQ+ musical histories, 19th-century Mexican guitar music and Japanese American music in Los Angeles before World War II.
"The most important lesson I impart to all my students is that they can find a research project for which they feel a passionate interest," shared Koegel.
Istad added that Koegel's collegiality and "seemingly endless creative energy" inspire him and his colleagues daily.
"Many of my former students credit Dr. Koegel's dedication as pivotal to their success," said Istad. "His teaching inspires students to become superior writers, thinkers and human beings. I am impressed with his ability to hone the talent of young scholars without restricting their individuality."