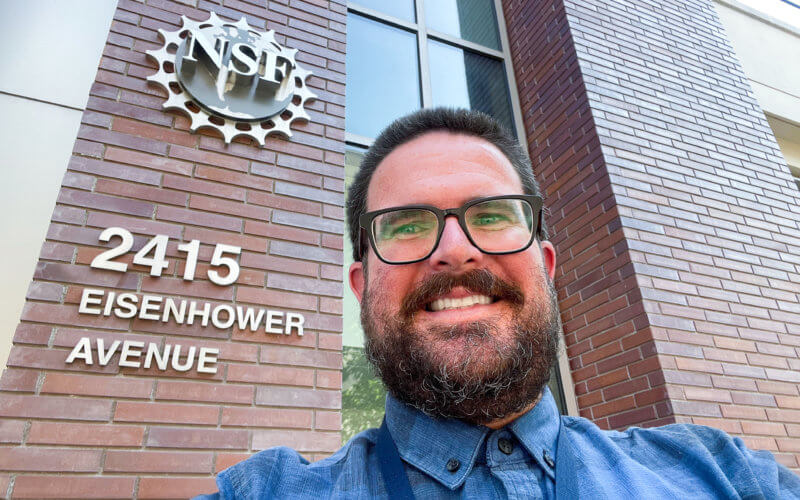 Joe Carlin, Cal State Fullerton associate professor of geological sciences, has been selected to serve in a scientific leadership role at the National Science Foundation.
Carlin, a marine geologist, is serving as a program director for Marine Geology and Geophysics in the Division of Ocean Sciences. The rotator position is designed to bring in scientists to ensure that different perspectives and experiences contribute to the scientific process, Carlin said.
"I am looking forward to interacting with scientists from a variety of disciplines and institutions — and learning about cutting-edge science," said Carlin, who in June reported to NSF's headquarters in Alexandria, Virginia, for the one-year post.
"I think my selection speaks to NSF's understanding of the important role that a university like CSUF has in training the next generation of scientists."
Over the years, a number of faculty members from the College of Natural Sciences and Mathematics have served in these temporary positions at NSF.
Adam Woods, professor and chair of geological sciences, noted that navigating the grant process can be difficult, especially for new faculty. In Carlin's role, he can learn about, and share, the types of research projects NSF is funding.
"Joe will gain insights into where science is headed, which allows our department to better plan for the future," Woods said.
Visiting scientists are involved with a broad spectrum of national scientific programs and initiatives that ultimately increase intellectual awareness and enhance professional growth, according to NSF.
"Having our scientists work at NSF, helping with the proposal review process and interacting with scientists from across the country, benefits CSUF by improving our visibility within the scientific community," added Sean Walker, professor of biological science and associate dean of the College of Natural Sciences and Mathematics. "It also means that they are helping to shape what happens at NSF and in their fields."
Marine Geology Research
In Carlin's Coastal and Marine Geology Lab, he and his students investigate the flux and fate of sediment in marine environments from salt marshes, to river mouths, beaches, and out to the shelf break. Through this work, they seek to better understand the impact coastal processes, episodic events and human activity have on creating the marine geologic record.
Carlin, who joined the university in 2014, has received NSF funding for his research, including for a project to characterize the mud delivered to the Gulf of Mexico following flooding off the Texas coast. He also is collaborating on a project led by Matthew E. Kirby, professor of geological sciences, with Kevin Nichols, associate professor of mathematics, to investigate climate change over the past 3,000 years in California.
To maintain his own research interests, Carlin will periodically return to campus to work with colleagues and mentor his students on various research projects.
While at NSF, Carlin is eager to learn more about the funding process at the federal level and improve his grant-writing skills.
"Being exposed to so many great scientific ideas and proposals will help me to better develop my own research ideas and improve how I communicate these ideas," he said.
"Personally, I hope to be a resource to my colleagues and that my role at NSF will lead to securing more funding in the future for me and my students. I look forward to every opportunity I have here at NSF to tell people about our great university."