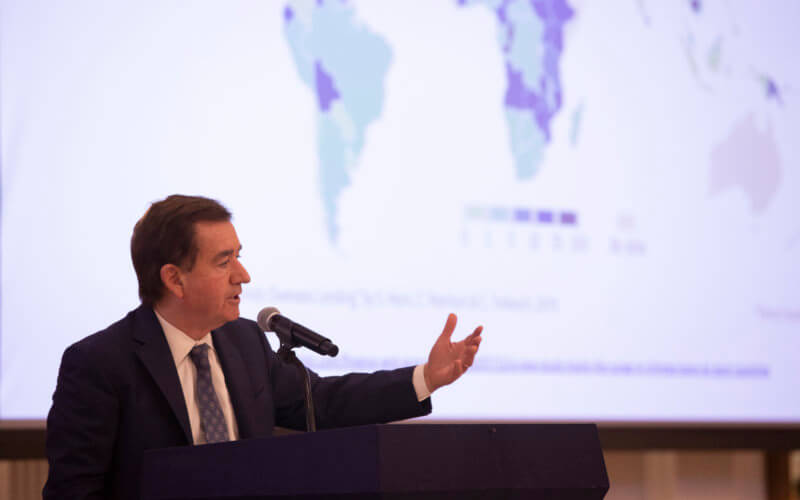 At the second annual Royce International Symposium held earlier this month, former U.S. Rep. Ed Royce and a panel of foreign policy experts and scholars offered their perspectives on what is happening in Europe and Asia and why these events are important for America. The symposium was organized by Cal State Fullerton.
During his keynote address for the symposium, which was held at the Richard Nixon Library, Royce pointed out that Nixon was instrumental in reestablishing communications and partnerships between America and China in the early 1970s.
"While China is challenging, we have to remain engaged," Royce said. "I think Russia is destined to be destabilized."
Royce '77 (B.A. business administration-accounting, finance), a CSUF alumnus who served in Congress for 26 years and chaired the House Foreign Affairs Committee from 2013-19, currently serves as policy director of Brownstein Hyatt Farber Schreck. He believes that because Nixon (and John F. Kennedy before him) were young men during World War II, they were able to observe what happens when totalitarian countries are "on the march and begin carving out territories.
"How a nation treats its own people tells us how likely it is to treat its neighbors."

— Former U.S. Rep. Ed Royce '77
"When the United States sees free people fighting back against regimes that would replace democracies, our security is at risk," he said. "In China, we see increased militarization and aggressive behaviors toward Taiwan, the Philippines and others. I believe we should transfer missile systems to Taiwan so they can launch a credible defense if necessary.
"We should also be sending arms to Ukraine," he added. "If Europe is sending arms, so should we. We need to supply defensive weapons to the free people of Ukraine. A strong defense system is a credible deterrence."
Following the keynote address, Cal State Fullerton professors moderated panels that focused on two specific territories of concern: Russia/Ukraine and China.
Europe Panel
Moderator: David Traven, associate professor of political science at Cal State Fullerton and author of "Law and Sentiment in Internal Politics: Ethics, Emotions and the Evolution of the Laws of War"
Tom Sheehy, principal at Quinella Global LLC and former staff director of the Committee on Foreign Affairs in the U.S. House of Representative
"There are many challenges in Europe and elsewhere. You've got Russia invading Ukraine, Russia and China meeting together, and let's not forget Iran and North Korea. This is an era when the U.S. and its allies are confronting daunting challenges. The balance of power is important, and alliances are being created for stability. Right now, the U.S. is the greatest world power with China at number two. If Vladimir Putin (president of Russia) succeeds in Ukraine, it extinguishes any possibility of that country remaining a democracy."
"Ukraine is important in defending world order. The indiscriminate bombings; the savage, brutal attacks; the suffering of the Ukrainian people; and the violations of territorial areas should be a concern to all."
"There is debate and there needs to be debate on how to help Ukraine. The risks of escalation are real, and we need to be attentive to details. Putin is desperate to keep power, which is why he's meeting with Xi Jinping (president of the People's Republic of China)."
"There has been incredible resolve by the people of Ukraine and Europe's response has been admirable. Also consider that many Russians have left Russia. Even if Russia wins, it's in a weakened state. This war wasn't started by the Russian people, but by their leaders. The vast majority of Russians are lukewarm or keeping their heads down when it comes to supporting the war."
"How long can Russia continue with these losses? The number of Russians killed has been quoted as anything from 20,000 to 200,000…and it could be higher. There is the possibility of exhausting their military power. That's why Putin needs China and others to assist. This is the most precarious time in European history since 1939."
Paul D'Anieri, professor of political science and public policy, at UC Riverside and author of "Ukraine and Russia: From Civilized Divorce to Uncivil War; Ukraine's Outpost: Dnipropetrovsk and the Russian-Ukrainian War"
"In 2014, Putin annexed Crimea; now he wants all of Ukraine. If Russia takes Ukraine, what is next? If Putin's goal is to return Russia to its imperial boundaries, that would include Warsaw and Finland. Does European unity last?"
"Much has been made of sending $46 billion to Ukraine, but recognize that this is just 5.5% of the military defense budget. The greatest cost to America would be the cost of lives lost if our troops were in Ukraine and the Ukrainians aren't asking for that. We should give Ukraine the 'hardware' it needs to defend itself."
"This isolationist idea of 'Why should we care?' doesn't reflect realist thinking. Do we believe if Ukraine collapses, it won't affect us? That's naïve. If Russia wins, we'll have to put troops in Europe because Russia will continue to invade other territories. Ukraine is important to defend world order."
"It's hard to see any military gains for nuclear weapons. Also remember that nuclear weapons come in different levels. There are tactical weapons that can take out a battalion and strategic weapons that can vaporize large areas."
"The number of Ukrainians who support Russia is about 2%. Ukrainians don't believe they are Russians. How do you define a win? For Russia, it would be to regain all the territory it has lost. Maybe China can disrupt the process. If they could, that's a good look for China among the world's nations. I'm not sure how long Russia can sustain the losses of life, their world standing, etc."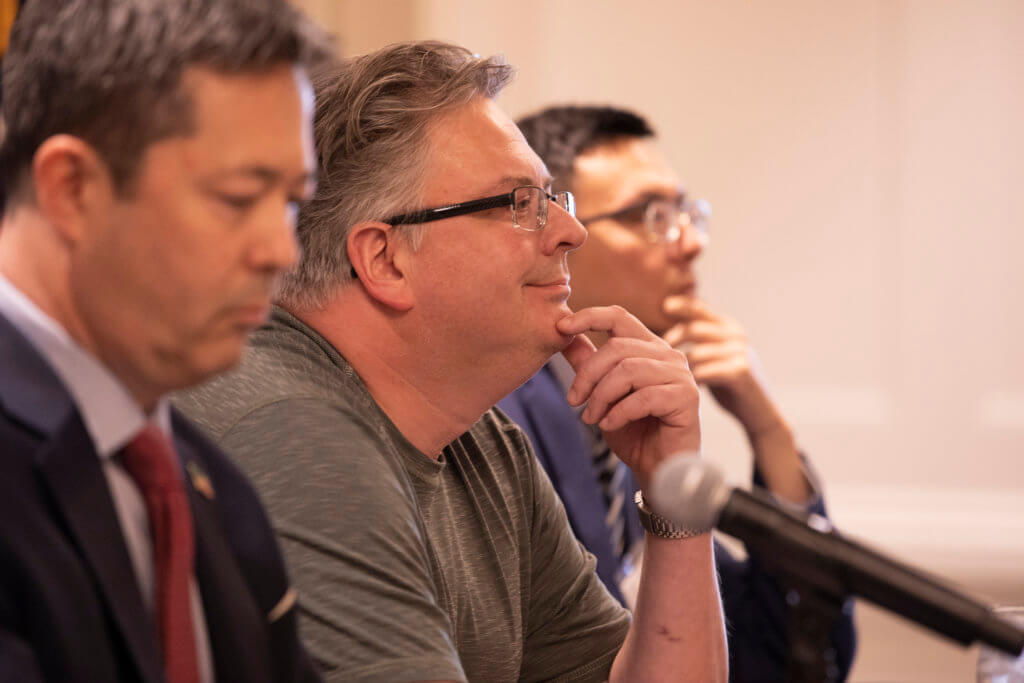 Asia Panel
Moderator: Alexei Shevchenko, professor of political science at Cal State Fullerton and author of "Quest for Status: Chinese and Russian Foreign Policy"
Sean K. O'Neill, U.S. State Department visiting professor at George Washington University, career member of the U.S. Senior Foreign Services, and former foreign affairs fellow on staff of the chairman of the U.S. House of Representatives Committee on Foreign Affairs
"Does diplomacy exist? It does, but how effective is it? As the world changes, our strategies can't remain static. For instance, we need to change our practices of diplomacy in response to China's global ambitions. I hope the U.S. never keeps strategy on the shelf like an old encyclopedia that gets opened anywhere from one to 10 years. Close enough isn't good enough."
"China's rise, relative to the United States, is not a zero-sum competition. The U.S. will stand up for our values. China often uses coercion — Wolf Warrior diplomacy that is confrontational and combative. You shouldn't be coerced into making a choice. You should have free choice."
"We're seeing the rise and advance of China's military. The PRC (People's Republic of China) has expanded their naval presence in the south China sea. They now have at least 350 nuclear warheads and have indicated that by 2027, they will have 700. They could take Taiwan. After the first gulf war, the PLA (People's Liberation Army) noticed that the U.S. was ahead, and they needed to catch up."
"We need to make Xi understand what a disaster it would be for the people of China if he makes moves on Taiwan."
"It's important to recognize the difference between intent (what you want to get done) and consequences (how to avoid unintended consequences). Intentions matter, but the consequences are what is important."
Xiaoyu Pu, associate professor of political science at University of Nevada, Reno and author of "Rebranding China: Contested Status Signaling in the Changing Global Order"
"The U.S. has always played a leading role with China. As China's economic influence has increased, we have been the number one trading partner."
"Our peaceful use of strategy hasn't ended tensions, but neither side is applying their military strength."
"U.S. power isn't declining, but China is rising and there is a gap. However, the U.S. is a resilient power and the West is still more powerful."
"The U.S. will compete with China, but we need a peaceful framework to coexist. There is a difference between conflict and competition."
In addition to Cal State Fullerton, sponsors include Richard Nixon Foundation (title sponsor), Brownstein Hyatt Farber Schreck, and SchoolsFirst Federal Credit Union (gold sponsors), and KyleHouse Group and Paul Carter, '92 (silver sponsors).