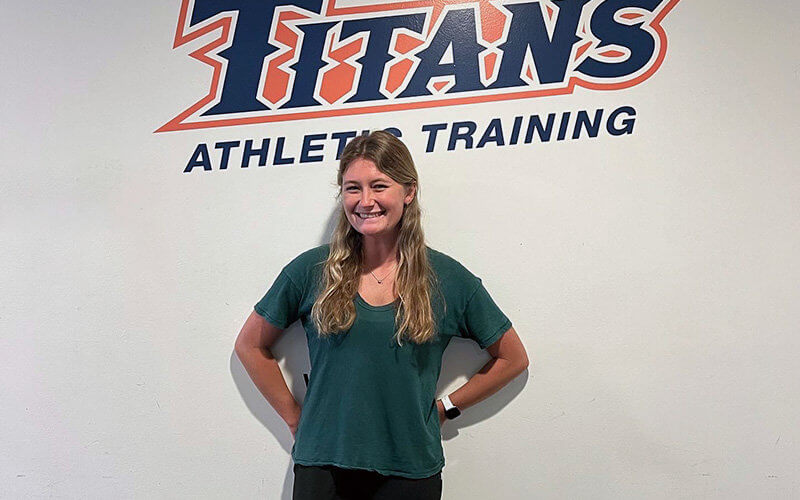 Sienna Baldwin's fondest memories of baseball always go back to Dodger Stadium. She remembers growing up with the chorus of the home crowd, the glow of the lights against the city skyline and looking over to find her dad with the biggest smile on his face as the players took the field.
With a "family tradition" rooted in baseball, Baldwin's passion for sports and physical activity led her to Cal State Fullerton where she will complete her master's degree in athletic training this spring.
The Class of 2023 graduate will join the Arizona Diamondbacks in May as an athletic training intern — the first step toward her dream of becoming a certified MLB athletic trainer.
Chasing Dreams at Chase Field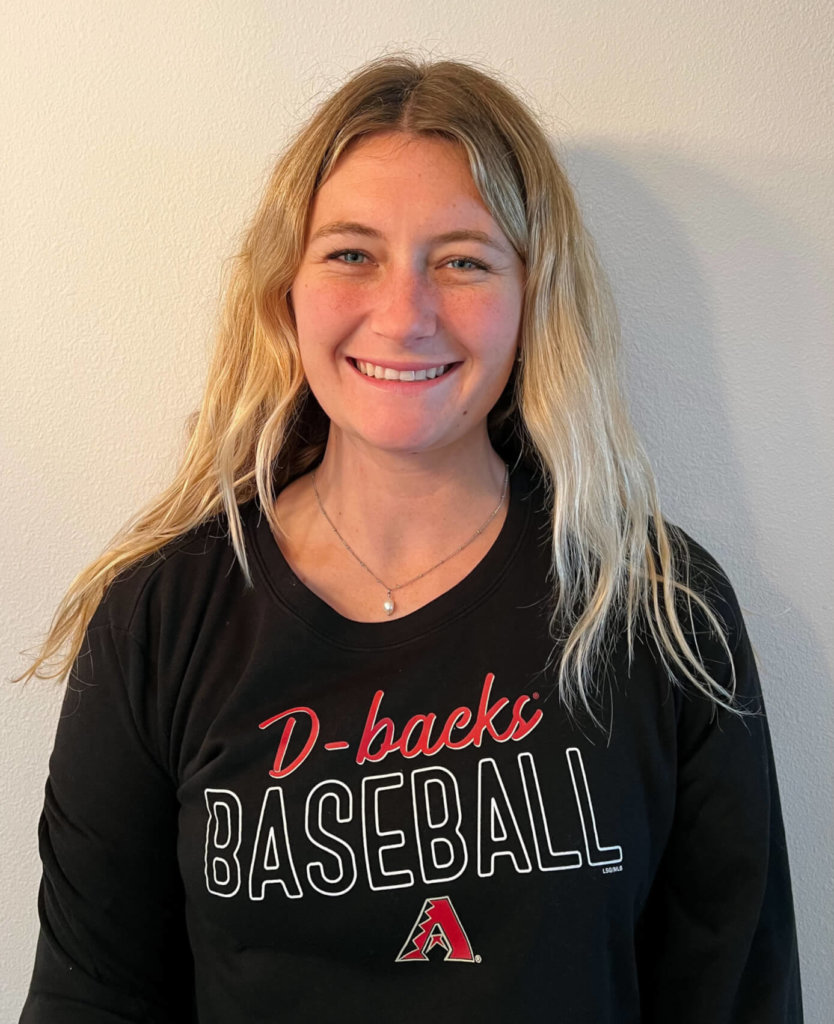 From the graduation stage, Baldwin will pack up and move to Scottsdale, Arizona, where she will be working at the Diamondbacks' rehabilitation center and learning from their professional athletic training staff.
Working one-on-one with major league ball players, Baldwin said she'll be focused on injury prevention, rehabilitation and clinical evaluations.
During home games, she'll join the team at Chase Stadium to assist the staff with treatments and ensure that the players feel their best when they take the field.
"The structure of the program ensures that I'll be learning techniques and skills that are specific to baseball. They prepare interns for jobs in professional baseball, which is perfect for what I want to do," said Baldwin.
Titan Takes the Big Leagues
When Baldwin began exploring graduate programs that would open big league doors, one name always came up – Jason Bennett, associate professor of kinesiology and director of CSUF's athletic training program.
"Everyone had good things to say about his work at CSUF," she said. "When I interviewed for the program, it only took five minutes to realize I was in the right place."
Throughout her graduate education, Baldwin gained hands-on athletic training experience, working closely with the men's basketball team last season and learning how to apply her skills in a competitive game setting.
"It was the first time I experienced what it was like to work in an athletic training room with a Division 1 team," said Baldwin. "The connections I've made and skills I've developed at CSUF are going to last me a lifetime."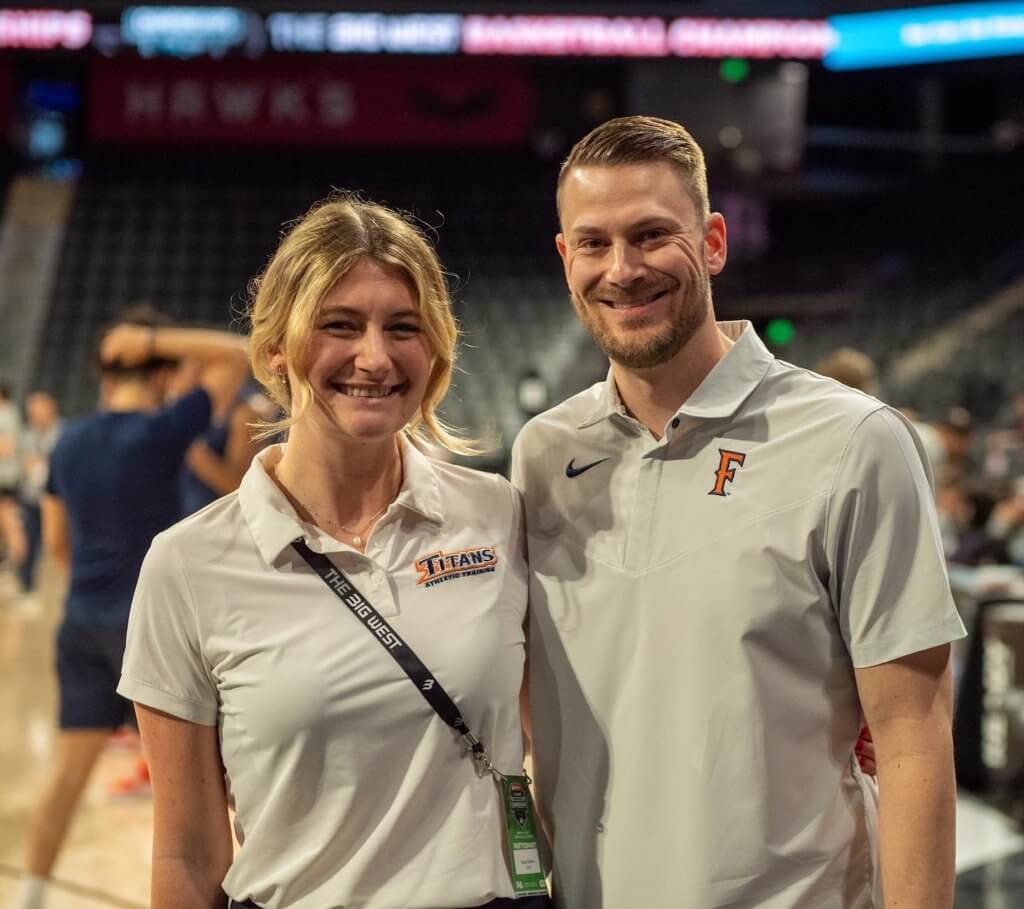 "During her immersive rotation with men's basketball, she worked hard and gained the trust of the coaching staff and players. She was an integral part of the team's success this season," said Kyle Burnett, assistant athletics director of sports medicine. "She never wavered from the challenge and jumped on every opportunity to grow as a clinician."
With professional athletic training experience in minor league baseball himself, Bennett added that he's confident in Baldwin's abilities and has no doubt that she will succeed in her role with the Arizona Diamondbacks.
"Sienna has been a fantastic student in our program. She not only worked extremely hard in the classroom and in her clinical experiences, but she also was involved as a leader within our professional association," said Bennett. "I'm sure her tenacity and leadership will be an extremely valuable asset in providing quality patient care."
Major Plans to Work in Major League Baseball
At 4 years old, Baldwin already had a glove in her hand. Playing softball in the backyard with her mom, dad and older sister, sports have always been a huge part of her life. When asked why she chose baseball, she said it all goes back to Dodger Stadium.
"Going to baseball games with my family over the years made me fall in love with the sport," said Baldwin. "This career is a way for me to combine my passion for athletic training with my love for the game."
Her internship with the Diamondbacks will be the first step toward achieving her career goal of becoming a full-time athletic trainer for a MLB organization. Although she's happy to work for any one of MLB's 30 clubs, her dream is to return to Los Angeles to take the field with the team that reminds her of home.
"Baseball isn't just fun for me to watch anymore," said Baldwin. "It's fun for me to work with because I like the challenge of looking at different players' physical routines and finding ways to help them get better."