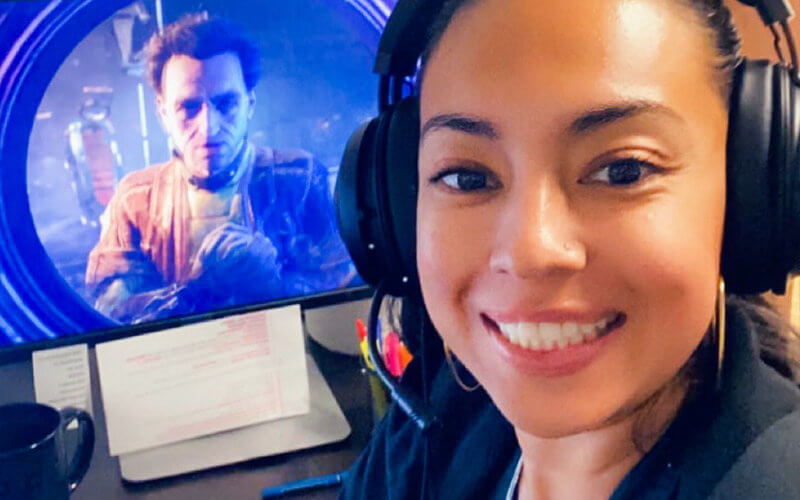 When players log in to their favorite games, they immerse themselves in fictional landscapes and whimsical scenery filled with legendary characters, but creating that world starts with production professionals like graduating senior Danie Gray.
The Cal State Fullerton Class of 2023 graduate works as a production assistant at Obsidian Entertainment, a popular gaming company known for such titles as "The OuterWorlds" and "Star Wars: Knights of the Old Republic II – The Sith Lords."
With a passion for vibrant storytelling and immersive world-building, Gray will graduate with a B.F.A. in computer animation and game art before continuing her career at Obsidian Entertainment where she helps the production team track game assets to create the worlds that players love.
"When it comes to animation, every piece and every element of a story affects me. I appreciate the process and all the moving parts. It inspires me, and I want to be a part of it," said Gray.
Getting Into Gaming
The mom of two young children, Gray first joined Obsidian Entertainment as a production intern before her last year at CSUF. After six months working alongside one of the company's game directors, they offered her a contract as a production assistant.
With a knack for visual storytelling and game creation, her role involves tracking the various props and assets that make up a game's universe.
Using a "roadmap" to ensure that all of the game assets make it to the production team, Gray said the job helped her realize how much she loves the production process. Her goal is to become a full-time member of the production team, specifically working on environment and prop modeling.
"I'm succeeding in a field that's very intimidating and male-dominated, and I'm really proud of myself," said Gray.
Finding Confidence Through Creativity
It was the children's movie "Trolls" that first sparked Gray's interest in animation.
Not only did she feel moved by the storytelling, but she loved how the animated designs created a fun world for viewers. When she arrived at CSUF with that interest, she was surprised when one of her professors told her that her passion for 3D animation and character development would be best suited in gaming.
"I was nervous because I didn't know a lot about games. Sure, I played 'Super Mario Bros.' and 'Sonic' when I was younger, but I wanted to be transparent about my experience. I didn't have a lot," explained Gray.
After talking with professors who encouraged her to pursue this avenue of study, she applied to the computer animation and game art concentration, and within the first couple months, she was building the portfolio that landed her an internship at Obsidian.
"The program opened my eyes to career opportunities that I didn't know were available to me."
In addition to her artistic endeavors, Gray was involved in student organizations, serving as the social media coordinator for the Polysquad club and event coordinator for CSUF's chapter of the Association for Computing Machinery's Special Interest Group on Computer Graphics and Interactive Techniques (ACM SIGGRAPH).
"Danie is a wonderful artist and also a good leader. I've seen her bring together many different types of artists to create some really amazing projects in my 3D group production class," said Andrew Fedak, associate professor of art. "It's no wonder that Obsidian picked her up so quickly."
Although Gray is grateful for the experiences these organizations provided her, she said the more important outcome of her work as a campus leader has been how it helped her find a home at CSUF — something that she feared wouldn't happen when she returned to school as a student parent almost 15 years after she graduated from high school.
"I was really scared because I was a parent, and I was from a different generation," she shared. "I feel a lot more confident today. Being involved with clubs and getting to talk to more students, I've had the opportunity to put myself out there and succeed in this field."