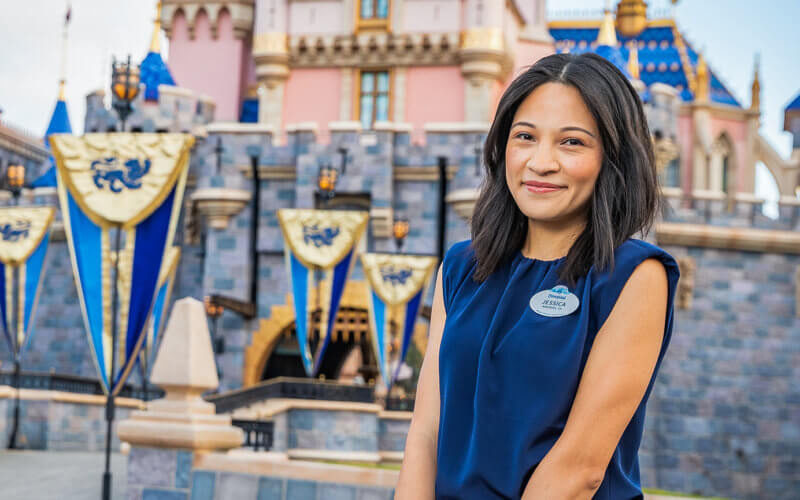 When she was 2 years old, Jessica Pineda would wait patiently for her parents to play her favorite VHS tape — a recording of the Main Street Electrical Parade at Disneyland — so that she could dance like the characters on the screen.
Today, she works as a public relations manager for the Disneyland Resort, where she writes stories to inspire media and guests with the same joy and magic that she felt growing up.
"It seriously is my dream job, and if it weren't for the education and opportunities I got at Cal State Fullerton, I don't know that I would be where I am today," said Pineda '15 (B.A. communications-public relations).
Pineda spoke to students as part of Comm Week, an annual event hosted by the College of Communications that invites industry professionals to campus to share their expertise and provide networking opportunities for students looking to pursue careers in communications fields.
"It is always great when alumni are able to give back and students can see the success of a fellow Titan," said Miya Williams Fayne, assistant professor of communications. "The tips that Jessica shared about writing and networking will certainly serve students now and in their future careers."
Pineda shared the ins and outs of working in the public relations industry, her best writing tips and advice on how to start a career in entertainment.
When people think of public relations, Pineda said that they automatically think of things like red carpets, media trips and movie screenings, and while events make up part of her routine, a bigger part of her role involves being a good writer and storyteller.
Through the process of drafting press releases, answering media inquiries, pitching stories to the media and contributing to the Disney Parks Blog, Pineda has learned that "great storytelling starts with great listening."
To demonstrate her writing process and storytelling strategy, Pineda spoke about one of her previous Disney projects, the reopening of Mickey's Toontown at Disneyland Resort.
She walked students through her step-by-step writing process by showing them how she drafted a press release for the event. She explained the importance of defining a clear purpose for the content, identifying key audiences, drafting outlines and breaking the assignment into actionable items that can be completed over a period of time.
"Feedback is your friend," said Pineda. "Put your heart and soul into your work, but don't take any feedback as being an attack on you or your talent."
As a student, Pineda was an active member of CSUF's Public Relations Student Society of America (PRSSA) chapter, which provided her with networking opportunities that led to internships at the Discovery Cube Orange County and Visit Huntington Beach.
A longtime Disney fan who grew up visiting the parks, Pineda started working with the company while she was a student at CSUF, first as a park operations cast member and, after graduation, she interned for the Disneyland Resort public relations team.
She then accepted a full-time position with Edelman, a global public relations firm where she created marketing and communications strategies for such companies as Microsoft, Adobe, Samsung and Petco.
"Don't be afraid to network. Network with guest speakers (like me), professors and peers. Someone could hear about the awesome work you're doing and offer you an opportunity you weren't expecting," said Pineda, adding, "I highly recommend keeping your mind open to different opportunities because you really have no idea where it can take you."