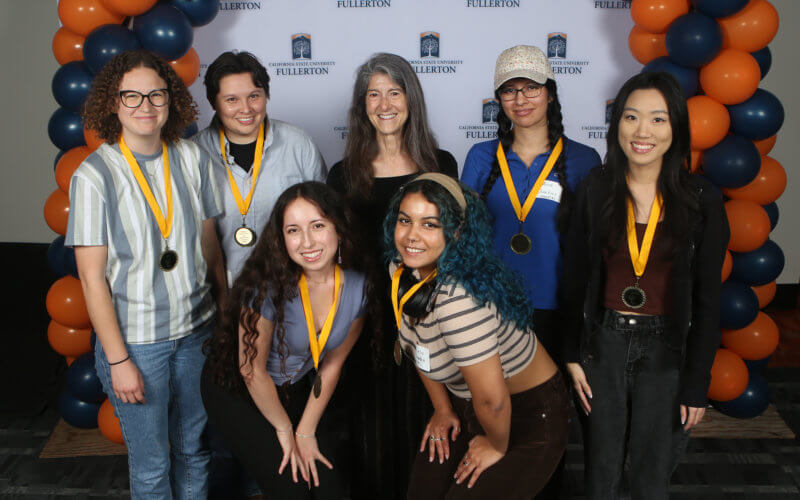 Graduating senior and psychology major Daniela Hernandez has always been fascinated by the mysteries and complexities of the human brain, including developmental disorders like autism.
As a Cal State Fullerton student, she wanted to explore the biological side of psychology and found the perfect match in the lab of Adam Roberts, associate professor of psychology.
Hernandez, who is earning a bachelor's degree in psychology with a minor in cell and molecular biology, is using zebrafish models to better understand neurodevelopmental disorders such as autism spectrum disorder.
She is among the class of six graduating scholars in the university's Maximizing Access to Research Careers (MARC) training program.
Since 1996, the National Institutes of Health-funded program has prepared 130 undergraduates, including underrepresented and/or first-generation college students, for future careers in biomedical research.
For the past 27 years, the program has been successful in placing 85% of its graduates in competitive Ph.D. programs, said Amybeth Cohen, professor of biological science, who has directed the program since 2004.
"This year's MARC graduates were a close group of students who supported one another throughout their time in the program. They worked hard to move forward with their scientific careers after graduation," Cohen said.
The university's new NIH-funded U-RISE Program will replace MARC, with the first class of scholars beginning in June.
Studying the Human Mind
Hernandez's thesis titled, "Building a Zebrafish Model for Autism Spectrum Disorder," centers on neurodevelopmental disorders and how external factors, such as chemical agents, influence their development.
Roberts and his student researchers build zebrafish models by using chemicals to observe characteristics that are produced from chemical exposure.
Hernandez has been working on building a zebrafish model specifically for valproic acid. VPA is an anti-seizure medication that can be used as a mood stabilizer for those with bipolar disorder, she explained.
"Studies have found that children born to people who take VPA while pregnant score lower on cognition tests, experience impacted sensory processing abilities, and have overall developmental issues," Hernandez said. "Studying these types of chemicals is important in understanding development and what may impact it."
Their research, Hernandez added, also can be applied to other neurodevelopmental disorders that affect learning and memory.
"Overall, this research is exciting because the work we do may someday help to develop therapeutics or simply help to better understand autism," she said.
Achieving Academic Success
Hernandez, who grew up in South Central Los Angeles, will be the first in her family to earn a college degree and the first to pursue graduate school.
After graduation, Hernandez will continue her studies in the Postbaccalaureate Research Education Program at UC Davis this fall. The program is designed to help students reach success in graduate school as they prepare to apply for doctoral programs.
At UC Davis, she will conduct research that explores cellular and molecular mechanisms, focusing on using the retina as the model to understand cell interactions, especially when it comes to diseases.
She plans to earn a doctorate in neuroscience and continue researching neurodegenerative diseases, neurodevelopmental disorders and development biology.
Hernandez, who is graduating with a 3.65 GPA, relayed that being a MARC scholar, combined with her undergraduate research and leadership role to train new lab members, has prepared her for graduate school and future research career.
"This experience has given me technical skills in behavioral and pharmacological studies that I will bring to my future labs," she said.