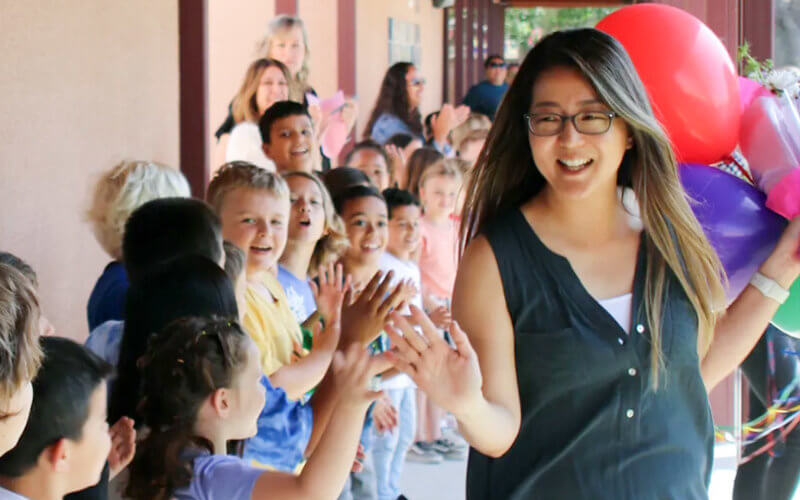 Out of six finalists, four Cal State Fullerton alumni were acknowledged by the Orange County Department of Education with the 2024 Orange County Teachers of the Year award for their dedication to student success and innovative hands-on education in schools.
Vivian Chang '15, '06 (B.S. child and adolescent development, M.S. educational technology)
From a bachelor's degree in child and adolescent development to multiple subject credential and a master's degree in educational technology, Vivian Chang has trusted Cal State Fullerton with her education for 11 years.
"I returned to CSUF because I was always supported by amazing professors and I connected with fellow teachers in our Orange County community," said Chang.
Chang is a fifth-grade teacher at Red Hill Elementary School in the Tustin Unified School District.
Losing loved relatives, relocating to another country, experiencing her parents' divorce and working multiple jobs are a few hardships that taught Chang that empathy heals.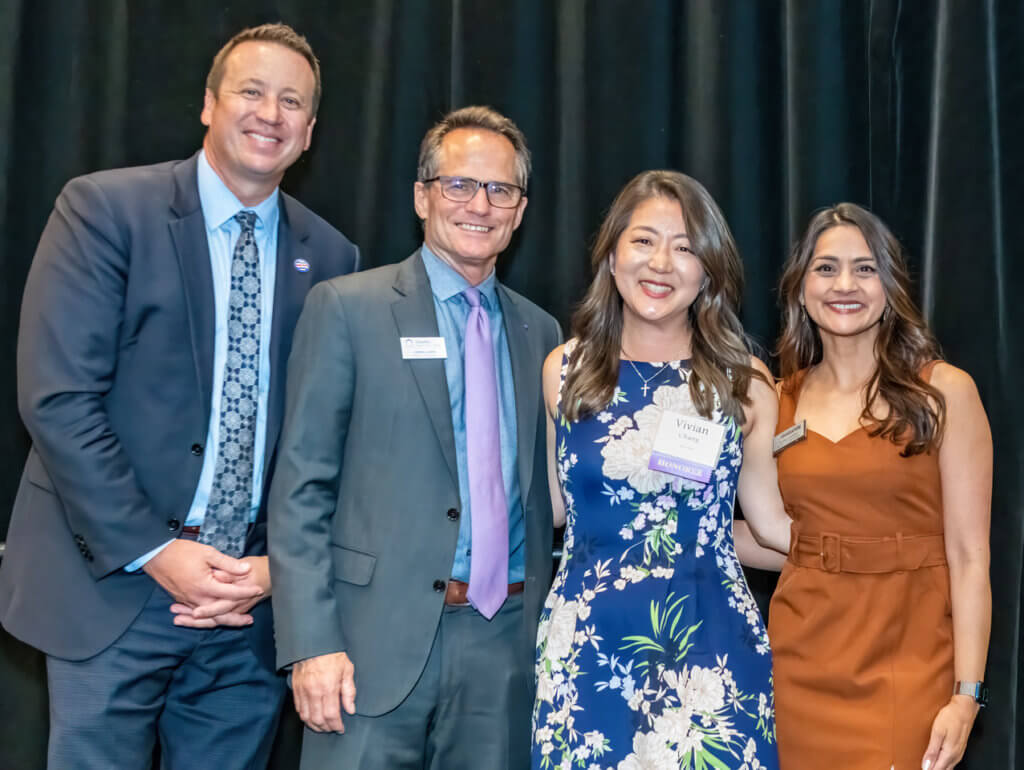 "All of these experiences have helped immensely when building a connection and empathizing with my students and their families. There have been countless times I was able to connect better with my students and meet their needs beyond academics because I understood their struggles," Chang said.
Chang has served as the Tustin Unified School District robotics coach, instructing student teams to build VEX IQ robots and participating in districtwide competitions. She also is the co-director of Red Hill Performing Arts, developing cast and crew for the school's musical productions.
The most important tool students possess are their voices, Chang added.
"My hope is that they will use their voice to become lifelong learners that are willing to take risks, make mistakes and learn from them," Chang said. "Their voice will help them make choices, open opportunities, create change and build relationships."
Kelli Elliot '00 (M.S. biological science)
Appreciating environmental beauty through a biological lens encompasses Kelli Elliot's interactive college classroom.
Elliot is a biology and environmental science professor at Orange Coast College in the Coast Community College District. She earned her master's degree in biological science from Cal State Fullerton in 2000.
"Being a graduate student at CSUF in the biology department was a major factor in guiding me where I am today," Elliot said. "Barry Thomas (professor emeritus of biological science) was my thesis adviser and his work with mammals was one of the reasons I applied to CSUF. Immersing myself in his mammalogy field trips and Joel Weintraub's (professor emeritus of zoology) ornithology field trips were incredibly meaningful in learning about these organisms."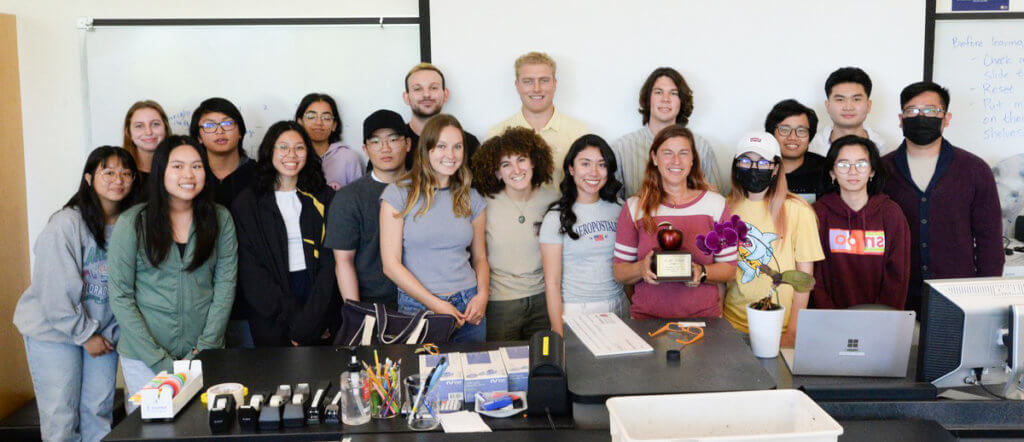 She also conducted research under Jack Burk (professor emeritus of biological science), who helped solidify her scientific approach and analysis of field data that she uses when creating field activities and laboratory experiments for her students.
Instructing zoology and botany laboratory courses as a graduate student was her first experience helping students succeed through learning and applying biological concepts.
At Orange Coast College, Elliot teaches several hands-on field courses: "Desert Ecology," "Nature of Birds," "Intertidal Ecology," "Island Ecology" and "Gray Whale Ecology" that include trips to the Mojave Desert, Santa Cruz Island and Baja California Sur.
Once her students leave her classroom, Elliot is confident that they will carry their knowledge into the ecosystem.
"I hope that students have a deeper meaning about the natural world around them and the beginning skills to be able to scientifically explore their questions, whether it is in the field or in a laboratory," Elliot said. "I want them to continue being inquisitive after taking one of my classes."
Matthew Smith '09 (MBA)
Matthew Smith, a math teacher from Red Hill Lutheran School, is the first private school teacher to be recognized with the OC Teachers of the Year award.
He graduated with a master's degree in business administration from Cal State Fullerton in 2009, and returned to campus in 2014 to receive his single subject credential.
"CSUF was an instrumental force in my journey to becoming a math teacher. They were incredibly responsive when my wife gave me her blessing to leave my career in real estate and finance and pursue my credential in math," Smith said.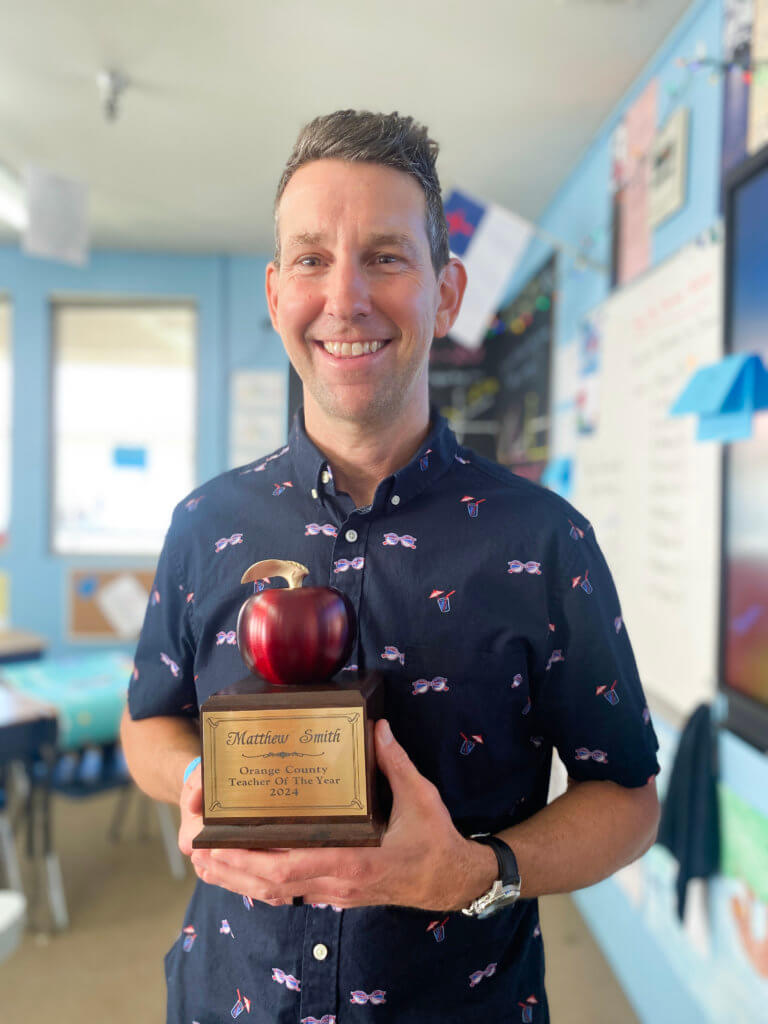 In his college experience, he crossed paths with Tor Ormseth, lecturer in secondary education.
"He opened his classroom to me. I observed him teach a math instruction methods course and he answered my questions when I got stuck as an early teacher," Smith said. "The relationships I forged those years in the credential program were significant in my development."
As a new math teacher at a small school, Smith searched for opportunities to help his students apply their math skills to real-world projects. Working with another teacher at his school, Smith launched a robotics program.
"With my principal's support, I planned and designed the robotics lab, marketed the new elective to our middle school families and started our first cohort," Smith said. "We are now in year six of an incredibly popular and thriving program."
Smith also aims to connect students' learning to their lives outside of the classroom. He is planning a field trip for his robotics summer camp students to visit Baxter Healthcare in Irvine to see how robotics and automation have impacted the medical field.
"I am deeply grateful for the countless teachers who have mentored me along the way," Smith said. "I love what I do and appreciate that I get to teach at a school that I care immensely for."
Leslie Whitaker '05 (M.S. education-curriculum and instruction)
Before diving into a new lesson, uplifting melodic music fills Leslie Whitaker's classroom. A warm, welcoming atmosphere breeds success and community for her third grade students.
Whitaker is a math teacher at Esencia Elementary and Middle School in the Capistrano Unified School District. She earned her master's degree in curriculum and instruction from Cal State Fullerton in 2005.
"I went back to school to get my master's because I felt there was more to learn to improve my teaching," Whitaker said. "Both the inquiry-based teaching and Cognitively Guided Instruction research led to immediate shifts in how I supported my students and my grade-level team in engaging students in powerful lessons. Two years later, I went through CGI training with the Orange County Department of Education, which supported me in continuing to expand upon what I learned at CSUF."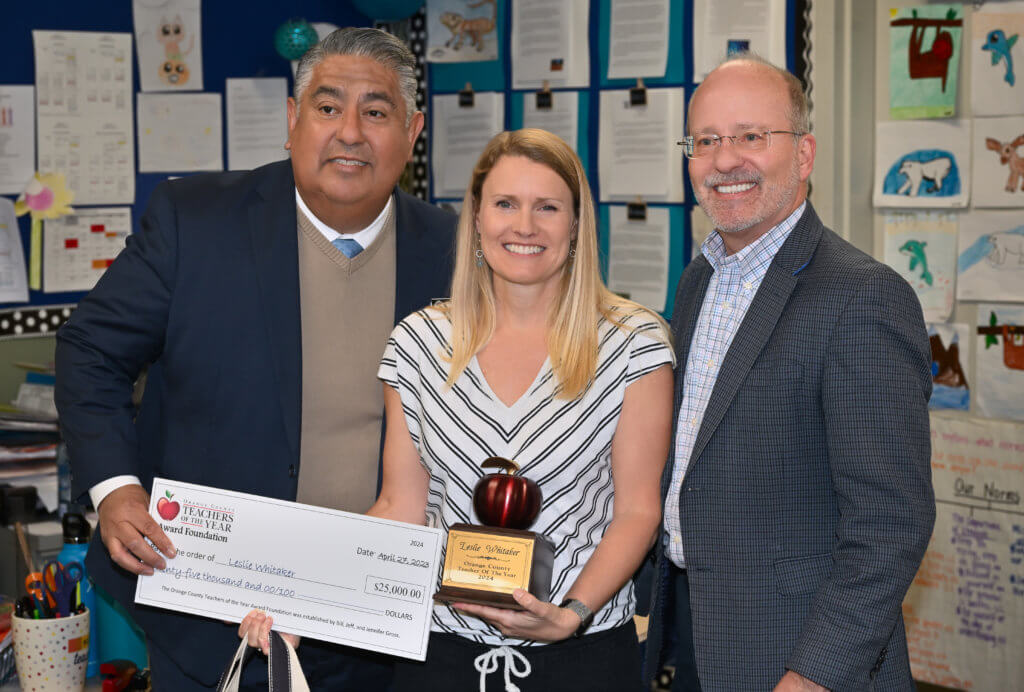 Whitaker worked as a math coach and teacher on special assignments from 2014 to 2018. She coordinated districtwide training in CGI, individualized training to school sites and grade levels, modeled lessons and supported teachers and schools in their specific goals. In 2018, she was on the planning team and helped open her current school, Esencia Elementary and Middle School.
Positive student impact is her greatest goal in education. She implements innovative practices for her students and mentors other instructors.
With her classroom door swung wide open, Whitaker maintains an open-door policy where people from the district, county and UC Irvine visit to observe research-based effective practices and students participating in academic conversations.
"I hope my students know that mistakes are an important part of the learning journey and respect others in the process," she said. "They play an important role in the classroom, school and community at large."