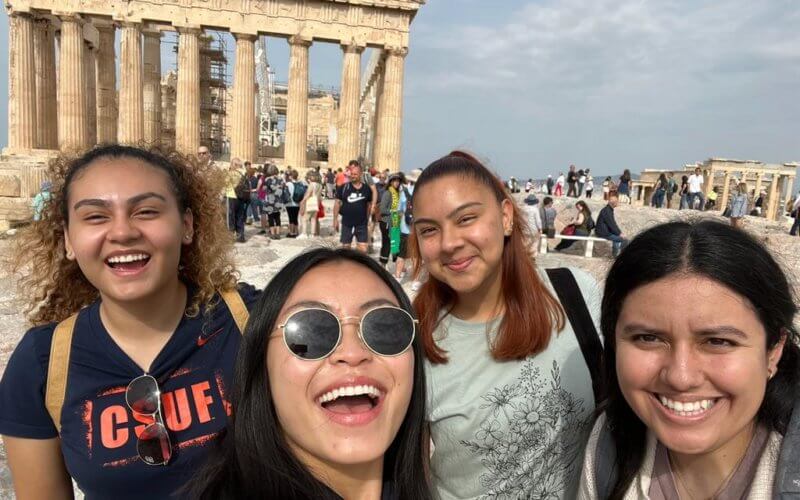 Ancient Greek athletes warming up in the palestras, music booming, cheers vibrating and spectators rushing to the victorious athlete are all echoes of the Olympic Games' past.
Hugo Muñoz, a kinesiology major, imagined this scene as he stood in the temple of Zeus in Nemea.
As part of Cal State Fullerton's annual two-week summer study abroad program, 26 kinesiology students traveled to Greece to study the history and philosophy of the Olympic Games.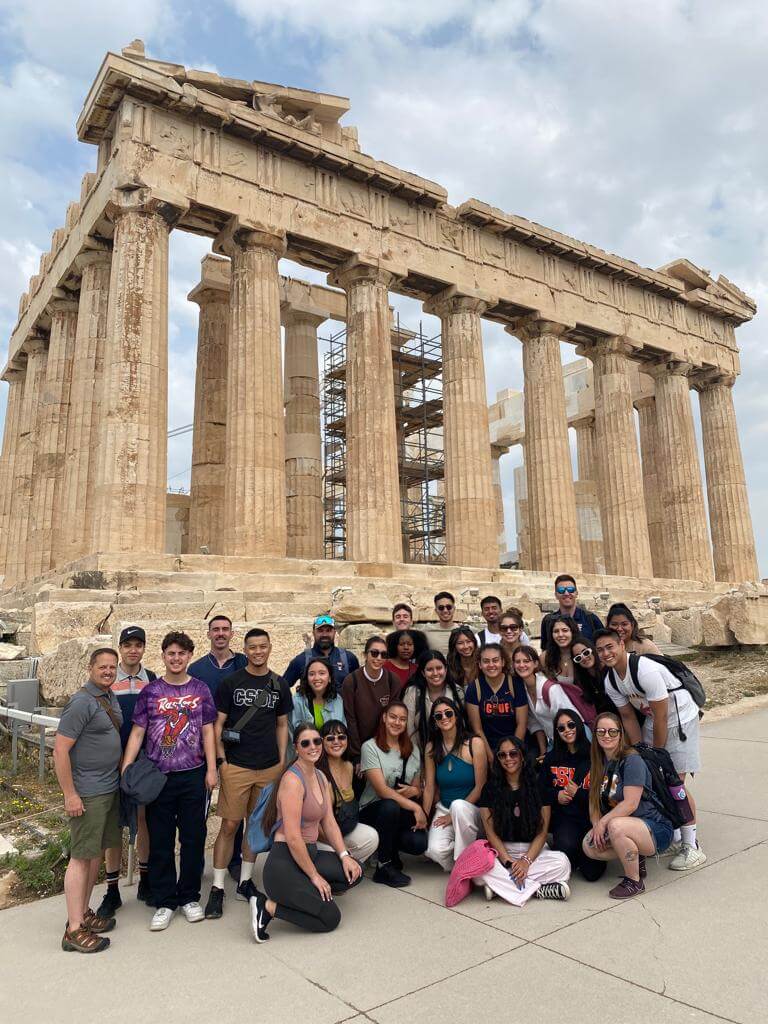 Professors of kinesiology John Gleaves and Matthew Llewellyn designed and led the study abroad program, along with guest faculty member David Lunt from Southern Utah University. Gleaves and Llewellyn also serve as directors of Cal State Fullerton's Center for Sociocultural Sport and Olympic Research.
Gleaves said that the 2023 trip was their sixth time taking 26 students, totaling 156 kinesiology students since the first trip was taken in 2015.
While in Greece, Gleaves and Llewellyn teach a variety of kinesiology courses, including "Philosophy of Human Movement," "History of Sports, Games and Culture," and "The Sociocultural Study of the Olympic Games."
"To be in such an enriching environment, it allows students to think like the ancient Greeks. How does the human body move? Which characteristics do we still carry in modern times? This trip allows us to expand our minds beyond just reading from a textbook," Muñoz said.
The students immerse themselves in living history — strolling through archaeological sites and museums in Athens, Olympia, Delphi, Nemea and Corinth while staying at the International Olympic Academy.
Kinesiology major Kyra Hughes said she was amazed by the ancient Olympic stadium at Delphi.
"It is crazy to think that the Greeks were able to build amazing statues and arenas on the side of a mountain," Hughes said. "It was cool being able to see proof of the Greeks' devotion to their gods and the lengths they would go to show their praises and gratitude."
Students also engage in learning beyond the classroom — discussing philosophy in the shadow of the same Agora in Athens where Socrates, Aristotle and Plato debated philosophy 2,500 years ago.
"The Greeks ran their hearts out, threw the discus as far as they could imagine, discussed politics and the current affairs of Greece, and taught the importance of physical activity to the people," Muñoz said. "We have also done this. We have run across the very stadiums in which the ancient Greeks ran. We have played sports with the same mindset of the ancient Greeks."
Under the groves of Olympia, students also study the history of the Olympic Games amidst the ruins of the ancient Stadium of Olympia that dates back to before 700 BCE.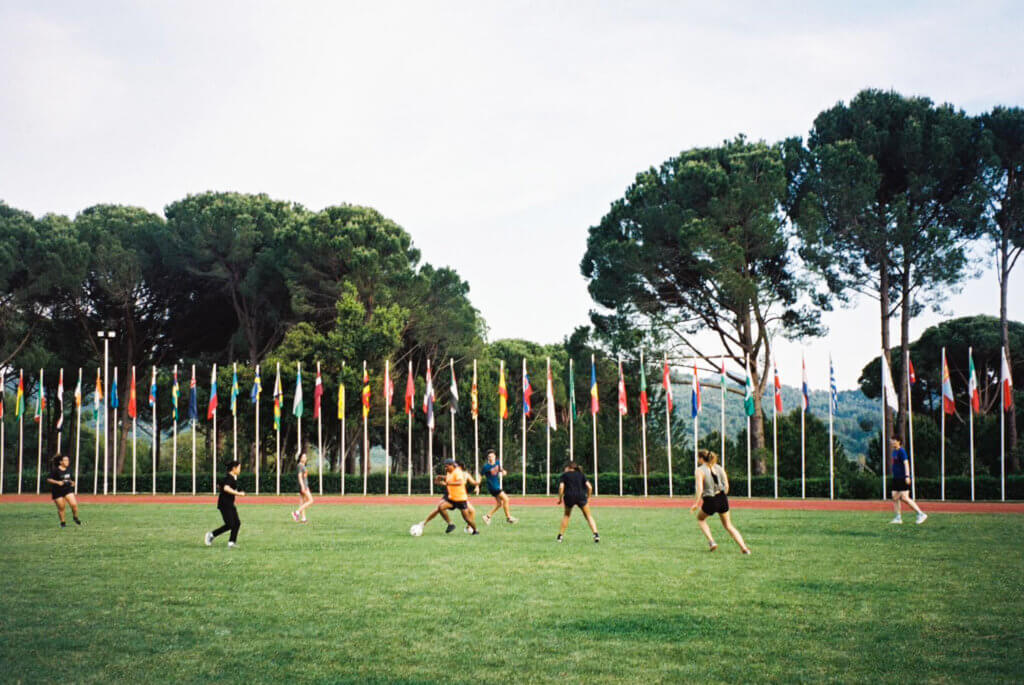 "A huge takeaway from this trip for me is how sport is ingrained into every culture, every civilization and used as a tool for political gains or other benefits throughout history," said Amber Shearer, a first-generation kinesiology student.
The study abroad program inspired students to intertwine their kinesiology studies from Greece into their aspiring professions.
As a youth instructor at YMCA, Muñoz said it is his mission to teach younger generations about the benefits of health, fitness, wellness and movement.
"The ancient Romans had a philosophy they refer to as ludi, meaning 'to play.' The word 'play' implies fun, joy and entertainment. I use this ancient principle in the modern world because I want kids to learn that exercise can and is delightful for everyone," said Muñoz.