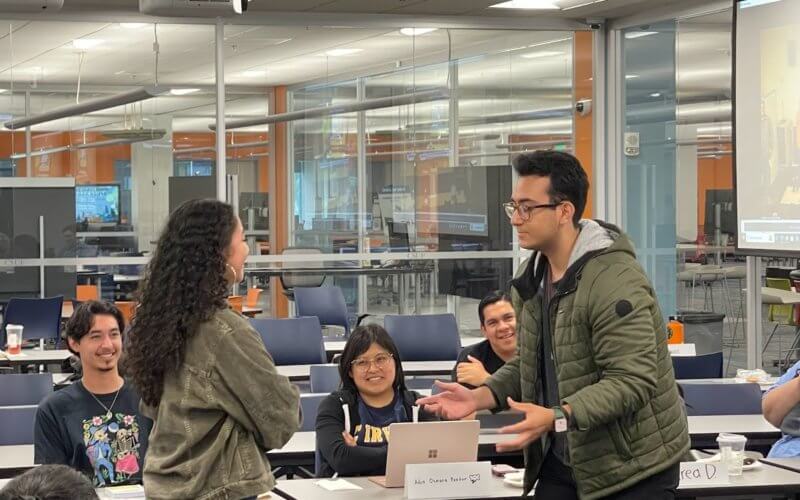 Chicana and chicano studies student Jasmine Garcia channeled her frustration to her classmates through the art of storytelling.
Immigrating to the United States from the Bracero program at the age of 14, Garcia's grandfather faced racism, discrimination and back-breaking labor for 50 cents per hour under the boiling sun. He became accustomed to his alcoholic father's abuse and continued the cycle of maltreatment in his bloodline.
During Cal State Fullerton's first Latinx Lab's Social Justice and Storytelling Institute, 25 students learned how to confront social inequity and dismantle structural racism through the craft of diverse storytelling.
Funded by a $1.2 million grant from the Mellon Foundation, the free institute is a series of in-person and virtual projects led by Chicana and Chicano studies faculty.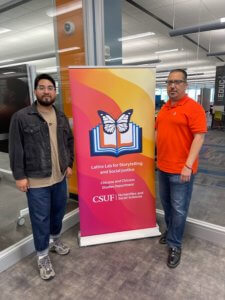 The instruction team included Alexandro Gradilla, professor of Chicana and Chicano studies, William Camargo, lecturer in art, and graduate students Carlos Escobedo and Ashley Yniguez.
"Structural racism dehumanizes people. For people of color, singing, dancing, drawing, painting, performing and storytelling are all tools of resistance and restorative practices," said Gradilla, the institute's faculty director. "Decolonized and abolitionist storytelling frees and liberates people to regain their humanity through small or daily acts of healing," Gradilla said.
In students' visual storytelling projects, they dug deep into their family trees, compiling neighborhood images and family photos to weave together a social justice theme to share with their classmates and on social media platforms.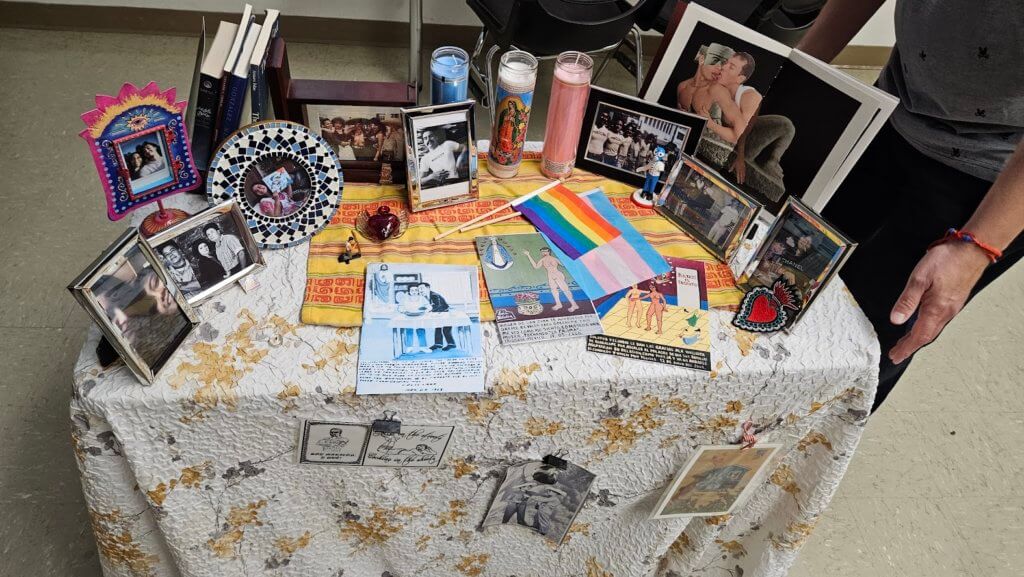 "Western knowledge and its institutions have invalidated the values and knowledge of non-European populations. The outcomes of decolonized political and academic work are restoring and healing what has been devalued or stolen," Gradilla said. "As civil rights activist Audre Lorde reminds us, we cannot use the 'master's tools' to restore or heal subjugated populations — we make our tools or rely on the tools of our ancestors."
Visual storytelling grasps viewers' attention in seconds, Camargo said.
"We are an image-based world now, and it starts with the visual aspect to get people interested in the story," he said.
Camargo shared with students his five-year project, "Origins and Displacement: Making Sense of Place, History and Possibilities," which delves into the untold history of Anaheim. He unshelved archives of artists who exposed injustices that diverse communities faced.
"I use the city archives and create new artworks in response to archives that bring up segregation, violence against Brown people and contemporary histories that have transformed Anaheim," Camargo said. "There are also portraits, landscapes, street scenes of the city and the depiction of migrants' contributions."
Garcia said that the institute provided her the space to heal through the visual storytelling project. Her project, "La Máscara de Mi Abuelo" ("The Mask of My Grandfather"), unveiled how her grandfather's struggle with alcoholism and lashes of abuse left lingering pain in her family.
She expressed to the class that her aunt, the second oldest of her grandfather's children, passed away in 2019 due to substance abuse. Her uncle, the youngest of five children, struggles with substance abuse today.
"I felt that talking about this gave me the chance to free my family from this narrative and heal myself by releasing all the anger that I had towards my abuelo for all the pain he caused," Garcia said.
Another student, Beatrice Elizondo graduated from CSUF with her bachelor's in communications in spring 2023 and is currently pursuing her master's degree in education at Hope International University.
"Higher education is what I am doing first at the age of 59 because life is too short," Elizondo said.
"I felt privileged to be a part of the Latinx Lab's Social Justice and Storytelling Institute. The process of storytelling has impacted my life because I have come to understand the value in knowing my history as a Yaqui woman," Elizondo said. "I hope one day to be able to share space again to benefit the community of Chicano studies."
In addition to building their own narratives, students heard from such notable speakers as Monica Garcia, a Los Angeles Unified School District councilwoman, Judge Sergio Tapia, an assistant presiding judge of the Los Angeles Superior Court, and Judge Elizabeth Macias '95 (B.A. psychology, ethnic studies-Chicano studies), a CSUF alumna who serves on California Superior Court's felony trial panel.
They also worked on selecting graduate programs, blending social justice goals with career goals, creating resumes, writing a rough draft of a statement of purpose and building a LinkedIn profile.
Storytelling empowers students to become tomorrow's leaders, added Gradilla.
"Storytelling prepares students for leadership by giving them the skills to communicate with wide and diverse audiences effectively," Gradilla said. "A significant part of social justice work includes working alongside communities and speaking a language understandable to all, instead of highly specialized audiences."