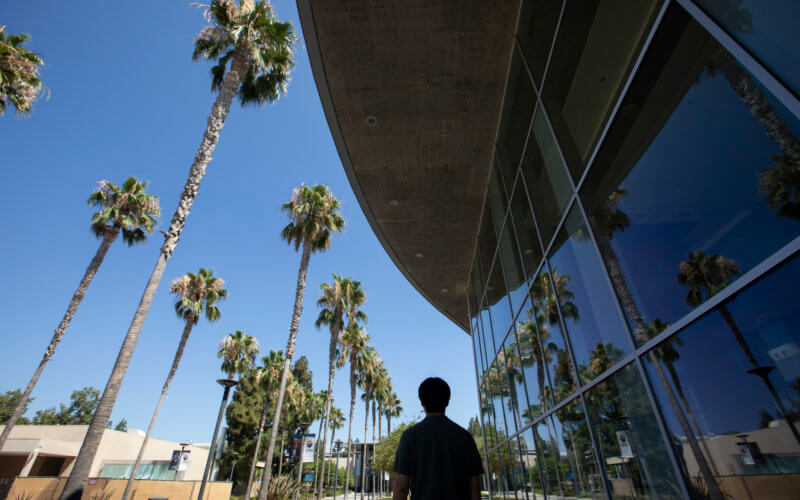 The sunny days of summer vacation have come to a close and the Cal State Fullerton campus is buzzing with excitement as the university welcomes back more than 41,000 students who are gearing up for a successful start to the 2023-24 academic year.
The fall semester officially begins Aug. 19, but most classes begin Monday, Aug. 21. From parking permit changes to campus construction and upcoming fall festivities, there's a lot for Titans to look forward to in the coming months.
Saying Hello to New Students
Cal State Fullerton's in-person and online orientation welcomed 9,500 new students joining the Titan community this fall.
About 2,200 new and returning students moved into the residence halls during move-in day. Loading their bags, books and belongings into bright orange moving bins, students settled into their new home away from home.
Among those smiling students was Michelle Becerra, a first-year political science major, who said she is excited to live on campus because it's an opportunity to connect with her fellow Titans.
"I love the campus environment and the student life and everything that Cal State Fullerton has to offer," said Becerra.
In one of the residence halls, another first-year student, Liana Garcia, got settled in with the help of her mom, dad and brother.
"The Garcias are here!" cheered Liana's mom, Hilda, as she stepped off the elevator and headed toward her daughter's new campus home. "We're excited about this new chapter in her life. We're excited about her pursuing her education and reaching her goals and dreams while she's here."
Liana's father, Joe, added, "It's amazing that we're here. We love this college. We love this campus. This is where she wanted to be, so we're really happy."
New Leadership and Faculty
Sylvia Alva, who started her career at Cal State Fullerton as an assistant professor of adolescent development, returned to the campus Aug. 1 to serve as the university's president.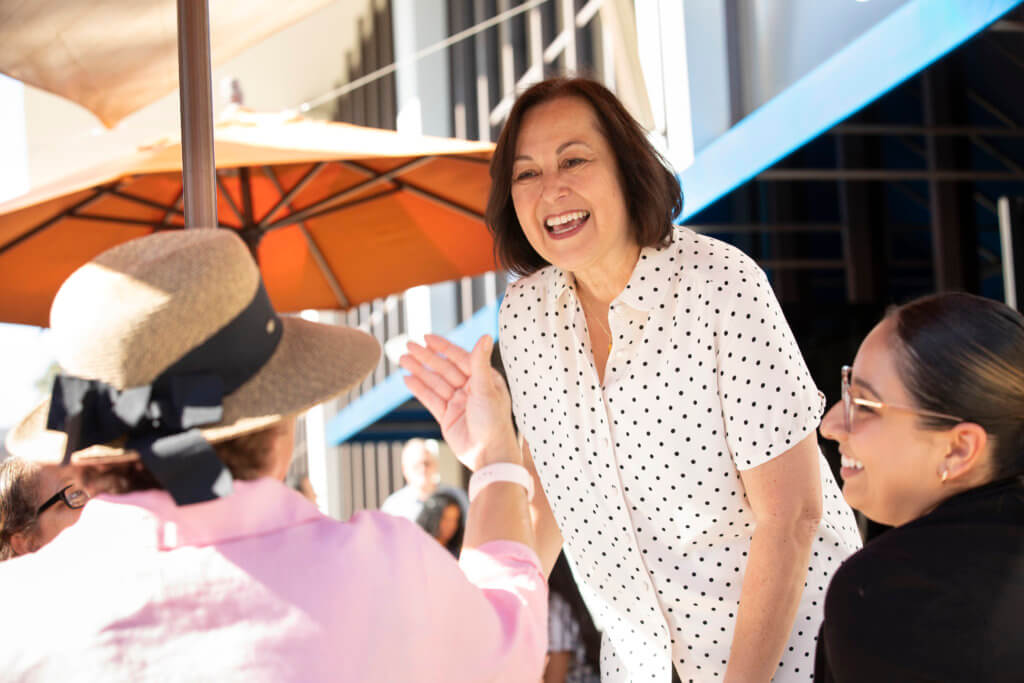 A first-generation graduate of the CSU system, Alva is passionate about empowering students to reach their full potential. Former President Fram Virjee retired on July 31 after serving the campus from 2018-23.
The university will be home to a new class of tenure-track faculty members, each with their own unique expertise and research experience that will champion students' success across multiple colleges. In addition to the new faculty, the Office of Faculty Affairs and Records announced the tenure and/or promotion of 68 current faculty members.
Parking Permits and Campus Construction
Parking and Transportation Services has transitioned to license plate recognition for parking permit verification. This fall, all student parking is paperless and virtual. Students will no longer be issued a physical permit to display on their windshield.
Permits will now be verified using a car's license plate information, registered in the student's parking portal when they purchase a permit. Students may register one vehicle; however, they can request a daily exemption from Parking and Transportation Services if they need to drive a different vehicle to campus.
Students who have temporary plates or need to drive a rental vehicle for an extended period of time can register that information via the parking portal.
Faculty and staff permits will transition to paperless parking starting January 2024. To learn more about license plate recognition, check out Parking and Transportation Services' newest video.
New and returning students arriving on campus for the fall semester also will notice significant renovations underway at the College of the Arts visual arts complex.
Two new buildings are fully framed, and while the steel is still visible, builders have started installing interior walls, windows, doors and architectural details. Building E has a new roof, and Building A is nearing completion of interior renovations.
The decades-old complex, originally built in 1969, is being redesigned and reimagined with new classrooms, offices, creative and gallery spaces, computer labs, and illustration and animation studios. The modernization project is expected to be completed next fall.
Visit the college website to view a video about the project's progress and for more information.
Catalog Updates
Some colleges have expanded their course curriculums to include new degree programs and innovative department changes to increase opportunities for student research and success in different fields.
The College of the Arts introduced a B.A. in art history, which combines art theory and appreciation in such courses as 3D modeling, museum education and advanced ceramics.
In the College of Communications, communicative disorders will now be offered as a Bachelor of Science degree. This program's curriculum provides students with the training necessary to diagnose and treat communication disorders. Communicative disorders also offers a Master of Science program, which allows graduate students the opportunity to serve communicatively-impaired clients within a variety of clinical facilities, both on and off campus.
Students in the College of Engineering and Computer Science can now take courses in the new Department of Electrical and Computer Engineering.
Titan Athletics
Titan Athletics invites students, faculty, staff and community members to celebrate the long-awaited return of the Titan men's water polo team, which will kick off its inaugural season this fall.
It's been 37 years since CSUF has had a men's water polo team compete, and under the guidance of Head Coach Kyle Witt, the team is looking forward to a triumphant return, hosting its season opener Sept. 16 against Chapman University in the Aquatics Center.
For more information about the fall sports season and 2023 Homecoming, visit Titan Athletics.
Fall Festivities