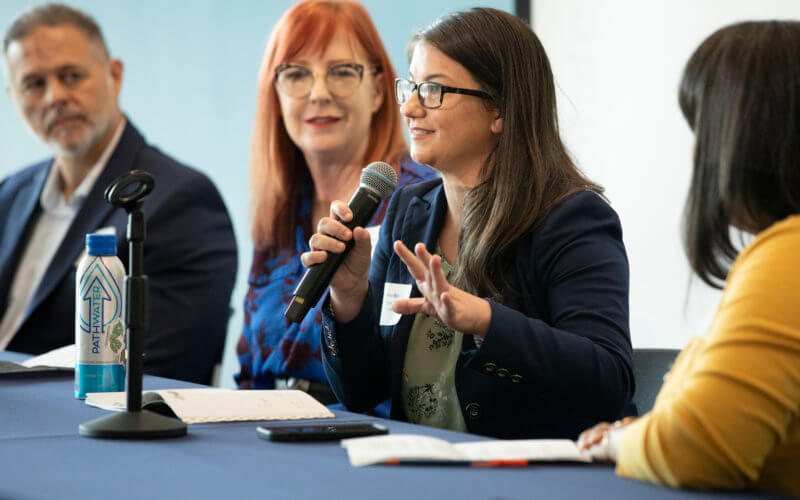 As Orange County works toward its climate goals, Cal State Fullerton is committed to advancing clean energy for the future, providing students with hands-on research opportunities and partnering with local industry experts to achieve sustainability success.
The university hosted its second annual Energy and Sustainability Summit on Oct. 27, co-sponsored by Southern California Edison and Wells Fargo. The summit included three panel discussions, during which state and local elected officials joined industry and higher education professionals to share how community partners are collaborating to accelerate Orange County's transition to clean energy and training its workforce to meet the skill sets needed to execute such a transition.
"At Cal State Fullerton, we are excited about the important role we take in preparing students for this industry and meeting these climate goals," said Greg Saks, vice president for university advancement.
California's climate goals include cutting air pollution, reducing greenhouse gas emissions and decreasing the demand for all fossil fuels. Elissa Thomas, transportation demand manager for CSUF's parking and transportation services said the campus already is making strides toward achieving these goals.
The university currently has 48 electric vehicle charging ports on campus. Through a partnership with Southern California Edison, Thomas said they've secured funding for an additional 52 ports. CSUF will also be embarking on a climate action plan that includes greenhouse gas inventory, emissions forecasting and deforestation strategies.
"This plan looks at water, food procurement, social justice, academics, resiliency and transportation. When you look at energy and sustainability, it's important to see how one thing affects another," said Thomas. "We're working to prepare the next generation of professionals by demonstrating how sustainable practices reduce operating costs and greenhouse gas emissions, while advancing health equity and climate justice."
CSUF's work in sustainability is supported by the work being done at the California State University level, added Tamara Wallace '08, '13 (B.A., M.A. geography), senior manager for energy, sustainability and transportation in the CSU Chancellor's Office.
"We are modeling for other institutions and communities within the state of California and around the world, based on the impact that we drive," said Wallace, adding that the CSU met its carbon reduction goals in 2020.
In addition to experts' insights, the summit supported CSUF students who are developing innovative projects and finding solutions that will advance clean energy for the future.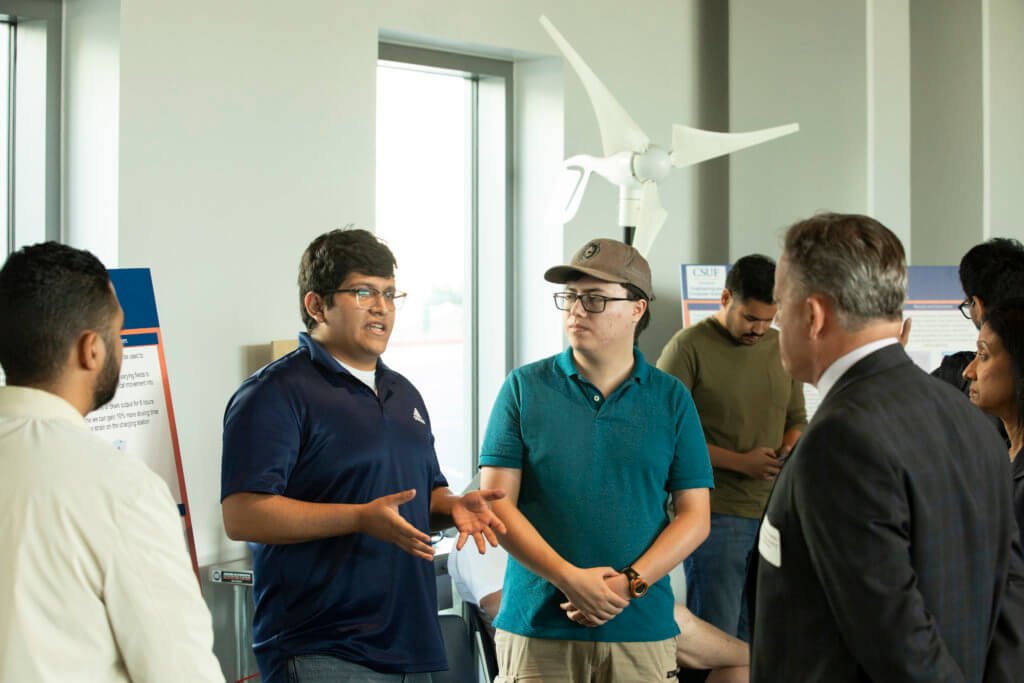 Students Ian Cowley, Dzung Doan, Ryan Dunham, Abanoub Khella, Carlos Pena and Devon Rutherford are collaborating with Sagil James, associate professor of mechanical engineering, on a project titled, "Titan EV: Road Harvest."
The students are designing an attachment for a vehicle that will increase the lifespan of an EV/hybrid battery to reduce carbon emissions and lead to more environmentally friendly transportation solutions.
Another student project, "Titan Green," was also on display during the summit. Working with James, students Christian Dominguez, Bruno Gamboa, Bryan Garcia, Alex Garcia, Matt Lindwall, Andrea Minero, Jerry Pratanavich, Jose Reyes and Davis Tran collaborated to create a process that uses renewable sources such as sunlight to produce green hydrogen. Their goal is to decrease the world's dependence on fossil fuels by producing hydrogen as a method of energy storage.
Caroline Choi, senior vice president of corporate affairs for Edison International and Southern California Edison, said that as California moves toward cleaner energy, emission free electricity and increased electric transportation, it's important to ensure that aspiring industry professionals have opportunities to achieve those goals and advance their careers at the same time.
"We partner with Cal State Fullerton because these students are helping to develop the workforce of the future," said Choi. "We want to make sure that there are opportunities for our communities and young adults to see themselves in the clean energy industry that we see in California."