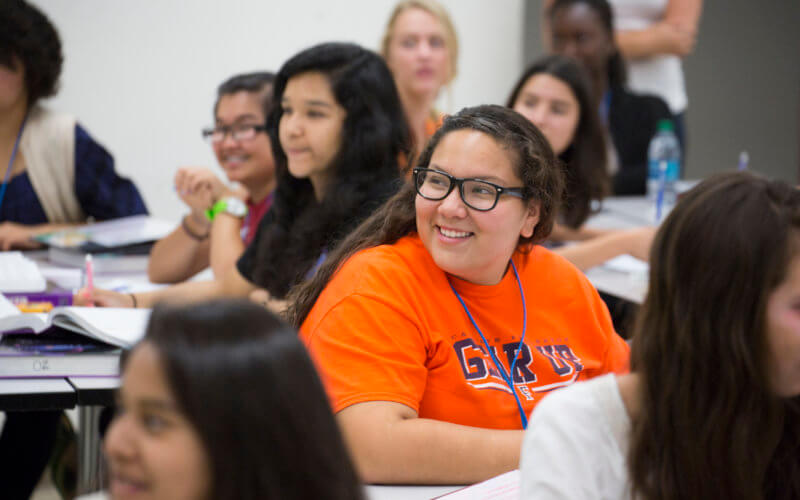 To prepare students in Buena Park and La Habra schools for college, Cal State Fullerton has been awarded a $4.1 million grant from the U.S. Department of Education for the university's GEAR UP program — the seventh grant since the program started on campus in 1999.
"This comprehensive endeavor aims to improve the educational outcomes for historically underrepresented students," said Adriana Badillo, director of the Center for Educational Partnerships. "Through GEAR UP, we collectively work across institutions and organizations to promote postsecondary options, college and career readiness, and overall student and school success."
The Gaining Early Awareness and Readiness for Undergraduate Programs, known as GEAR UP, is a nationwide program designed to enhance economically disadvantaged students' college and career readiness. The program helps students to prepare to enter and succeed in postsecondary education.
The university has received $618,400 in first-year funding for the new seven-year grant program.
A key goal of the latest GEAR UP program is to expand and strengthen Cal State Fullerton's commitment, partnership and efforts with Buena Park School District, La Habra City School District, Fullerton Joint Union School District, Fullerton College and other community-based organizations that work in those communities, Badillo said.
The new grant will serve 773 students at Buena Park, Imperial and Washington middle schools, beginning in seventh grade. GEAR UP will follow the students through their transition and graduation from Buena Park and La Habra high schools in 2029 and support them in their first year of college during the 2029-30 academic year.
GEAR-UP will offer specific grade-level services to participants at different stages of their education. These services include academic success tutoring and mentoring, individual college and career success planning, financial literacy workshops, career exposure workshops and college tours, among others, Badillo said.
The partnership with the school districts also emphasizes supporting students and their families as they approach postsecondary education options, planning and financing. These initiatives include raising awareness about college financial aid, increasing the number of students completing financial aid applications and supporting repayment planning.
"This effort calls for a strong commitment across various educational and community-based partners who will have pledged their support in terms of staff time, resources and facilities to ensure the success of students the project will serve," Badillo added. "It is a collective approach to support our local community."
In 2021, Cal State Fullerton received a $8.9 million grant for GEAR UP — the largest the university has received for the program. The grant supports 1,706 students from Ball, South and Sycamore junior high schools in Anaheim Union High School District to prepare for success in college.
The seventh-grade students will participate in the program through their expected graduation in 2027 from Loara, Anaheim and Katella high schools and into their first year of college.