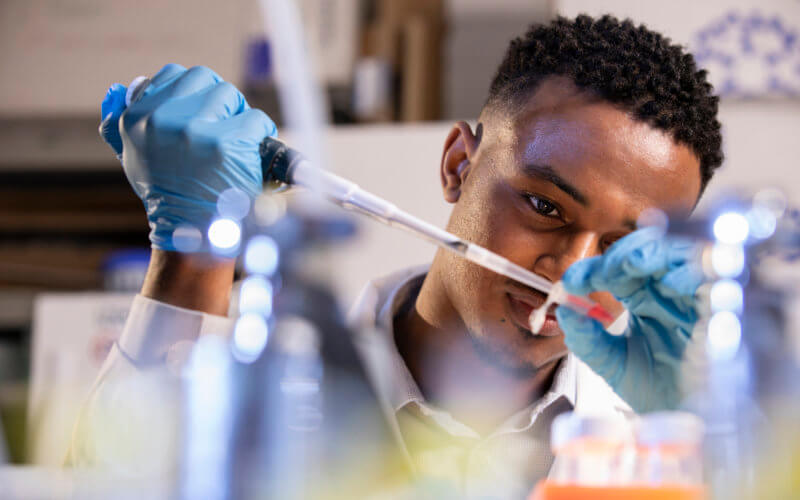 To help them practice for their exams, Nilay Patel allows students in his "Cellular and Molecular Biology" course to use one page of handwritten notes during quizzes. Most students take advantage of this, but Patel was surprised when one of his students never did.
That student was Ramadhan Ahmed, a Cal State Fullerton Class of 2023 biological science major who scored in the 97th percentile on the MCAT (Medical College Admission Test) and was accepted to 17 medical schools, including top-ranked Johns Hopkins University, Columbia University and UC San Francisco.
"His logic was that he did not need that crutch because it would not prepare him for his career," said Patel, associate professor of biological science. "I was impressed with his integrity and desire to push himself to do his best."
The first in his family to earn both high school and college degrees, Ahmed is graduating summa cum laude with a 3.91 GPA. During his time at CSUF, he was involved in the Bridges to Stem Cell Research program and mentored two community college students in Project RAISE (Regional Alliance in STEM Education). He also worked several jobs to support himself and volunteered for such organizations as StandUp for Kids Orange County.
For his scholarly achievements and community service, Ahmed was named the Alumni Association's Outstanding Senior. The honor comes with a $1,000 award.
In August, Ahmed will begin his first year of medical school at The Johns Hopkins School of Medicine with a full-ride scholarship that includes tuition and living expenses. He was offered a total of 12 scholarships, six of which were full rides.
From East Africa to the Golden State
"The chances of me being here are nearly impossible," said Ahmed. "I was born in the rural village of Wajir, Kenya, where most of the land is covered in sand and the nearest city, Nairobi, is a 12-hour bus ride away.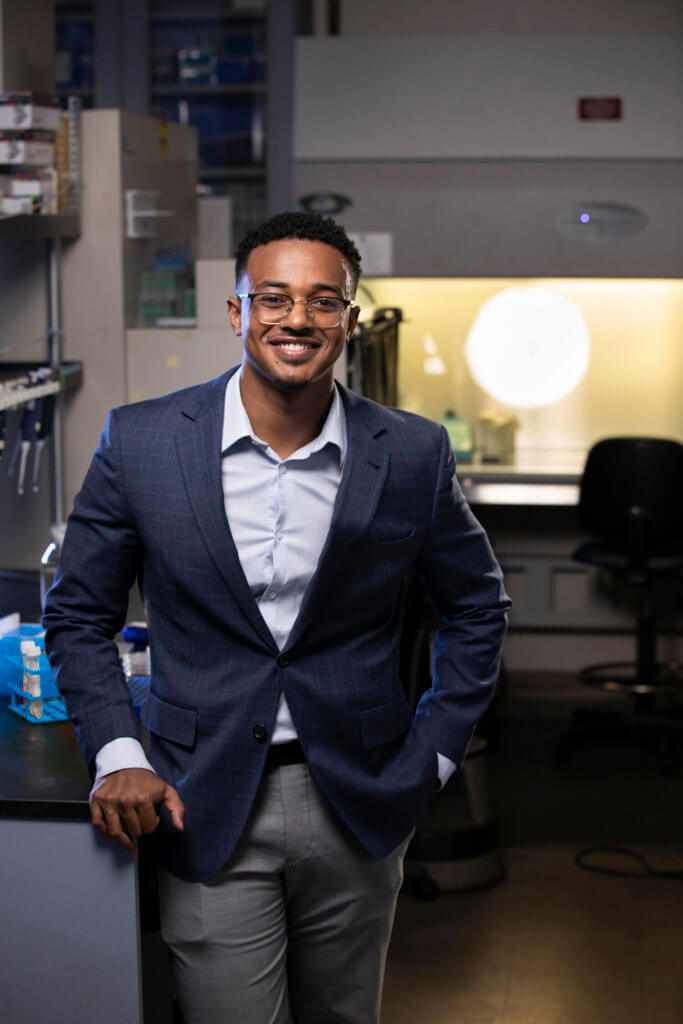 "I come from a family of refugees and farmers. My family sold goats for a living," said Ahmed, who is of Ethiopian, Yemeni and Somali descent. "Yet here I am, in America, and I'm about to graduate college and attend one of the best medical schools in the world."
Seeking a better life for his family, Ahmed's father immigrated to California, and worked as a gas station clerk to save money to bring 5-year-old Ahmed and his mother to the United States. When Ahmed first arrived in the country, he only spoke Somali. His mother taught him English by reading "Magic School Bus" books to him every night.
"Soon I'll be walking down the halls of Johns Hopkins medical school," reflected Ahmed. "However, these steps are not my own. These are the steps of my father, who traveled thousands of miles across the world to ensure that his family had a better life."
Ahmed also recognized his mother, who had the arduous task of helping him navigate the "concrete jungles of America" as a young boy.
"I used my mom as my compass for the world," he shared. "Whenever we would go out, I would ask, 'Hoyo, maha-kas,' which translates to 'Mom, what is that?' I didn't understand the world I was living in, but my mom guided me through it. By virtue, my mom became my world, and she's still my world to this day."
Gearing Up for College
In seventh grade, Ahmed participated in CSUF's GEAR UP (Gaining Early Awareness and Readiness for Undergraduate Programs). The program introduces junior high and high school students from underserved communities to higher education. Ahmed remembers taking field trips to various colleges in Southern California and working with CSUF mentors to apply for college.
"Ever since I was in seventh grade, Cal State Fullerton has been an instrumental part of my life," he said. "When it was time to choose a college, the choice was clear. I believed that the people at Cal State Fullerton would provide a nurturing environment that would help me succeed academically and professionally."
At CSUF, ranked No. 7 on U.S. News & World Report's 2022-23 list of "Top Performers on Social Mobility," Ahmed took advantage of every opportunity.
One day, under the guise of getting free lunch, Ahmed walked into a California Institute for Regenerative Medicine presentation on stem cell research. He thought to himself: "This is the exact same thing Dr. Connors wanted to do in Spider-Man!" Ahmed was hooked, and immediately went to the registration office to declare his major in biological science.
The Power and Beauty of Medicine
Reading the autobiography of Malcolm X greatly inspired Ahmed's decision to become a doctor. He developed a habit of asking himself, "What can I do for others?"
"I believed that medicine was the career that fit me the best, so I started delving into experiences that would help me confirm that belief," he said. "The power and beauty of medicine stems from the fact that its practice can touch many lives, not just that of your patient."
Ahmed's aunt and uncle also taught him the virtues of being a good person and sacrificing for the sake of others.
"My Aunt Rahma and Uncle Hani are the most compassionate and generous people that I have ever known," he said. "In the future, when I'm an attending physician responsible for the lives of my own patients, I will be carrying the values that they taught me."
Dreaming of a career in medicine, Ahmed admitted he initially had doubts about his abilities. "I didn't believe in myself. However, Dr. Patel saw my potential. He invited me to office hours, helped me plan my class schedules, and when it was time to start my first research project, he was the first person to invite me into his lab with open arms."
In CSUF's innovative Bridges to Stem Cell Research program, directed by Patel, Ahmed participated in a rigorous, seven-month stem cell research curriculum. The program prepared him to complete a yearlong internship at Stanford University, a partner institution, conducting research on juvenile myelomonocytic leukemia.
Though he hasn't chosen a specialty for medical school, Ahmed is excited by the possibility of working in pediatric emergency medicine or pediatric critical care.
"Every year in our department, there are a handful of students who are outstanding candidates for health professions careers," said Alison Miyamoto, associate professor of biological science. "But in my 14 years here at CSUF, I have not encountered a student like Ramadhan. He has done, and will do, great things."