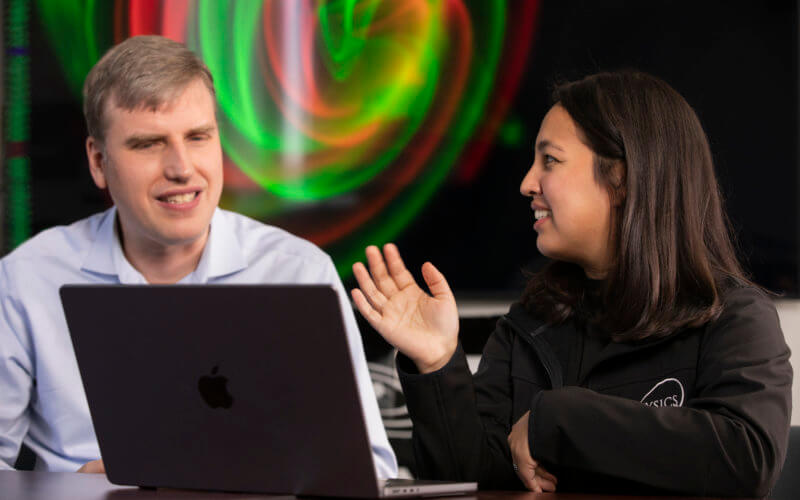 Over the last decade, Cal State Fullerton has prepared underrepresented students for advanced studies and careers in the emerging field of gravitational-wave astronomy.
A new, nearly $1.2 million National Science Foundation grant will further that mission by creating a clear pathway for underrepresented physics students to enter a doctoral program at one of three Ph.D.-granting partner universities.
Grant partners are Syracuse University, Northwestern University and Washington State University. The institutions each offer gravitational-wave studies with a variety of specialties, including modeling sources of gravitational waves, astrophysics and optics.
The project's goal is to significantly increase the number of students from underrepresented groups, in particular Hispanic and Latino students, with postbaccalaureate degrees in gravitational-wave astronomy.
"This grant allows us to scale up our efforts to involve students in hands-on, cutting-edge research, assist them in overcoming common obstacles and provide them with a long-term road map for their STEM careers," said Geoffrey Lovelace, professor of physics, who is directing the project.
"Through mentoring and partnership opportunities, students will be able to earn a doctorate and become leaders in this new field of physics and astronomy."
The university is receiving $833,701 in first-year funding for the five-year grant project titled, "The CSUF-Led Partnership for Inclusion of Underrepresented Groups in Gravitational-Wave Astronomy."
Lovelace's colleagues Joshua Smith, professor of physics and Dan Black Director of Gravitational-Wave Physics and Astronomy, and Jocelyn Read, associate professor of physics, are co-directing the project. The physicists are founding members of CSUF's Nicholas and Lee Begovich Center for Gravitational-Wave Physics and Astronomy (GWPAC).
The Next Generation of Gravitational-Wave Leaders
Each year, three undergraduates, for a total of 15 students over five years, and two master's students, will participate in the project, Lovelace said.
Students will receive financial and academic support as they pursue research at CSUF and transition to one of the partner institutions. Students also will visit partner institutions to meet faculty and learn about their doctoral programs.
The grant award also leverages CSUF's Project RAISE to offer GWPAC participation to students from the region's community colleges, Lovelace noted. Beginning next summer, students from partner community colleges will conduct gravitational-wave research alongside faculty mentors.
In 2016, CSUF received a nearly $1 million NSF grant, led by Read, to recruit and expand the number of underrepresented students in gravitational-wave science and partnered with Syracuse University and Citrus College in Glendora.
Throughout the six-year project, "Catching a New Wave: The CSUF-Syracuse Partnership for Inclusion of Underrepresented Groups in Gravitational-Wave Astronomy," 14 GWPAC students began pursuing their Ph.D. in astronomy, astrophysics or physics — of those students, eight are women and nine are Latino or Hispanic.
The Search for More Cosmic Events
Almost a century after Einstein first predicted their existence, scientists discovered gravitational waves in 2015 — ripples of curved space-time — passing through Earth, which ignited the era of gravitational-wave astronomy.
The CSUF physicists and their students contributed to the first and also later discoveries, which total 90 gravitational-wave events to date. Gravitational waves are a radically new tool for exploring the universe, resulting in the discoveries of some of the most extreme astrophysical events in the universe.
In March, the U.S. Advanced Laser Interferometer Gravitational-wave Observatory (LIGO) will resume its next observing run to collect new data. Future observatories, such as Cosmic Explorer, are expected to bring an even greater potential for transformative astronomical discoveries.
Since GWPAC opened on campus in 2012, CSUF has received about $8 million in federal funding for gravitational-wave research. Of the 51 GWPAC alumni, 25 students are pursuing or have completed doctoral programs related to gravitational-wave research at such institutions as Caltech, MIT, Syracuse University, Northwestern University, Louisiana State University, Michigan State University and UCLA.
Five alumni have earned a doctorate, including one with a patent for a new type of optical device, and 20 alumni are working in industry at companies such as NASA and The Aerospace Corporation. GWPAC also has received about $7.5 million in philanthropic support, including from the late Nicholas Begovich, and his wife, Lee; physics alumnus Dan Black; and alumna Nancy Goodhue-McWilliams.
Grants and philanthropic support allow students to focus on their studies and research projects instead of working in an unrelated off-campus job, Lovelace relayed.
"As proud as I am of the research I've done, I'm even more proud of the important research our students have done to contribute to gravitational-wave discoveries; this is our center's legacy," Lovelace said.
"Student researchers at CSUF, Syracuse, Northwestern and Washington State will contribute to future discoveries through experimental work to help maximize gravitational-wave observatories' astronomical reach, and theoretical and computational work to model and interpret gravitational-wave sources."