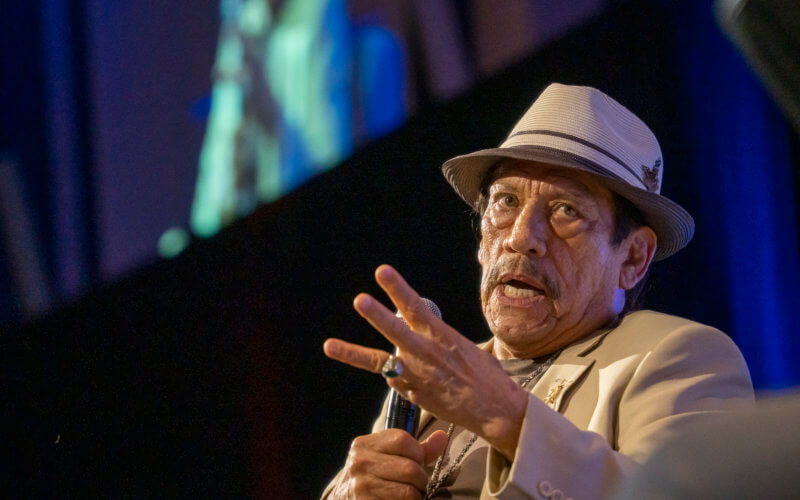 From growing up in Los Angeles to being incarcerated and walking onto a movie set that changed his life, actor Danny Trejo opened up to Cal State Fullerton students about Latinx representation and how helping people became his life's work.
"Early on, I learned a lot of the wrong lessons," recalled Trejo. "When I got out of prison, I remember the parole board saying, 'Get out of here, Trejo. Bring us back a life sentence.' That hit home, and after that, I dedicated my life to helping others. That's what I do."
The movie star's visit to campus kicked off another year of the "Beyond the Conversation" series hosted by Associated Students Inc. and the Division of Student Affairs. The series aims to engage students with diverse narratives that encourage them to think critically about diversity, equity and inclusion. 
"Beyond the Conversation" was first introduced to campus in fall 2021 with actress Yara Shahidi. Since then, the yearlong series has curated an impressive lineup of speakers, including actor Daniel Dae Kim, Olympic swimmer Michael Phelps, and political activist Angela Davis.
After he was released from prison, Trejo became a drug counselor for people struggling with addiction. When asked how he jumped from being a counselor to a big name in Hollywood, Trejo simply said: "I was helping somebody, and in my experience, everything good that has happened to me was a direct result of doing something to help someone else."
On the set of the 1985 thriller, "Runaway Train," one of Trejo's friends called him for support. While he was visiting the set, a director liked Trejo's look and asked him to be an extra in the film. From that role, Trejo said he started to get recognized for his signature tattoo and acting abilities, opening the door for a successful career in the entertainment industry.
Since his first film, Trejo has starred in other films like "Machete," "Desperado" and "Spy Kids." He's also lent his voice to animated films like "Minions: The Rise of Gru," and he can be seen in Disney's "The Book of Boba Fett."
"When I first got interviewed after getting into the industry, I was asked if being cast as the 'mean guy' was upsetting, but the truth is, I'm opening doors for every Latino behind me," said Trejo. "If I do a film, I want to know how many Latinos are part of it. I think that's a reality check for everybody. I want to see more representation, too."
For students looking to get involved in the industry, Trejo said it's all about experience. He said, "You have to get in there any way you can. Find some way to get on a movie set. Do your job to the best of your ability, and people will notice."
From a Hollywood career to his advocacy work, Trejo told students that it all ties back to one important idea: "It's all about helping people."
"On this campus, there are already people saying, 'We'll help you,' and that's really important. People need to know that there's help out there," said Trejo. "Education is the key to anything that you want to do, and the more you do for other people, the better your life gets."