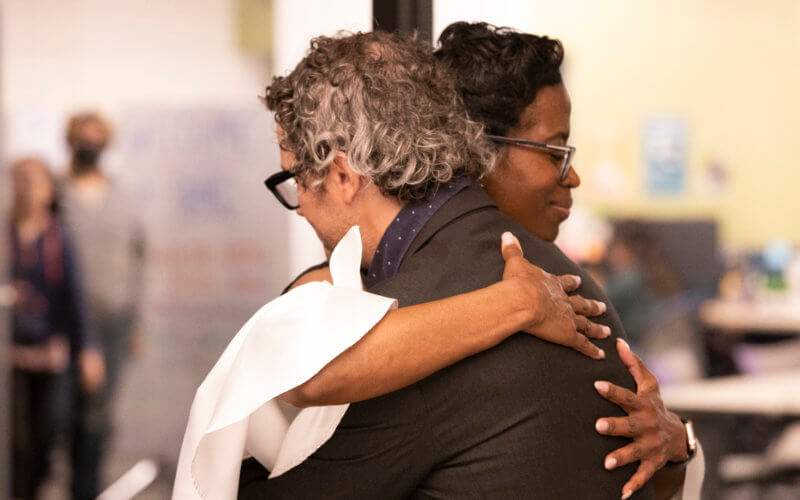 When director Romarilyn Ralston joined Project Rebound, a program that supports formerly incarcerated students, their center was little more than a small room in Langsdorf Hall — "humble beginnings," she joked.
"All I had was a computer and a phone and a dream of what we could build here for people like me and what we wanted Cal State Fullerton to inspire in our students," said Ralston, executive director, at the March 15 grand opening of Project Rebound's Center for Hope and Redemption. "Our mission is to continue to integrate the inclusion of rebound scholars at CSUF and to contribute to scholarly research, offer leadership training and promote advocacy led by students."
The new center, located in Pollak Library, Room 140, is an open space where student scholars can gather to foster new conversations, learn about leadership opportunities, work on personal development and explore interdisciplinary approaches to education.
"When we talk about diversity, equity and inclusion, this is what this space represents. Not only for our population, but other marginalized populations as well. We are not only coming out of the shadows, but we are being placed on the main stage. That says that we stand with you, we stand behind you and we support you," said James Cavitt, Project Rebound's program director.
Since its establishment on campus in 2016, Project Rebound has supported over 300 formerly incarcerated individuals pursuing degrees in higher education. One of those students was alumna Ginny Oshiro '20 (B.A. criminal justice).
When she joined the program in 2018, she had doubts about whether she belonged in academia, but after meeting with Project Rebound staff and finding a home in the center, she knew she was in the right place.
"I had a safe place to show up to and there was always someone supportive in my corner," said Oshiro, who is currently pursuing her Ph.D. in criminology at UC Irvine. "Everybody who's a part of the rebound team is dedicated to building a vision, so it's incredible to see how much support it's gotten and how far it has come."
As the program continues to recruit and engage with future generations of rebound scholars, Brady Heiner, executive director of the Project Rebound Consortium and associate professor of philosophy at CSUF, said that the center's forward-thinking approach to equity and inclusion involves reshaping historical narratives and spotlighting a diverse set of voices.
"For far too long, people from marginalized communities advocating for the empowerment, dignity and justice of their communities have been framed as objects of history, rather than agents and subjects. Rebound is designed to shift that frame," explained Heiner.
Although the transition to the new center is a victory for the program, Ralston and President Fram Virjee said that this is not the end of Project Rebound's continuous development and future success.
"This program is about changing hearts and minds. It's about daring to dream about building a better future for this entire community through what we do in this room, on this campus and what we do together," said Virjee. "This is not where we stop. This is the seedling that is going to grow and take root not just on this campus, but in every other university across the country."