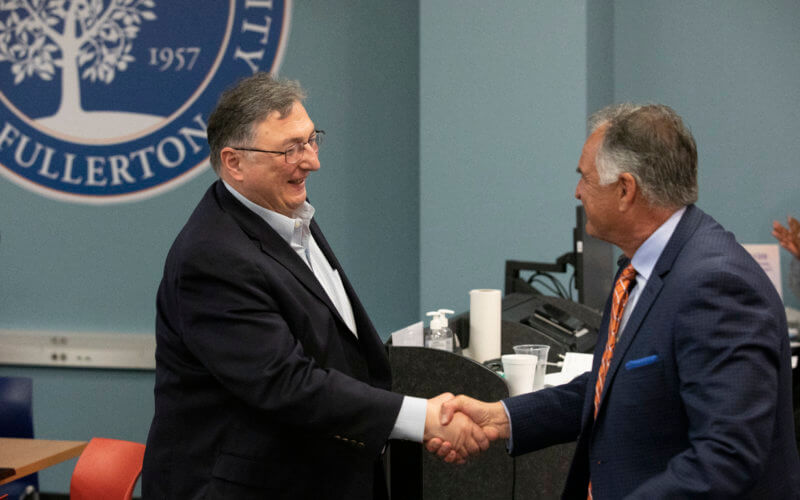 Bogdan Suceavă recently visited the town in southern Romania where he grew up and the grammar school where he studied math.
At an early age, he was encouraged to pursue mathematics as a promising career. At age 13, he won a prize at the Romanian National Mathematical Olympiad.
"It's the place, where it crossed my mind for the first time, that I could study mathematics," said Suceavă, Cal State Fullerton professor of mathematics.
Suceavă continued his studies, earning bachelor's and master's degrees in mathematics, with a focus on geometry, from the University of Bucharest and a doctorate from Michigan State University. In 2020, he was awarded the Medal of Honor by the Romanian Society of Mathematical Sciences.
Today, Suceavă is an internationally recognized mathematician, a tireless researcher, cherished collaborator and dedicated mentor to his students.
For his prolific contributions to mathematics and scholarly accomplishments, Suceavă was selected as the recipient of the university's 2023 L. Donald Shields Excellence in Scholarship and Creativity Award.
"I am very grateful to the Cal State Fullerton academic community for recognizing the values I stand for and to the intellectual environment at Cal State Fullerton for making my career possible," Suceavă said. "I have been supported, encouraged and understood all the way — in all the moments of my career."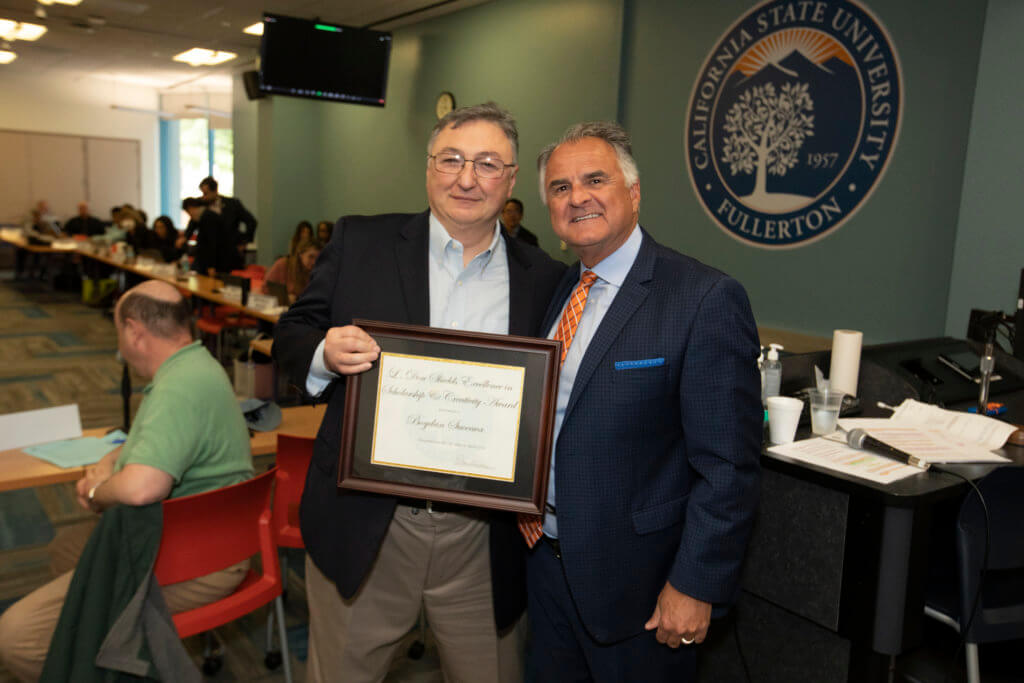 The award is presented to a faculty member in recognition of "outstanding scholarship and/or creative work that is demonstrated through a variety of activities." The award's namesake served from 1970-80 as the university's second president.
"I have known Dr. Suceavă since he joined the faculty in 2002. I was involved in the hiring process and recall how much potential he had to do great things for the department and its students — particularly in scholarly and creative work," said Alfonso Agnew, chair and professor of mathematics.
"He has far exceeded my wildest expectations, and he has managed to be humble throughout by always seeking to involve and elevate his students and colleagues as part of his efforts."
Scholarly and Literary Successes
As a researcher in pure mathematics, particularly his expertise in differential geometry and the foundations of geometry, Suceavă has produced 82 highly cited mathematics articles in top-tier, peer-reviewed journals.
His work spans across geometry, analysis, algebra, Euclidean geometry and the history of mathematics.
"As a fellow pure mathematician, I can assure you that this rate of publication in high-impact journals is incredible," said Scott Annin, professor of mathematics and the university's 2015 Outstanding Professor.
"Pure mathematics generally does not get produced that quickly, and the fact that Dr. Suceavă is able to manage it in an environment that demands much in the areas of teaching and service, is a true testament to his dedication, work ethic and scholarship."
Many of Suceavă's articles are co-authored with his students after extensive training outside the classroom. In 2014, he earned the Outstanding Contributions to Student Success award from the College of Natural Sciences and Mathematics.
"Dr. Suceavă spends a tremendous amount of time nurturing and mentoring students, and then makes sure that they have the maximum number of opportunities to present their work," Dean Marie Johnson noted. "The quality of work that has been produced is extremely impressive."
Beyond his extensive scholarship in mathematics, Suceavă is an award-winning writer and is highly respected in the literary community both in Europe and the United States. He is the author of 19 literary volumes in Romanian, which includes novels, short stories and poetry.
Suceavă has earned several literary awards, including the Romanian Literary Fund Fiction Award and Association of Bucharest Writers Fiction Award, and is invited to speak at literary festivals in New York, Paris to Prague.
Outstanding Contributions to Mathematics
Over a decade ago, Suceavă founded the Fullerton Mathematical Circle that brings highly gifted young mathematicians — middle school and high school students — to campus on Saturday mornings to improve their problem-solving abilities and participate in math competitions. More than 300 students from Orange County and the region have been involved with the enrichment program, facilitated by CSUF math students interested in teaching careers.
Known for always championing the Department of Mathematics and CSUF, Suceavă led the charge in what resulted in the 2022 "Mathematical Programs That Make a Difference Award." The department is one of only 22 programs nationally to have received this honor, bestowed to one mathematics program each year by the American Mathematical Society.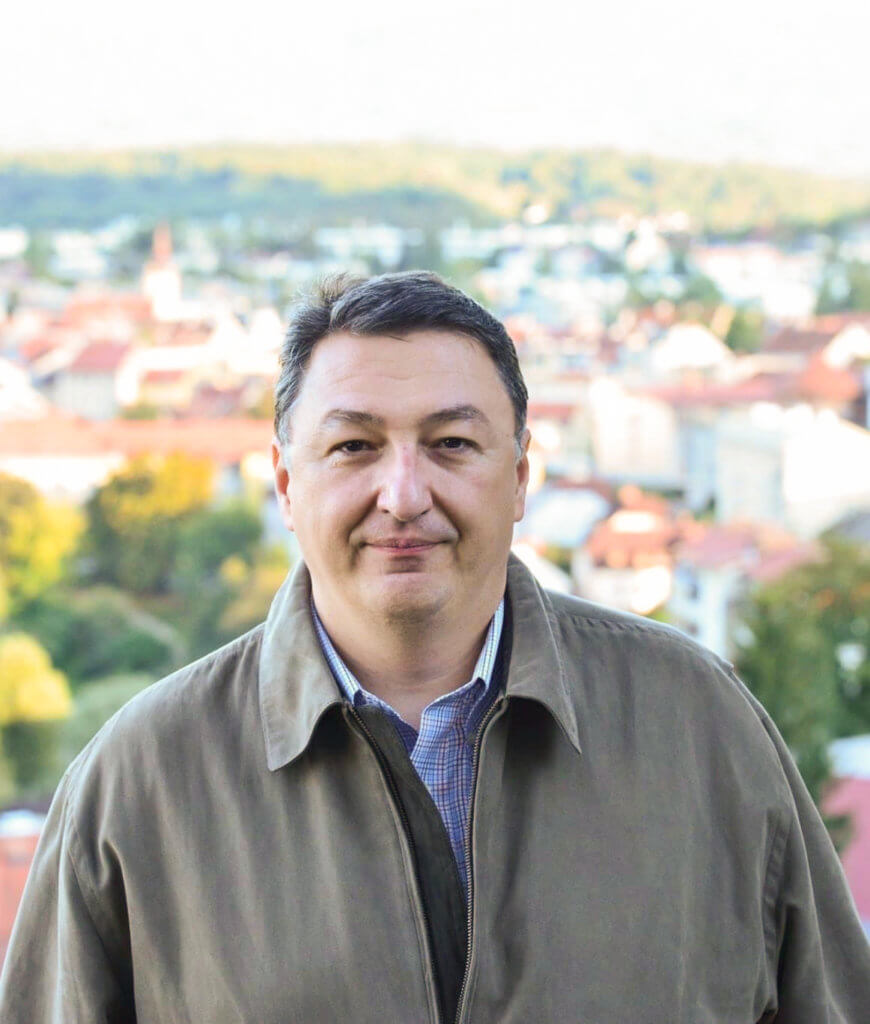 The award recognized the department's "excellent record of mentoring and graduating students from underrepresented groups."
"I am very happy that our CSUF brand will forever stand proud on that list of winners next to UC Berkeley and MIT. It is only fair to have it so, for the work we do and for what we represent," he said.
In spring 2020, Suceavă's scholarship with fellow faculty members Adam Glesser and Matthew Rathbun and former student Isabel Serrano was recognized with the national George Pólya Award from the Mathematical Association of America. The committee noted: "This paper is truly a jewel."
Other notable accolades include three essays, co-authored with his peers and former students, published in 2016, 2018 and 2021 in the high-status Princeton University Press anthology on Best Writings on Mathematics.
In 2018, the manuscript, "A Medieval Mystery: Nicole Oresme's Concept of Curvitas," co-authored with Serrano, appeared in the Notices of the American Mathematical Society.
Serrano '18 (B.A. mathematics-applied) shared that Suceava was her first mentor to demonstrate how innovation and powerful insights arise from interdisciplinary research.
"Dr. Suceava has left an undeniable impact on how I think about science," said Serrano, a doctoral candidate at UC Berkeley in computational biology, which unites statistics, biology and computer science.
"As the first in my family to pursue a career in research, Dr. Suceava's exposure to conferences and mathematical research was critical in discovering my passion for science."