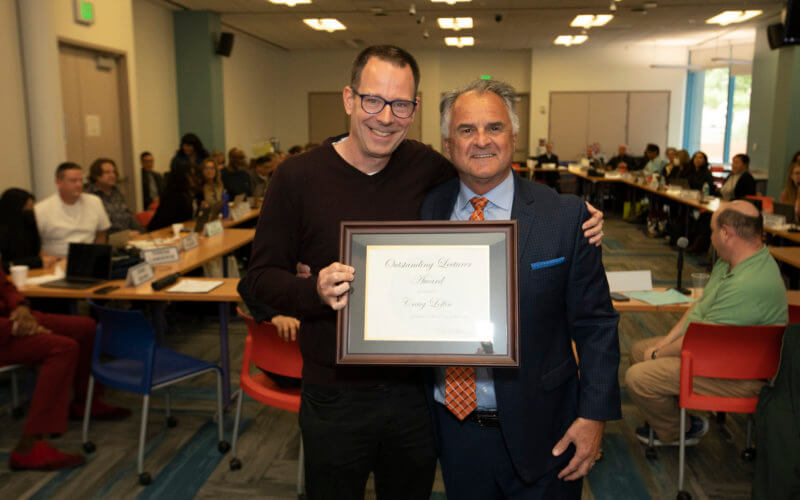 "Students rave about Craig Loftin's classes. His passion for student learning, deep knowledge, energy and curiosity make him a favorite within our department," said Elaine Lewinnek, professor of American studies.
An LGBTQ+ historian and lecturer in American studies at Cal State Fullerton since 2006, Loftin teaches close to 250 students each semester in such courses as "The American Dream," "Sexual Orientations and American Culture" and "Introduction to Gender in the Humanities."
"While teaching a full load of five classes each semester, he consistently updates his class materials, organizes diverse guest speakers, integrates new scholarship, implements high-impact practices in his classroom and provides students with individualized feedback on essays," said Lewinnek. "After nearly two decades of successful teaching here, it is particularly impressive to see Craig's commitment to continually re-assessing his own already-stellar teaching."
Loftin's success as a teacher can be seen in the overwhelming percentages of students (typically 90-100%) who report that his class discussions provoke them to think more deeply about the subject matter.
For his exceptional dedication to teaching, Loftin was recognized with Cal State Fullerton's 2023 Outstanding Lecturer Award.
Colleagues within the Department of American Studies praise Loftin's energy for teaching, scholarship of LGBTQ+ history and mentorship of new lecturers.
"I would not be half the teacher I am today without learning so much from Craig," said Patrick Covert-Ortiz '09, '12 (B.A., M.A. American studies), a lecturer in American studies who first met Loftin while a graduate student. "Over the past decade, I have seen countless students come to Craig's office hours for guidance and express the astounding impact his courses have had on their personal development."
Beyond the campus, Loftin engages in public-facing work that enriches local and national awareness of LGTBQ+ history. He played an active role in the implementation of California's FAIR (Fair, Accurate, Inclusive and Respectful) Education Act of 2011, which mandated K-12 education include the contributions by people with disabilities and members of the LGBTQ+ community in textbooks and curriculum. He also trains teachers in Los Angeles and Orange counties in LGBTQ+ history and works with several nonprofit organizations to create LGBTQ+ history plans for K-12 schools.
"Professor Loftin has productively shaped the way LGTBQ+ history is taught, understood and accessed in a range of educational venues," said Terri Snyder, professor of American studies. "His commitment to social justice-oriented scholarly activity embodies CSUF's core mission of civic engagement and commitment to diversity, equity and inclusion."
"Few understand the true necessity of representation and authenticity in curriculum more than Craig," added Covert-Ortiz. "His research and courses are an example to every student that LGBTQ+ history is American history, and that every student deserves to see themselves in their college experience."
Loftin, who holds a doctorate in history from USC, is the author of "Masked Voices: Gay Men and Lesbians in Cold War America" and "Letters to ONE: Lesbian and Gay Voices From the 1950s and 1960s." The works recently were highlighted in the documentary "L.A.: A Queer History," narrated by several notable actors, including Steve Buscemi and Rosario Dawson.
He currently is working on a manuscript titled, "New Wave Apocalypse: A Queer Journey Through 1980s Music Videos," which explores how famous pop stars like Whitney Houston, Michael Jackson, Madonna and Prince raise complex questions about race, gender, sexuality and identity.
"As a scholar and teacher, I am deeply committed to incorporating LGBTQ+ history into mainstream narratives and curriculum," said Loftin. "It is an honor to be recognized with this award, and I am humbled to be considered alongside so many talented and dedicated lecturers here at CSUF."