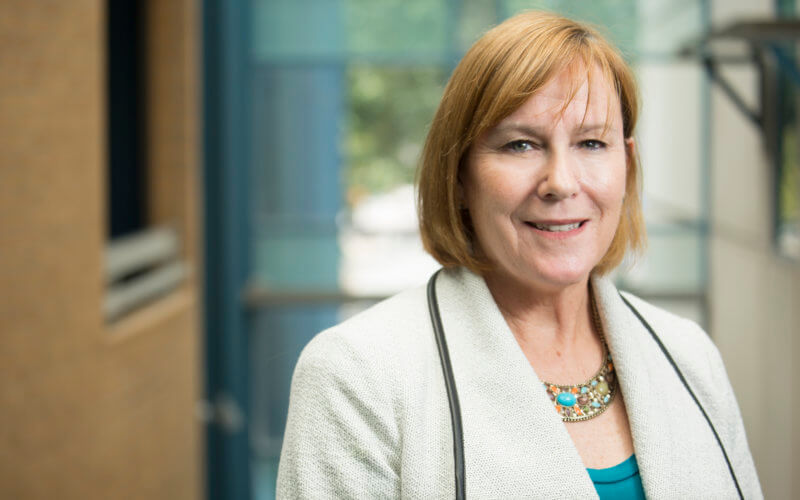 Over the course of her 40-year career as a teacher and researcher, Cal State Fullerton early childhood educator Janice Myck-Wayne has been a champion for children with special needs.
Myck-Wayne has not only influenced the course of special education in California's schools, but she also has prepared scores of special education teachers to work with young children with disabilities and their families.
For outstanding teaching, distinction in scholarship and contributions to the university and the California State University system, Myck-Wayne has been selected as the university's 2023 Outstanding Professor.
"As I reflect on my career as a teacher, professor and educational leader, I can think of no other profession that I would have chosen," said Myck-Wayne, professor of special education. "Teaching is my vocation."
In his announcement of Myck-Wayne's selection, CSUF President Fram Virjee spoke about her leadership, mentorship, service, scholarship and accolades.
"All of these awards are just examples of Titan excellence that she exudes," Virjee said. "Today, we award her with the highest honor the university can bestow upon a faculty member."
Her colleagues and students alike call her a visionary and exceptional educational leader who has dedicated her life's work to advocating for equitable and inclusive education rights.
"Dr. Myck-Wayne's courses and research emphasize just, equitable and inclusive education for marginalized children," said Melinda R. Pierson, professor of special education. "Her classes train educators to build strong connections with caregivers and families, provide access and equal opportunities to students with disabilities, and build environments and design instruction to perpetuate inclusion in schools and the community."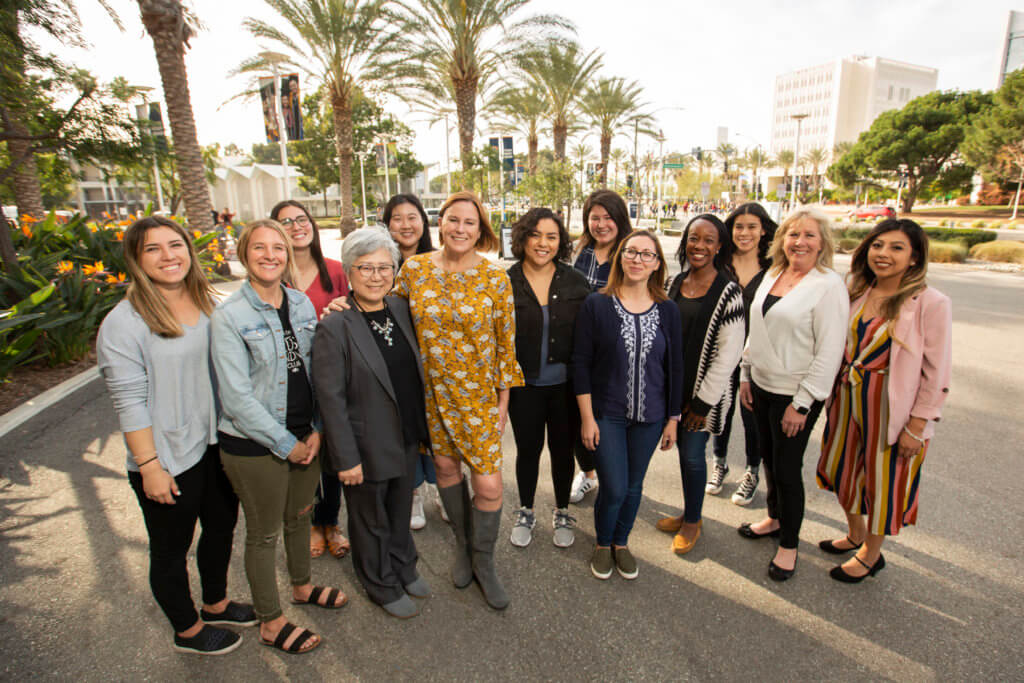 Myck-Wayne started her career as a teacher for the deaf and hard of hearing in Los Angeles Unified School District in 1984. Since, she has remained committed to teaching in the urban setting and preparing teacher credential candidates to teach all children in California.
She earned a doctorate in education (Ed.D) from the University of Southern California and serves on the California Commission on Teacher Credentialing to develop teaching performance expectations and assessment for the early childhood education specialist credential.
"Being a professor at CSUF is the greatest award. This profession affords me endless possibilities," said Myck-Wayne, who joined the faculty ranks in 2007. "There are amazing students to teach and mentor, new and innovative courses to revise and develop, grants to write, study abroad trips to lead, leadership opportunities, and colleagues to support and collaborate on a diverse range of subjects."
Early Childhood Special Education Research
Myck-Wayne's research and scholarship activities center on topics related to teacher training, inclusive practices, families and early education.
As an outstanding scholar, she has received numerous distinctions for teacher training, scholarship and service. These include the 2019 Cal-TASH: Robert Gaylord-Ross Memorial Award and the College of Education's 2018 Emma Holmes Fellowship Award.
Myck-Wayne has published 20 peer-reviewed journal articles, including with students as co-authors, and five peer-reviewed book chapters. Additionally, she has prepared 43 peer-reviewed invited presentations.
Her publications reflect the international focus of her research and teaching. Over the last 15 years, she has received nearly $4 million in state and federal grant funding to prepare students to teach children in inclusive classroom settings.
"Her grants have awarded many students of color the opportunity to receive a degree and in return, become part of the workforce, increasing teachers of color in schools across our state," said Aja McKee, associate professor of special education, who nominated Myck-Wayne for the faculty award.
Grant awards include the U.S. Department of Education-funded "I:DREEAM" ($800,000; 2009-13) and "Project STAR" ($1.25 million; 2013-18). She currently directs "Project Activity Based Communications," known as Project ABC, a $1.25 million U.S. Department of Education interdisciplinary grant to train special education and communication sciences and disorders students to work collaboratively in classrooms.
"We're preparing educators and speech-language pathologists to be workforce-ready," said Myck-Wayne, who serves as coordinator of the college's early childhood special education credential program and has chaired doctoral candidates' dissertations.
International Teaching Projects
To give her students experiences with international educational systems, Myck-Wayne has co-led seven study abroad programs (from 2016-20) at Katholische Universität Eichstätt-Ingolstadt in Germany. CSUF students gained an understanding of the educational differences between Germany and the United States regarding the policies and practices of inclusive special education.
She also was a visiting professor at Katholische Universität Eichstätt-Ingolstadt, where she taught a virtual advance literacy course in summer 2021 and fall 2022 for credential candidates. The course focused on reading and literacy strategies for young children.
Since 2013, Myck-Wayne and Pierson have been involved with the International Project Collaboration, in which universities from 10 countries participate to teach research topics related to education and to promote cultural diversity.
The educators also organized five study-abroad trips to Haiti with CSUF student teachers. Students taught at an orphanage school and assisted the school's teachers in early childhood literacy instruction and classroom management. Due to political unrest in Haiti, the educators have not been able to return. However, they have continued to support the Haitian teachers through videoconferencing.
Preparing Students to Teach Children With Special Needs
In her unwavering commitment to her profession and to students, Myck-Wayne has trained hundreds of early childhood special education teachers, who in turn, have enriched the lives of thousands of young special needs children.
"I tell my students that teaching is a collaborative process. It is good to be self-confident, knowledgeable and imaginative, however, leave room for reflection, self-awareness and collaboration," Myck-Wayne said.
Her students give her high marks as a top professor and often comment that she is passionate and knowledgeable about the subject matter. The future teachers also rave about her care and concern for their academic success.
Among her former students are mother-and-son special education teachers Rehana and Saad Amer. Both credit their professor for providing a motivating and engaging learning environment to help them succeed in the teaching profession.
Saad Amer '10, '20 (B.A. business administration-marketing, education specialist credential-early childhood) noted that Myck-Wayne created innovative course content to ensure students succeeded when classes moved to virtual instruction during the pandemic.
"I have been told by my district that I have been one of their most prepared new teachers — and this credit all goes to Dr. Myck-Wayne," said Amer, an early childhood education teacher in Moreno Valley.
His mother, Rehana Amer '09, '10, '12 (B.S. child and adolescent development, education specialist credential-early childhood, M.S. education-special education), shared that as a middle-aged immigrant woman, Myck-Wayne gave her the support and encouragement to pursue a degree to teach children with special needs.
An education specialist in Anaheim Elementary School District, Amer said: "Dr. Myck-Wayne is solely responsible for changing the trajectory of my life and for being able to live my dream."