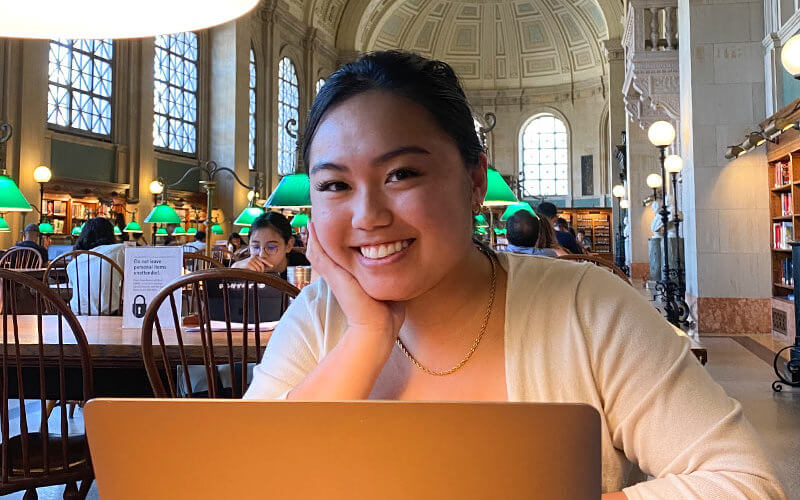 Standing stiffly with her hand placed on top of her pounding heart, first-grader Jenna Maree Wong shyly whispered the pledge of allegiance. She knew that she could not pronounce her r's.
Under her breath, she mumbled "wepublic" and "libehty."
Determined to communicate proudly, Wong consistently met with her speech therapist who empowered her through drills, worksheets and board games.
"My speech language pathologist helped me feel confident in speaking and I wanted to have that impact for children," said Wong. "I decided to pursue my major in communicative disorders to work as a speech language pathologist in school settings."
The Class of 2023 graduate's drive for diversity in the field of communicative disorders gained momentum at Cal State Fullerton and garnered her a National Science Foundation Graduate Research Fellowship to continue her studies after commencement.
"Ninety-two percent of clinicians in the field of speech language pathology are white," said Wong, a student in CSUF's President's Scholars and University Honors programs. "Combining my interests in inequality in higher education and diversifying the field of speech language pathology, my senior honors project examines the experiences of underrepresented communicative disorders seniors applying to graduate-level speech language pathology programs."
In the past academic year, Wong served as the president of Student Speech Therapists and Audiologists Nurturing Cultural Enrichment (STANCE). Her social justice-oriented lens led her to organize the first department wide town hall to advise first-generation, low-income and nontraditional students. Wong said her intent was to uplift prospective students' experiences and pave an equitable path toward obtaining a college degree. For her leadership, Wong was recognized with the Department of Communication Sciences and Disorders' Edith Li Communicative Disorders Service Award.
"Jenna has the potential to extend the equity of educational accessibility for underrepresented individuals and people with disabilities with her research," said HyeKyeung Seung, chair and professor of the communication sciences and disorders.
Beyond her department, Wong has been involved in several leadership roles on campus, including treasurer and chief communications officer for Associated Students Inc.
Gaining Research Experience at CSUF
Wong started her hands-on research examining educational access and equity in her first semester of college with Joyce Gomez-Najarro, associate professor of literacy and reading education.
To Wong, Gomez-Najarro has been her biggest cheerleader.
"My research interests have largely been shaped by my experience attending CSUF. I have had such dedicated professors and resilient peers throughout my four years," shared Wong.
"Dr. Gomez-Najarro was patient as I was immersed in research for the first time, and I felt very free to ask questions and really tap into my intellectual curiosity."
As a California State University Sally Casanova pre-doctoral scholar, Wong received one-on-one guidance from faculty members and the opportunity to work with faculty from doctoral-granting institutions.
Following commencement, Wong will begin a graduate program in sociology at The University of Texas at Austin. As a recipient of a 2023 National Science Foundation Graduate Research Fellowship, Wong is committed to producing research in the next three years that will directly impact policies affecting access to higher education. The fellowship includes a $37,000 annual stipend and $12,000 cost-of-education allowance to the graduate institution.
"Since being awarded this fellowship, I feel more confident about myself and my ability to attain a doctorate degree, become a professor and succeed in academia," said Wong. "I am so grateful that the National Science Foundation sees value in my work and believes in my potential to become an expert who can contribute to research, teaching, and innovations in science and engineering."