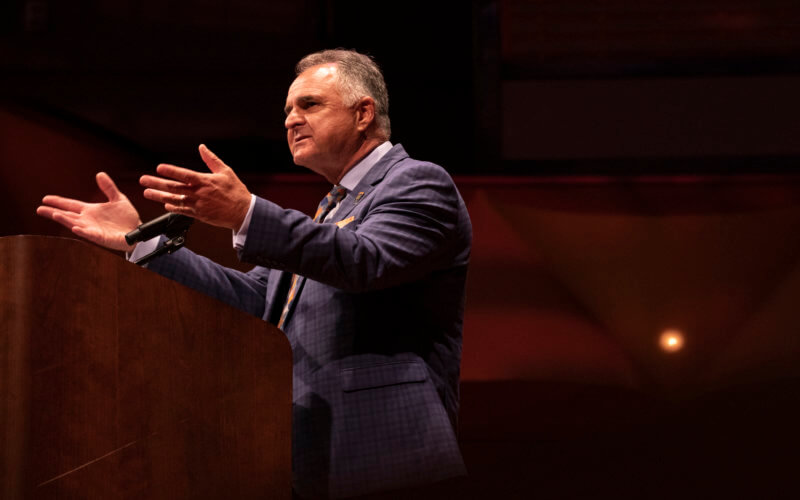 "Convocation is both a time of reflection and celebration of what we have accomplished — and a communal look to the future," said President Fram Virjee as he welcomed faculty, staff, students and friends to Cal State Fullerton's 2022 Convocation.
"As we look back on the past year, one thing is very clear. We have not only been successful in supporting our Titans, but we have once again surpassed all reasonable expectations."
Among the year's highlights are:
Increasing graduation rates for first-time freshmen
Graduating one of the largest classes in CSUF history
Exceeding the university's $250 million comprehensive fundraising campaign goals
Hiring 27 new tenure-track faculty
Providing research opportunities and equitable pedagogy practices to ensure students have life-changing experiences in the classroom
Connecting the campus through advanced IT service and technology
Promoting an equitable, inclusive and diverse workplace where students and staff thrive
Telling CSUF's stories and advocating on behalf of the university
Enhancing the campus by breaking ground on the new Visual Arts Complex, building/renovating the baseball/softball complex, building a new Aquatics Center and opening a new residence hall complex that is housing 600 Titans
Expanding Tuffy's Basic Needs Services Center to better identify and serve students who have experienced an unforeseen hardship, emergency, crisis or catastrophic life event, and in partnership with ASI, providing a permanent on-campus food pantry that served nearly 4,000 students and their families
Creating spaces that foster identity and a sense of belonging through such programs as DIRC (Diversity Initiatives and Resource Centers), Veterans Resource Center, Male Success Initiative, Center for Scholars and many others
Emphasizing the scholar-athlete model in Athletics while racking up multiple Big West championships
In looking for ways to propel the campus even further, Virjee encouraged faculty and staff to keep three questions in mind:
What are we doing to help students navigate our campus?
"How are we working to assure that in addition to building the programs, we are also paving the necessary pathways for students to access them and ensure their effectiveness?" Virjee asked.
"Simply put, our students need each of us to be navigators alongside them; to help them find their way across the vastness of our campus, and discover among the plethora of programs how to find the ones that best help them."
What are we doing to assure that our students thrive and succeed in their academic journey?
"Learning does not stop at the classroom door, but extends into the lab, the campus, the community and the world," Virjee said. "As this landscape changes, so must we to prepare our students academically, professionally, and personally to be the leaders and the dream-builders of tomorrow."
What are we doing to make our students feel welcome, included and part of the Titan family?
"Our students are resilient, however, we cannot expect them to find their way or thrive academically if we do not do our part in creating an inclusive campus, where they can develop a sense of belonging. They must have the sense that they are not just tolerated or accepted, but actually included on our campus, that they are the reason we are here, and they are recognized for the value they bring.
"When students do better, society benefits. Families change, communities are lifted and we are all positively impacted."
Where do we go from here?
"In asking these questions and focusing on answers, we will discover the solution to providing the transformative educational experience and welcoming environment that all students deserve, and that we strive to provide," said Virjee. "As we move forward in the coming year and into our joint future, my hope is that these questions will drive all you do.
"In closing, I am so proud of our work. I am so proud of all we have accomplished so far. I am so excited for the future. I am so excited to be here with you. Let's make it a great year!"