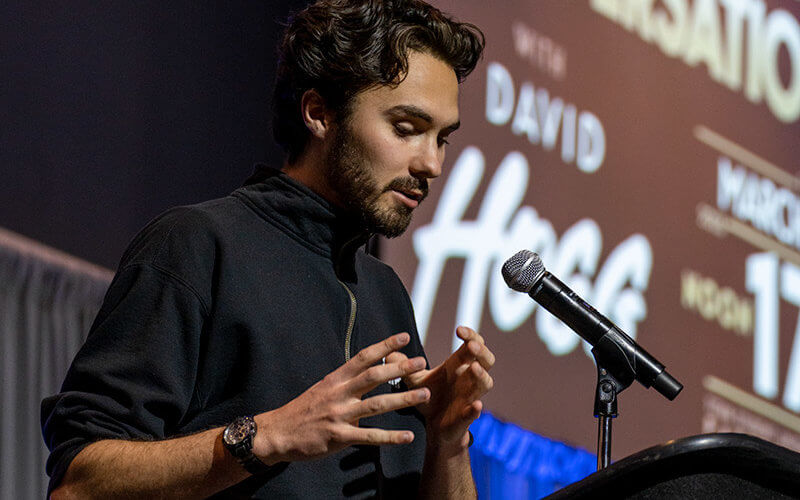 Five years after a school shooting in Parkland, Florida, survivor and activist David Hogg became a voice for change, reminding young people that in the face of adversity, "each and every one of you has the capability to be a leader in tomorrow's future."
Returning to his father's alma mater on March 17, Hogg spoke to a crowd of faculty, staff and students as part of Cal State Fullerton's Social Justice Week and the "Beyond the Conversation" series, hosted by Associated Students Inc.; Student Affairs; and Human Resources, Diversity and Inclusion.
The purpose of the series is to promote different perspectives and dialogues about diversity, equity and inclusion. Previous speakers include political activist Angela Davis, actors Danny Trejo and Daniel Dae Kim, Olympic swimmer Michael Phelps, and Pulitzer-Prize winning journalist Nikole Hannah-Jones.
After surviving the 2018 shooting at Marjory Stoneman Douglas High School, Hogg co-founded the March for Our Lives movement, a youth-led organization dedicated to promoting civic engagement, education and action against gun violence.
Today, he shares his story with national audiences, encouraging people to vote, create new conversations about gun safety and contribute to the shaping of a safer future.
"Just like the founders before us, we have an opportunity to be the change we wish to see. Two hundred and fifty years old, though it may be, our nation is still young. Each and every one of us has a voice. We are in a day and age where we can enact laws that will save thousands of lives," said Hogg.
When he first started advocating for change as a young activist dealing with the aftermath of his experiences, Hogg's philosophy was simple and determined: "It's either our way or the highway."
Since then, the 22-year-old college student said he's learned an important lesson that has changed his approach to activism: "Anger is not a sustainable resource." Now, he leads all of his interactions with compassion and compromise by starting conversations with those who disagree with him and finding solutions that, although small, signify progress.
"We need to change that cycle from one of debate to dialogue," explained Hogg. "My philosophy is a lot more about consensus building, making progress and figuring out what we can do right now."
Throughout his activist career and academic journey at Harvard University, Hogg has faced significant challenges from opposing viewpoints, but despite the adversity, he's been motivated by love and the power of education.
"I realized that a lot of hatred comes from fear, fear of the unknown. You can work to address that unknown, through education, especially in places like Cal State Fullerton," said Hogg. His father, Kevin Hogg '89 (B.A. geography), is a CSUF alumnus and former U.S. Navy officer and FBI agent.
"Change doesn't happen in a day, and it doesn't just start at Congress. It starts with local politics, your school board, your city council and especially your state legislature," said Hogg. "Don't be afraid to fail. It's part of the process."
Whether it's gun safety or any other topic that people are advocating for, Hogg said it's crucial that every person remembers why they were motivated to act in the first place. Since the Parkland shooting, he has been dubbed with many titles — survivor, activist, leader — but it's his role as a big brother that keeps him grounded.
"Before I was ever an activist, a Harvard student or a lightning rod, I was, and am a big brother," said Hogg. "Let us join together in the pursuit of the belief that someday, school shootings and daily acts of gun violence will be left in our history books, and not in our headlines."