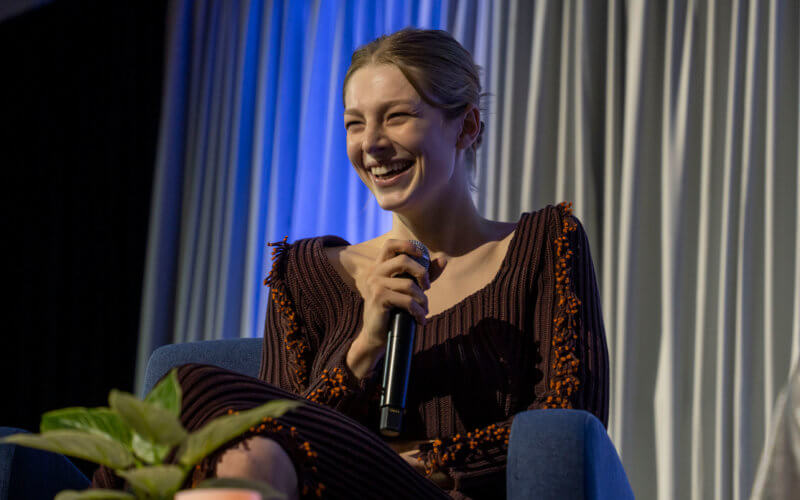 Hunter Schafer said she remembers the first time she saw a transgender character on television.
"It's magic when you haven't seen someone like you on the screen your whole life, and then all of a sudden, there it is," said Schafer.
To a sold-out crowd of 700 students, faculty and staff, Schafer humbly described herself as a "pastor's daughter from North Carolina." But she's also known as an artist, LGBTQ rights advocate and breakout actress from HBO's award-winning show, "Euphoria."
The young star spoke to the Cal State Fullerton community as part of the "Beyond the Conversation" speaker series hosted by Associated Students Inc. and the Division of Student Affairs. The series invites a diverse lineup of speakers to campus to engage students in dialogue about diversity, equity and inclusion.
Previous speakers included political activist Angela Davis, Olympic swimmer Michael Phelps, actors Danny Trejo and Daniel Dae Kim, and Pulitzer Prize-winning journalist Nikole Hannah-Jones.
Examining Trans Representation and 'Euphoria'
A self-proclaimed "fashion nerd," Schafer found success modeling in New York's fashion scene when she was 19. She decided to try her hand at acting after learning about the character Jules Vaughn in "Euphoria."
Jules is a transgender girl who transfers to a new high school at the beginning of the show. Navigating the raw realities of love, loss and addiction, Schafer said her personal connection to the character was too strong to ignore.
"Even before there was a pilot episode, the show felt visceral, and I could see what it was," said Schafer. "I feel really lucky that I started out with Jules because she was basically like one or two steps away from who I was at the time."
A transgender woman herself, Schafer said that she worked with show creator Sam Levinson to create storylines and emotions that accurately captured what it's like to be a young student grappling with her sexuality and gender identity.
"I think Sam really taught us how to develop our emotional intelligence and use our head spaces, the wounds of our past and our history, which he said are our superpowers, and bring them to the characters," Schafer explained.
Pouring herself into the role, Schafer said that Jules not only is relatable, but she also symbolizes a step in the right direction for transgender representation in film and television.
"It's so surreal because television is like this untouchable portal that's been there your whole life, ignoring you. And now, you're there. I hope that's the reaction that happens, particularly for the trans community," said Schafer.
Since her television debut, Schafer has been busy with new acting projects. This year, she will appear on the big screen in Tilman Singer's horror film "Cuckoo" and "The Hunger Games: The Ballad of Songbirds and Snakes."
Advice for Future Artists and Entertainers
Between the fashion, entertainment and artistic industries, Schafer has had a lot of experience juggling responsibilities, deadlines and priorities.
For students who feel overwhelmed with busy schedules, Schafer said it's important to develop routines. Although it may sound like "boring adult stuff," she said habits like sleeping a good amount and working out help her stay focused and prepared for every new task.
As a former visual arts student, Schafer explained the importance of dealing with rejection and criticism in healthy and constructive ways.
"If you're not receiving criticism, you're probably not doing something right. That's what art is for. It's about creating conversation. Not everyone is going to love it, and that's okay," she said.
In addition to dealing with rejection, Schafer said it's crucial that artists not let outside voices and influences stop them from creating what their heart desires.
"When you start turning your craft into a job, you're going to start thinking about how people are going to receive it and how certain elements of it are going to be profitable, and that can really kill your creative soul," said Schafer. "There's this pressure to make money and make a career out of it, but I think it's so much more important to stay tapped into who you are."
Schafer's full "Beyond the Conversation" talk can be found on Titan TV's Youtube channel.