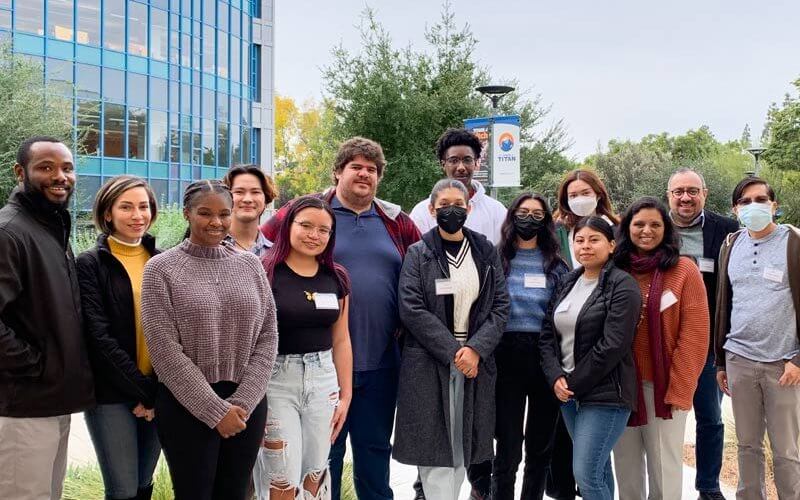 When his father was diagnosed with dementia a few years ago, Jonathan Escobedo stepped up as his caretaker, watching as the neurological condition altered his father's memory and personality.
"It was heartbreaking," shared the third-year computer science student. "After my dad passed away a few years ago, I said to myself, 'OK, I want to do something with Alzheimer's disease and dementia.' I want to be able to use my computer coding experience to help people who are going through what my dad went through."
Cal State Fullerton's Neurocognitive Aging and Analytics Research Education program provided Escobedo with a hands-on research opportunity to study early onset indicators to neurodegenerative disorders.
Funded by a $1,789,638 grant from the National Institutes of Health, the program's purpose is to train diverse students in aging-related research with a special focus on the aging brain and Alzheimer's disease.
"It's really important to recognize that our population is aging, and with aging comes neurodegenerative conditions," explained Archana McEligot, professor of public health and program director. "Nearly one in nine Americans is diagnosed with Alzheimer's disease. So, the important question is: What are the factors associated with this disease? We're training our students to understand and identify those factors."
Mental Health and Alzheimer's Disease
Under the guidance of faculty mentors, including McEligot and Assistant Professor of Public Health Lohuwa Mamudu, Escobedo and third-year public health student Daisy Mendoza are researching the connection between depression and anxiety and Alzheimer's disease.
"Previous studies have shown that depressed Alzheimer's patients are more cognitively impaired and more disabled than non-depressed patients," said Mamudu, who specializes in statistics and epidemiology. "Our focus is on major depressive symptoms and looking at how those symptoms intersect with aging to assess if they influence the likelihood of the individual also being diagnosed with Alzheimer's disease."
Escobedo and Mendoza are analyzing data from a national database that reports patients' cognitive symptoms, such as difficulty speaking and remembering and their neuropsychiatric conditions which include depression and anxiety. Sorting through the statistics, the students' goal is to draw connections between the cognitive and neuropsychiatric conditions to see if there is a connection between the two in the diverse populations they are studying.
"Just because someone is depressed or has anxiety, that doesn't automatically mean they're going to get Alzheimer's and dementia down the road. But if there is some correlation there, there's an opportunity to diagnose this disease much earlier, which gives people more time to determine care plans," said Escobedo.
Previous research on the connection between mental health and neurodegenerative diseases is scarce, but students in the program are filling that research gap with their data analysis, Mamudu explained.
He said that the students are at the forefront of an ever-changing field that will require future research to decidedly determine which came first.
"Our scholars are exploring a question that is difficult to prove, but they're making tremendous progress," said Mamudu. "Most students come into this program having little to no knowledge when it comes to this research, but we give them the tools they need to approach these difficult questions."
Finding Purpose in the Research
As a first-time researcher, Mendoza's experience working on this project has not only taught her crucial research skills like data analysis, but it's also been an opportunity to search for solutions that will help people like her mom and dad.
"I want to give back to my community, but I also have older parents. I'm well aware that there might be a future where my parents are diagnosed with a neurocognitive disease, and that possibility motivates me to find solutions now," said Mendoza. "Aging is a natural human phenomenon, so by observing trends and analyzing existing data, researchers like ourselves are that much closer to making better conclusions about how the brain works."
As one of two computer science students in the program, Escobedo said that this project was "outside of his wheelhouse," but exposure to the statistical research behind Alzheimer's disease is crucial to his long-term goal of coding technology that serves the needs of people like his father.
"That could look like artificial intelligence programming, or it could be as simple as creating an Android game that helps patients engage their brains," said Escobedo. "If my work on this research can help even just one person not go through what I had to go through with my dad, that would be considered the biggest success of my entire life."