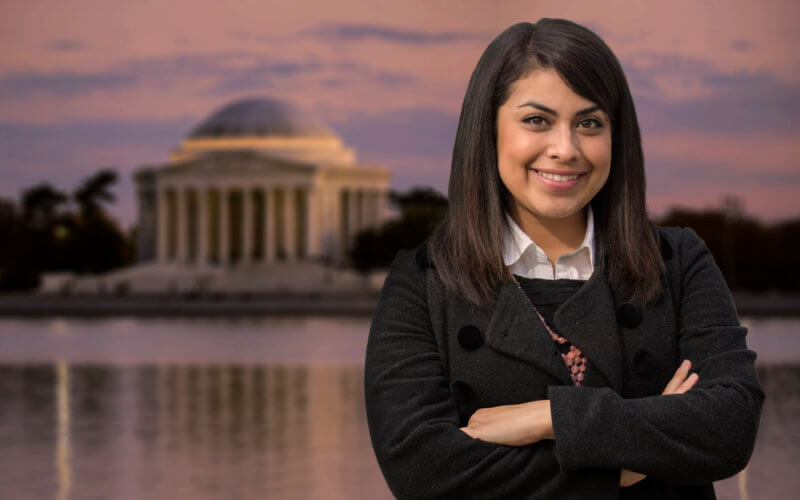 Cal State Fullerton awarded a second round of grants from its Scott-Jewett Fund for Student Success and Innovation to expand student participation in big data research, the Cal State DC Scholars program, creative activities, an engineering design challenge and more.
The fund was created in 2021 after the university received a historic $40 million gift from philanthropist MacKenzie Scott to support student success and innovation through a social justice lens. Last year, 11 projects received nearly $1 million in grants.
This year's grantees include:
Amplify Equitable Learning in Lower-Division Computing Courses to Underrepresented Engineering and Computer Science Students (ACCESS) — $149,893
Numerous studies show that STEM students from underrepresented groups do not complete their degrees. The ACCESS project will provide mentoring and extracurricular support to underrepresented engineering and computer science majors to increase their retention and success. Students will have opportunities to learn about data science, artificial intelligence, robotics and cybersecurity and apply their knowledge by proposing solutions for emerging social justice issues.
Project team: Doina Bein, professor of computer science; Yu Bai, associate professor of computer engineering; Jidong Huang, chair and professor of electrical engineering
Building From Within: Bolstering Black Undergraduate Student Creative Activities and Research (BUSCAR) — $149,500
Participation in undergraduate research has long been recognized as a crucial aspect of academic achievement and professional advancement. The BUSCAR program will support Black undergraduate students' participation in research and creative activities by connecting them with faculty members and providing project funding.
Project team: Terri Patchen, professor of elementary and bilingual education; Mei-Ling Malone, lecturer in African American studies; Gwen Alexis, lecturer in African American studies
Cal State DC Scholars: Creating a Diverse Pipeline to Power — $149,100
Nearly 500 CSUF students have participated in the Cal State DC Scholars program. The project aims to increase the number of underserved, specifically Black/African American and Native American/Indigenous students who participate in the program. For many students, the greatest hurdle to participation is the cost of traveling and living in Washington, D.C., for the 15-week spring semester program or the 10-week summer semester program. This project will create critical support structures, financial aid and career development opportunities.
Project team: Patricia Literte, associate professor of sociology; Stephen Stambough, professor of political science; Amie Zeoli, acting director of the Cal State DC Scholars program
Expanding CSUF Student Access to Research Experiences Through Computation and Big Data — $149,090
According to LinkedIn's 2022 U.S. Emerging Jobs Report, machine-learning engineers and data scientists rank among the top emerging jobs. However, industries in Southern California have identified a widening skills gap or a mismatch between employer needs and employee qualifications. This new project will create a summer undergraduate research experience for 30 students (15 in 2024 and 15 in 2025). Under the mentorship of CSUF faculty, students will conduct cutting-edge research involving high-performance computing and big data. By providing enhanced equitable learning, students will gain transformational experiences and become more marketable in the workforce.
Project team: Sam Behseta, professor of mathematics; Andrew Petit, associate professor of chemistry and biochemistry; Willie Peng, assistant vice president for information technology/infrastructure services
Development of the Engineering Social Justice Initiative — $135,675
The Engineering Social Justice Initiative received funding from the Scott-Jewett Fund for Student Success and Innovation in 2022 to organize "Engineering Social Justice: A Design Challenge." Teams of engineering and computer science students were asked to identify a social justice problem (e.g., affordable housing, transportation equity gaps), develop conceptual solutions and pitch their ideas to a panel of judges. The top three teams were awarded seed money for further project development. This project aims to extend the competition for another two years, and pursue additional sponsorships and a National Science Foundation grant to expand the competition across CSU campuses. 
Project team: Kristijan Kolozvari, associate professor of civil and environmental engineering; Garrett Struckhoff, associate professor of civil and environmental engineering; Paul Salvador Inventado, assistant professor of computer science
Titan Transfer Success — $54,990
CSUF's Center for Educational Partnerships houses federal programs and partnerships that support underrepresented students as they pursue postsecondary education. The Titan Transfer Success project will promote yield, onboarding and retention of approximately 150-200 transfer students through two initiatives. The Partnerships Transfer Initiative will help students successfully transition from their community colleges and connect with the campus community in their first semester. The Titan Scholars Grad Prep for Transfer Students Program will support community college transfer students by providing graduate school preparation services. Both programs will serve a significant number of first-generation, Latinx students.
Project team: Adriana Badillo, director of Center for Educational Partnerships
To learn more about the Scott-Jewett Fund for Student Success and Innovation, contact Andrea Kelligrew, director of strategic initiatives and special projects, at akelligrew@fullerton.edu.