College of Business and Economics and College of Humanities and Social Sciences graduates on Wednesday heard from Orange County business leaders and an experienced public policy advocate during Cal State Fullerton's 2022 Commencement. These leaders also received honorary doctorates from the university to recognize their innovation and support for programs that have boosted the careers of countless CSUF students.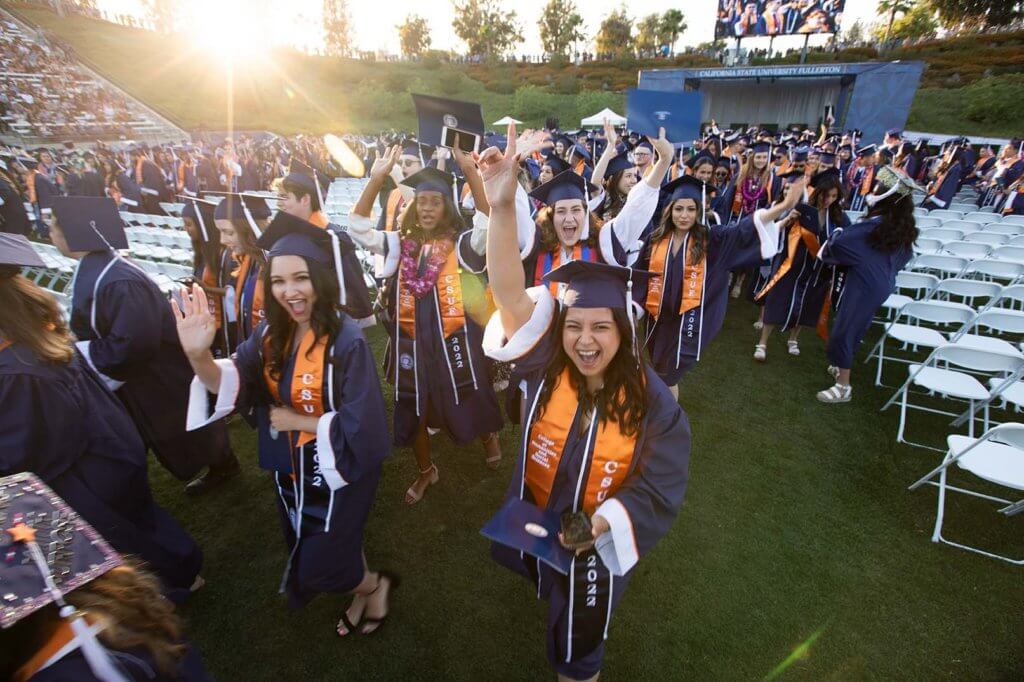 College of Humanities and Social Sciences
The College of Humanities and Social Sciences on Wednesday honored Class of 2022 graduates during two ceremonies. The college conferred degrees in sociology, American studies, history, English, linguistics, environmental studies, African American studies, Asian American studies, Chicana and Chicano studies, criminal justice, political science, public administration, liberal studies, philosophy, religious studies and women and gender studies.
At both ceremonies, graduates, faculty, families and friends were greeted by members of the Acjachemen Nation to acknowledge that the university was built upon Native land shared by the Tongva and Acjachemen peoples. During the ceremony, Acjachemen Nation members honored their Native ancestors, elders and relations — past, present and emerging.
Dean Sheryl Fontaine greeted the graduating class, their friends and families at both ceremonies by offering "gratitude and a gift." Faculty were thanked for being true teacher scholars. Staff were thanked for all their efforts on behalf of students. Parents and families were thanked for believing in the graduates, helping in practical ways (such as providing rides, assistance with tuition and fees, etc.), and believing in the promise of these graduates. The students and graduates were thanked for their intellectual curiosity, compassion and kindness toward each other, and their impatience with what the world has to offer.
"My gift to the graduates is the thousands of humanities and social sciences alumni who are succeeding in a variety of fields, changing the world. Like you, on the day they graduated, they didn't always know where life would lead them," she said. "Their success is your promise. Imprint the memory of this day in your hearts."
At the 9 a.m. ceremony, an honorary doctorate was presented to longtime university supporter Ambassador Gaddi Vasquez, who recently served as senior vice president of government affairs for Edison International and Southern California Edison.
A descendant of migrant farm workers, Vasquez served from 2002-09 in such roles as U.S. ambassador to the United Nations Organizations in Rome, Italy, and director of the U.S. Peace Corps. Vasquez was also appointed by former President George H.W. Bush to two federal commissions, including the President's Commission on White House Fellowships. He currently serves on the CSU Foundation Board of Governors as well as several civic and community boards.
"Gaddi Vasquez is not only a close advisor but a dear friend, and also an enormous advocate for Cal State Fullerton and for higher education," said President Fram Virjee. "He is a champion of equity and inclusion, equitable access to quality education, the first Latinx person to serve on the Orange County Board of Supervisors, and a fiery advocate for all public university campuses. We are honored to bestow this honorary doctorate of law, the highest of honors CSUF confers, upon Gaddi – ambassador, civic leader, justice advocate and now, Titan.
"I consider it an extraordinary privilege to celebrate with you," said Vasquez. "You will go down in history as a group that persevered and triumphed over insurmountable odds. During the past few years, we learned about ourselves and a great deal more about our nation.
"Reflect on what matters in life. Become champions of what you believe in. Shape a future where quality and diversity is elevated. Build access and opportunity and help those who are disadvantaged have a chance to overcome their circumstances and succeed as well. We need to be a nation where respect is at the core of everything we do and say and think.
"Our parents endured challenges and experienced difficult times, such as social conflicts, war, inequality and much more. Learn from them and shape your own resilience. For many of you, your journey began in a faraway place…and led to the U.S. For others, it began closer to this campus.
"I am a descendant of a migrant worker family. I am the child of two parents who never graduated high school. Our parents were insistent that we would not repeat their journeys. We would be the first generation to break the cycle of poverty. I am also the first in my family to earn a college degree.
"I challenged myself and never allowed the voice of cynicism or doubt to overwhelm me."
Vasquez then encouraged graduates to shape their futures and make it their own. And bring others along. He quoted Martin Luther King Jr. who said, 'Life's most persistent and urgent question is, 'What are you doing for others?'
"Those who graduated before you are shaping public policy, building businesses, developing technology, keeping our communities strong and vibrant. Together, we can work to make the world a better place. The same sense that got you to this day, will carry you into the future."
He concluded with a quotation by Poet Carl Sandburg: "Time is the coin of your life. It is the only coin you have and only you can determine how it will be spent. Be careful lest you let others spend it for you. And when you spend it, spend it wisely so that you get the most for your expenditure."
"You are here today to celebrate the time you spent in an endeavor that will impact your lives in ways you may not be able to see today but it will become more apparent over time.
"Dream big. Think big. And do great things. We are Titans!"
The college also recognized that the last few years were marked by loss. One such loss was the death of student Michael Kruger. Kruger was a senior majoring in sociology with a 3.9 GPA.
Kruger didn't just enjoy studying sociology: He actively practiced sociology. Through his involvement with Project Rebound and its John Irwin House, he supported college students who experienced incarceration during their lifetimes and provided assistance to them on their educational journeys. As an active member of the Health, Tech and Society Lab, he drew on sociological theory and methods to study community experiences of COVID-19 in Southern California and presented this research at scholarly conferences. He was accepted to the CSUF master's degree program in education and counseling.
Kruger believed strongly in the transformative power of public college education for individuals, families, and (underserved) communities. His blending of scholarship, practice and social justice is a reminder to us all that the point of sociology is not simply to interpret the world, but to change it. In overcoming his own personal struggles, Kruger transformed not only his own life, but those of countless others.
Peggy Kruger, Michael's mother, spoke about how proud Michael was to be a Titan.
"We know how much it meant to him to be part of Cal State Fullerton and Project Rebound. Throughout his time at CSUF, Michael formed relationships with other students, and he found mentors and counselors to guide him along his journey. He gave his all through outreach, activism and work. He was happy to have made California and Cal State Fullerton his home. Michael will have a lasting impact on all who knew him. Michael's community involvement not only led him to touch the lives of others: More importantly, it was here at Cal State Fullerton that he finally was able to find himself. The honor of graduating today summa cum laude exemplifies Michael's personal best, and reaffirms that Titans continually raise the bar."
At the college's 5 p.m. ceremony, Provost and Vice President for Academic Affairs Carolyn Thomas noted how humanities and social sciences graduates now have real-life skills for the job market, like problem solving, communication, teamwork, leadership and intercultural fluency.
"Consider how your learning prepares you to lead," Thomas said. "Not the push-to-the-front, 'pick me' kind of leadership, but the kind of leadership that brings out the best in those around you."
Thomas urged graduates not to undervalue the skills they have learned through their education.
"There is no greater need in society now than to take everyday actions that help us arrive at a better future," Thomas said. "You have everything it takes."
Student speakers from the college included Asian American studies graduate Kim Pham, Chicana and Chicano studies graduate Marisela Dorado, American studies graduate Michelle Okawa, history graduate Janae Scott, sociology graduate Sophia Briseno, women and gender studies graduate Abby Hunt, philosophy graduate Jeremy Santiago, religious studies graduate Bronson Vazquez, liberal studies graduate Alexis Labellarte, political science graduate Vivian Valenti-Flores and criminal justice graduate Peter Mancilla.
College of Business and Economics
Dean Sridhar Sundaram and Faculty Marshal Vivek Mande greeted more than 2,500 new graduates and their guests at two College of Business and Economics ceremonies on Wednesday. Sundaram reminded graduates that their journey of lifelong learning was just starting.
"As you complete your time here at Cal State Fullerton, I want to remind you that this is the beginning of your journey of learning. Make sure you are a student throughout your life and be a student of the world," he said. "Also, remember that it takes a village — your family and friends who gave you unconditional support, the faculty who supported you in the classroom and outside the classroom, the staff who gave you a helping hand during difficult days, and all the mentors who were there during periods of uncertainty.
"Lastly, be a good citizen. More than ever, it is important for you to be a good citizen of the world. Find a purpose that you're passionate about and make sure you give back."
During the 9 a.m. ceremony, Provost and Vice President for Academic Affairs Carolyn Thomas called graduates "a sea of drive, savvy and potential."
"You will create stories that build new habits and new experiences into people's lives. You will think about what motivates people to work and help create more meaningful and equitable places to do it," she said. "You will help us solve our supply chain problems (thank you!) and ensure that our business laws can lead to profitable and just practices. You will discover, promote and protect sites of new experiences and entertainment that keep us learning about and from each other."
Charlie Zhang, founder of Pick Up Stix and author of "The Power of One Moment, From Farmer to Philanthropist," also spoke to graduates.
Zhang worked in the fields in China and then as a dishwasher and gas station attendant when he arrived in the United States in 1980 with $20 in his pocket. Zhang would go on to found the popular restaurant chain, Pick Up Stix, which he sold in 2001 for $50 million. He would then build two more successful enterprises: a beverage bottling company that he sold in 2021 for $60 million and Zion Enterprises, a real estate development company. As a philanthropist, he founded the nonprofit community performing arts school, OC Music and Dance, and serves on the board of directors for Pacific Symphony.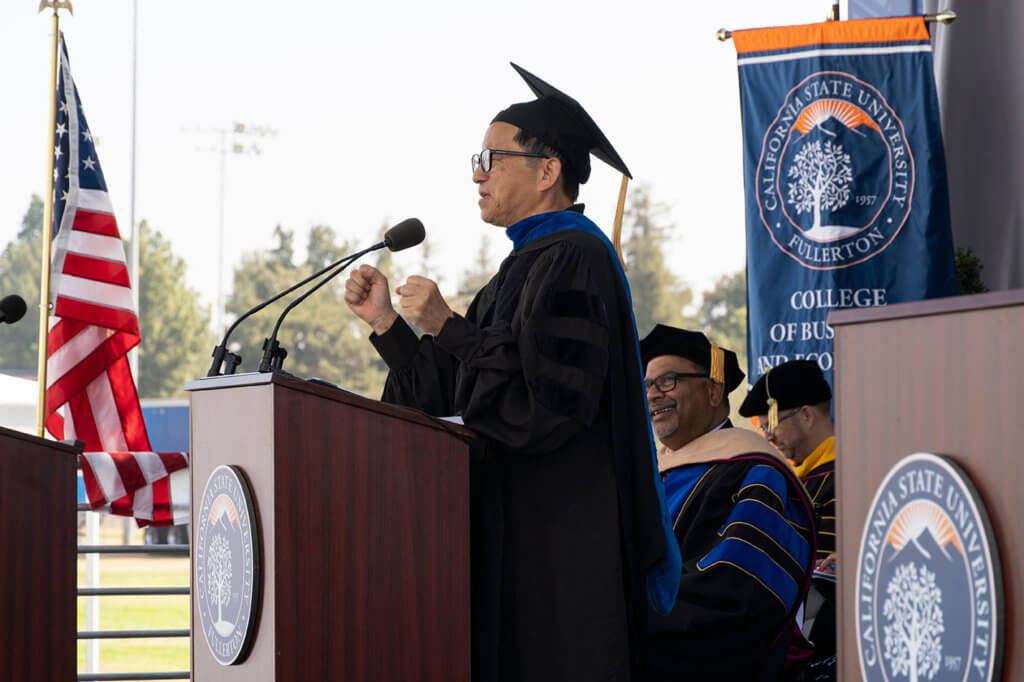 During his speech, Zhang shared some of his life experiences with graduates, reminding them that each mistake is an opportunity to learn something new or better. He emphasized the importance of embracing failures and always having a positive mindset.
"I was 24 when I first came to the U.S. speaking no English, but I came here with hopes and dreams. I knew that this land was able to give me the opportunity to fulfill my American dream," he said. "Now, it is my turn to help others fulfill their own hopes and dreams."
Zhang encouraged graduates to pursue their interests, work hard and never give up.
"Look for the right job and an industry that you are passionate about. I personally suggest that you can begin with a part-time job within the restaurant field, as it helped and trained me to overcome many different adversities. Whatever you do, don't give up. I mean it. Never ever, ever give up. I don't care how hard it gets. Keep going."
During the second ceremony at 5 p.m., CSUF President Fram Virjee presented business leader Jeff Van Harte with an honorary doctorate from the university. Keynote speaker Terry Giles also addressed the crowd of graduates and families.
"This evening is about celebrating you and your achievements," Virjee told graduates. "You know, I started at CSUF just a few months before you did. So you are the first commencement class with whom I have spent the entire four years. It kind of feels like I'm graduating right along with you.
"While you have successfully endured some incredible hardships, and actually turned them into remarkable achievements, it is now time to look at the future — at the next chapter of your life."
Van Harte '80 (B.A. business administration-finance) serves as chief investment officer of Jackson Square Partners. A longtime supporter of the college, Van Harte helped establish the college's Applied Securities Analysis Program and its investment management center, Titan Capital Management. Van Harte has also supported Cal State Fullerton Athletics and Division of Student Affairs programs. He was honored as a 2012 Vision & Visionaries Distinguished Alumnus.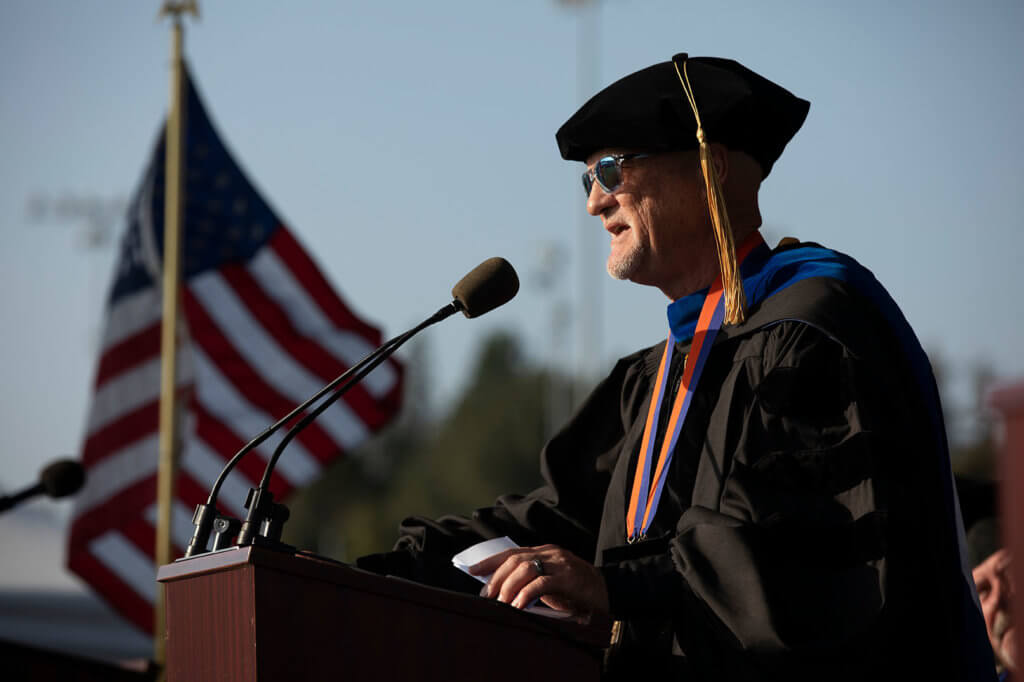 "Jeff Van Harte serves on a variety of boards, and served for more than a decade on the Cal State Fullerton Philanthropic Board," Virjee said. "He is on a mission to emphasize the importance of giving to public institutions such as Cal State Fullerton. As such, he has donated to every college, athletics, Center for Oral and Public History, and many other centers and programs on campus.
"Jeff is one of my closest advisers and a very good friend…and many others at Cal State Fullerton would probably say the same thing. He dedicates his time and resources to a diverse population, and I am proud to honor Jeff with a doctorate of humane letters."
As he stood at the podium, Van Harte shared some thoughts with the graduating class.
"Many years ago when I was sitting in your seat, I didn't know what a great education I was getting at Cal State Fullerton. When I was hired for my first job, I was kind of the 'runt of the litter' with only an undergraduate degree. Many of the others had master's degrees, but I met and then exceeded many of them in about a year. There's no way I could have done that without the great education I received at Cal State Fullerton. Now I have a doctorate and that's pretty cool!
"I want to talk about Titan DNA. How many of you are first generation? You know, we don't come from legacy. We aren't born with silver spoons in our mouths. We might have had to scratch around a little bit to lay our foundation and build it up. Many of you were hustling to get to class on time and then head to work to help pay for your education. I worked at Disney for four summers. That experience is what makes us strong.
"I so appreciate this university and what it's done for me. It is Titan time. It is time for success. When you get out in the world, you're going to make it happen!"
Giles '70 (B.A. speech communication), an alumnus who went on to become a successful attorney, businessman, philanthropist and supporter of the university. He told graduates not to fear failure, as it often becomes how one learns the most valuable life lessons.
"Right now, right here, you are the luckiest people on the planet," said Giles. "You are a college graduate and each of you have before you an empty slate, an empty chalkboard and starting now you get to write your life's story on that board."
He offered three tips to the new graduates:
Be bold. "If you are being bold, there will be failures. But as long as you are willing to learn how to pick yourself up and put the failure in your rearview mirror, your dreams can and will be a reality."
Be flexible. "Your best idea today is only your current best idea. Be flexible and be prepared to try to be at your best in every situation."
Be positive. "I realize that we are living in dynamic times and that the past few years have presented us all with unprecedented challenges. Your presence here today at this graduation ceremony stands as evidence of the things that you can accomplish in life. Take what you have learned at this fine institution and continue to build on it as you strive to reach your goals and to serve humanity. Cynicism and self-doubt should have no place in your being."
Representing the Class of 2022, two student speakers shared personal stories of resilience: Vivian Yenson, who is earning a bachelor's degree in business administration, and Rita Boyle, who is earning a master's degree in information technology.