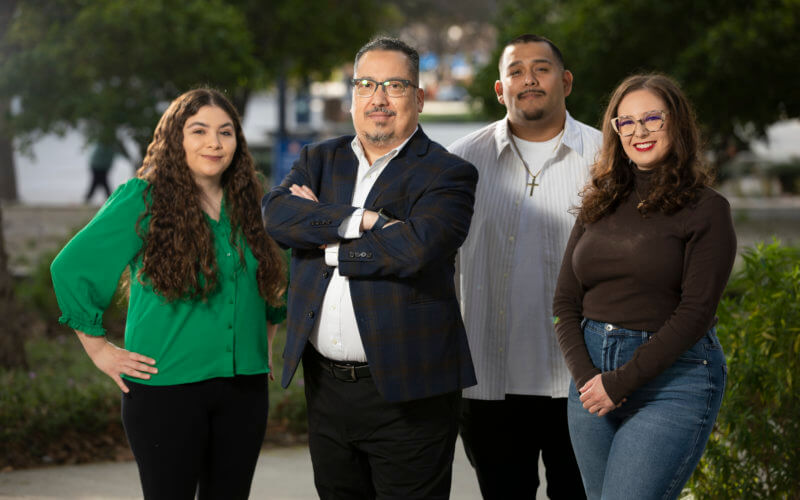 For nearly 20 years, Cal State Fullerton has embraced its designation as a Hispanic-Serving Institution, redefining what it means to champion Latinx student success by developing programs and services that support Latinx students and empower them to reach their goals.
Cal State Fullerton was designated a HSI by the U.S. Department of Education in 2004 for enrolling over 25% Latinx students. Today, Latinx students make up 50% of the university's 41,000 student population.
In 2021, Excelencia in Education, one of the nation's premier authorities on Latinx student success, recognized CSUF with the prestigious Seal of Excelencia for its leadership in engaging, enrolling and graduating Latinx students. That same year, the U.S. Department of State's Bureau of Educational and Cultural Affairs named Cal State Fullerton one of its inaugural Fulbright Hispanic-Serving Institutions Leaders.
"In the 18 years I've been on campus, there has been a monumental amount of growth and change, and we're still learning. The future of our Hispanic-Serving success is about providing students with opportunities to embrace their identity and fulfill their dreams," said Alexandro Gradilla, associate professor of Chicana and Chicano studies.
Accelerating Latinx Student Success
Supported by national grants, CSUF has developed unique programs aimed at helping Latinx students succeed.
"It's important that Latinx students see themselves in the curriculum and the opportunities on campus," said Gradilla.
"Cal State Fullerton has exposed me to amazing professors and I've been able to take many eye-opening courses that have changed and educated me for the better," said senior psychology student, Jasmine Bugarin.
These programs include:
Support Beyond the Classroom
Outside of academics, students are encouraged to explore their identity and culture. These spaces allow students to fully embrace their identity and connect with a supportive community. The pride that students feel when they can truly be themselves is "powerful," said Gradilla.
"That is the future of our Hispanic-Serving success," he added. "Something else I've worked on and I've seen faculty across campus do as well is mentorship. That out-of-classroom experience, where faculty can provide advice, thoughts and opportunities, is important in making sure that students feel heard and ensuring they have someone to talk to."
"There is always work to be done, but we've made some significant strides," said Gradilla.
Visit the Latinx Heritage Month website for more information on upcoming programs and events.